The Arboretum embarks on a multi-phased effort to improve its entrances
Since its founding in 1872, the Arnold Arboretum has served the public as an essential green space in the City of Boston, a key link in the Frederick Law Olmsted-designed Emerald Necklace, and a locus for connecting city residents with nature and with one another. Free to all, year-round, the Arboretum plays a critical role for public health and well-being, providing physical, cognitive, and emotional benefits of spending time in nature. To enter the Arboretum landscape is to leave the city behind and to savor the embrace of nature.
Each day, the Arboretum welcomes millions of visitors through its many entrances, which include historic gates and informal portals. Each of the Arboretum's entrances has its own history. Some precede the founding of the Arboretum, while others, including several formal gateways designed to accommodate horse-drawn carriages and pedestrians, were included in Frederick Law Olmsted's original plan for the Arboretum published in 1880. Over time, additional entrances provided access to new tracts incorporated into the Arboretum's indenture, including Peters Hill (1894), and most recently, Bussey Brook Meadow (1996). In many ways, these entrances symbolize our institutional commitment to democratic ideals. No two entrances are the same, yet all are united in purpose, opening to a treasured landscape for visitors from all walks of life every year.
Today, the Arboretum's entrances are highly variable in terms of design, maintenance, overall aesthetics, and ease of passage. Through the decades, shifting transportation needs, capacity for maintenance, and availability of resources shaped how each entrance developed over time. In many cases, this resulted in an expansion of asphalt paving, compromise of pedestrian safety and accessibility, reduction in planting space, and an overall degradation of the experience of arrival. Socioeconomic bias and inequality have also shaped historical disparities at our entrances, and those adjacent to the communities with the lowest household income levels are in greatest need of renewal.
In the wake of our 2022 sesquicentennial celebrations and its focus on reaffirming the Arboretum's institutional values, we aspire for every visitor to experience a welcoming sense of arrival that is wonderful and transformative, regardless of which gate they enter and in which zip code they reside. To honor the Arboretum's legacy and our commitment to green space equity, we seek to improve all the Arboretum's entrances to provide a safer, more accessible, and more welcoming experience for all.
To launch this ambitious Entrance Improvement Project, the Arboretum partnered with Reed Hildebrand LLC in 2021 to inventory existing conditions at our 16 entrances. At the conclusion of this initial stage, we prioritized five entrances for the first phase of design and construction: Arborway Gate, Beech Path Gate (on South Street), Poplar Gate (at intersection of South and Bussey Streets), Walter Street Gate, and Washington Street Gate (opposite the Forest Hills MBTA Station). These gates were selected because they serve neighborhoods deemed as Environmental Justice Communities, they provide improved access for adjacent public health institutions, or they align with concurrent infrastructure partnerships with Boston and the Commonwealth along our perimeter. Some combine elements of all these criteria.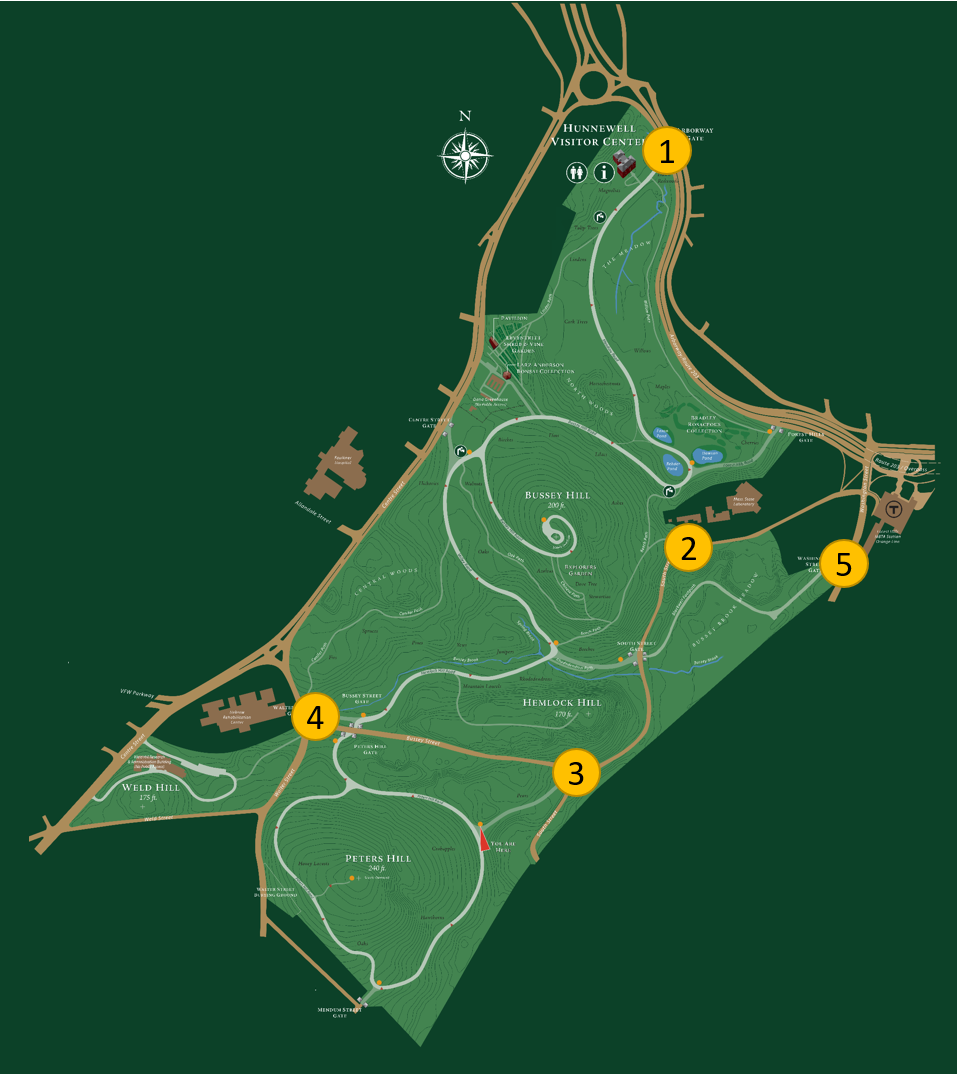 With our entrances selected for renewal in the first phase, we collaborated with landscape architect and Arboretum Associate Rosetta Elkin of Practice Landscape to integrate a historical background with an inventory of existing conditions, and fine-tune our goals. This research informed a robust designer selection process that included 20 leading landscape architecture firms from across the country. Following careful consideration of their proposals, the Arboretum contracted with Michael Van Valkenburgh Associates, an award-winning Massachusetts-based firm to pursue the following goals for each of the entrances in this first stage of the project:
Improve accessibility, pedestrian safety, and bicycle access;
Enhance entryway plantings and expand planting areas;
Reduce paved, impervious surfaces;
Renew and restore historic entranceway infrastructure, including walls and gates;
Protect and enhance views into and out of the Arboretum landscape;
Improve wayfinding and signage for orientation and interpretation.
Through 2023, we will work with our design team—which includes landscape and Olmsted historian Ethan Carr—to gather feedback from the public and multiple city and state agencies. Collaboration with stakeholders including the Boston Parks Department and Historic Landmarks Commission will inform the development of our final design plans for these select entrances.
This work represents the defining element of the largest design initiative in our landscape since Olmsted's time and is deeply connected to other ambitions to improve access for our visitors including the Roslindale Gateway Path project. Each portal should be a signal to neighbors and visitors that they are about to enter a magnificent landscape and world-class museum collection, a national historic landmark, and North America's oldest public arboretum—completely free and open to everyone to enjoy in perpetuity.
The Arboretum looks forwarding to welcoming public input on this project during an upcoming open house on January 21 at noon at the Weld Hill Research and Education Building. Click here to learn more and register.