How you can support the next century.
The Arnold Arboretum became one of the first completely free cultural institutions in Boston when founded in 1872 and remains so today. This foundational and democratic value of free and equal access to open space guides the work of the Arnold Arboretum every day. We kept our landscape open throughout the pandemic, giving an estimated 3 million visitors direct access to the health benefits of nature. Visitor demographics reveal that nearly 45% of our visitors are people of color, over twice the level reported at other Boston cultural institutions.
To champion our founding values, we are redoubling our efforts to engage our visitors and make the experience more equitable and welcoming for all. The following capital projects will marshal the largest redesign in our landscape since Olmsted:
Redesigning Arboretum Entrances
Campaign Goal of $15.2M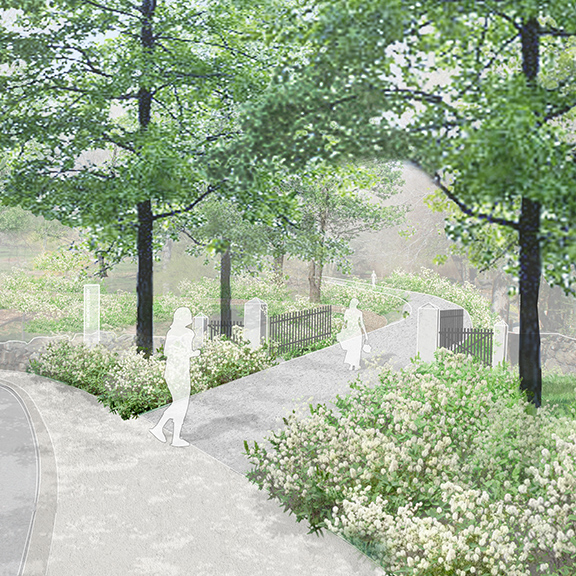 To honor our legacy as Boston's oldest free and equal cultural institution, we seek to redesign and re-landscape our entrances, starting with those which provide direct access to the Arboretum for historically underserved residents in Roslindale. The redesign will elevate horticultural care at our portals and reconceptualize visitor welcome and orientation through design, materials, maintenance, horticulture, and signage/interpretation. Our goal to elevate the experience at the threshold of the Arboretum is critical to deepening our connection to our neighbors and millions of visitors who enter each year.
---
Arboretum Community Greenlinks
Campaign Goal of $9.55M
In addition to supporting the health and well-being in our community, the Arboretum serves commuters seeking green transportation alternatives. A new set of multi-use pathways will create critical and accessible connections to our landscape and the entire network of existing and proposed Greenlink pathways for underserved social, environmental, and economic justice neighborhoods in Roslindale.
The most significant element of this project is the South Street Connector, a proposed elevated structure providing safe, sustainable transit for pedestrians along a steep stretch of South Street that currently lacks sidewalks. Establishing a crucial ADA-accessible Greenlink connector for pedestrians and bicyclists, the boardwalk offers a remarkable opportunity to reaffirm Frederick Law Olmsted's vision of democratic access to nature in Boston while improving accessibility for neighboring communities historically excluded from amenities and interaction with the Arboretum.
---
Increased Horticultural & Public Program Support
Campaign Goal of $5M
Acknowledging the centrality of our relationship with the public in advancing our mission, the Arboretum seeks to endow the position of Head of Public Programs. This endowment will ensure the continued growth and sustainability of our public mission and ensure equity of access to education and well-being in our landscape. Budget relief resulting from this endowment will allow us to expand our capacity to engage, educate, and interact with our community both locally and worldwide.
Please contact Tanya M. Holton at tholton@fas.harvard.edu or 617.384.5043 to customize your participation in the campaign to align with your philanthropic priorities and values. More detailed case statements for each element of our bold vision are available by request.