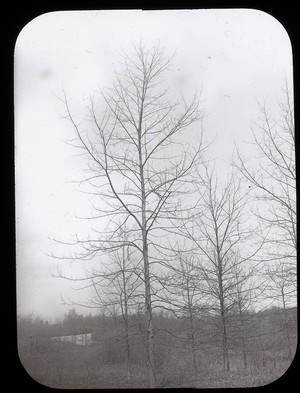 Alternate Title:
Hickory (Carya) Collection with a Bitternut Hickory (Carya cordiformis) in the foreground and Valley Road in the background
Photograph by John George Jack (1861-1949), American, Canadian
Valley Road, Arnold Arboretum, Jamaica Plain, Massachusetts, United States
ca. 1900
A larger version of this image is available in HOLLIS Images.
In April 1886, John George Jack visited the director of the Arboretum, Charles Sprague Sargent (1841-1927) at his Brookline, Massachusetts estate, Holm Lea. Promised only manual labor at small compensation, he began working at the Arnold Arboretum, but within a short time his botanical knowledge became apparent, earning Sargent's confidence and an increase in his pay to a dollar a day.
Jack continued his education at Harvard and became Assistant Professor of Dendrology at the Arnold Arboretum. Already experienced in plant exploration, he embarked on a year-long trip to Eastern Asia in 1905. Jack became the first staff member after Sargent to visit Asia.
You can read more about Jack's life, expeditions, and value as an educator in Lisa Pearson's profile, "John George Jack: Dendrologist, Educator, Plant Explorer" in Arnoldia 71(4), 2014 [pdf].
The Archive Collection of the Arnold Arboretum also holds the John George Jack (1861-1949) papers, 1887-1990 [pdf].
Jonathan Damery, Associate Editor of Arnoldia, also wrote about our Carya Collection in the Spring/Summer 2011 issue of Silva.
Copyright © 2003, President and Fellows of Harvard College; all rights reserved.