Celebrating the sesquicentennial year of the Arnold Arboretum
The year 2022 heralds our observance of one hundred and fifty years since the birth of the Arnold Arboretum. Our sesquicentennial offers a unique opportunity to celebrate our illustrious past and help define and amplify what it means to be a twenty-first century arboretum in service to science and humankind.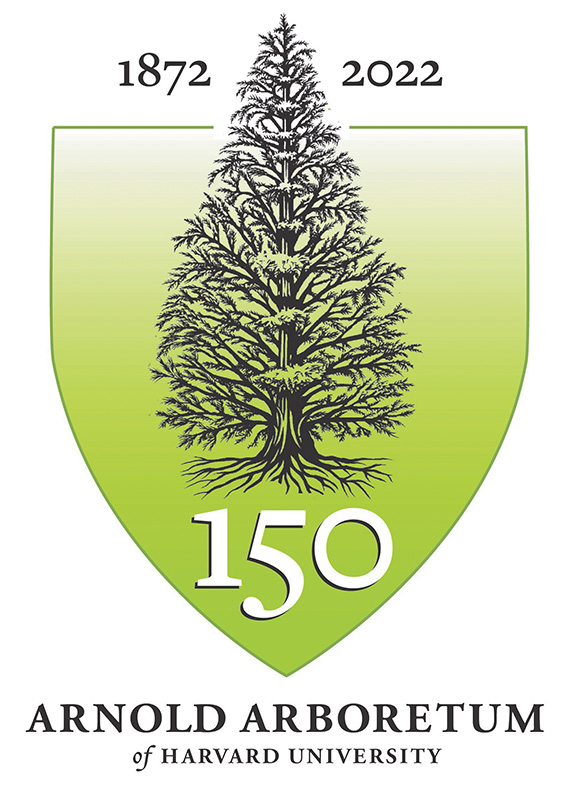 When the Arnold Arboretum came into being in 1872, nothing quite like it had been conceived in America. Founding Director Charles Sprague Sargent set out to create a synoptic "living collection" of the world's temperate woody plants, enlisting pioneering architect Frederick Law Olmsted to lay out the Arboretum in the naturalistic style he had popularized with his design of New York's Central Park more than a decade earlier. Though a true believer in the scientific merits of a botanical collection, Sargent was also a gardener who appreciated the formal and picturesque aspects of plants. Olmsted rose to the challenge, creating a masterwork of organic beauty that respects science as well as scenery. The Arnold Arboretum remains one of his most loved and best-preserved landscapes.
But what makes the Arboretum truly stand apart from its peer institutions, both in the past and today, is the fact that it welcomes everyone to partake of its wonders as an open civic space, free to all who enter. The agreement Harvard forged with the City of Boston in 1882 gave nearly all the land occupied by the Arboretum to the City so it could be enjoyed in perpetuity by its citizens. Urged by Olmsted—himself a vocal proponent of commons and public parkland as testing grounds for democracy and urban fellowship—and championed by Sargent, this landmark deal secured our landscape as public resource for a possible 2,000 years. It also ensured that the Arboretum and the public would foster a mutually enriching and enduring bond across many generations.
As we look to the future, this milestone offers a peak opportunity to foster deeper connections with our community and to renew our historical commitment to both biodiversity and human diversity for the next 100 years. First, we aspire to reaffirm our founding public promise as a free and open resource for public health and learning, championing radical accessibility to our landscape and working toward environmental justice in our landscape. Secondly, we will continue to use our collections, expertise, and scholarship to contribute meaningfully to global efforts to fight climate change and preserve biodiversity. Finally, as we acknowledge and amplify how far the Arboretum has come, we will redouble efforts to deepen the world's understanding of nature and elevate the relevance of the Arboretum and its mission to the next generation.
The sesquicentennial of the Arnold Arboretum marks a time of celebration for the gift that this landscape and its botanical riches provide to all of us as individuals, as a community, and as a species. The Arboretum belongs to everyone and its benefits are universal, so a salutation of its long history and promising future is truly everybody's celebration. The year ahead will be highlighted by moments of festivity and community. Public events are planned for each season including music and theater performances, interactive experiences in the landscape, and spotlight events focused on the seasonality and diversity of our collections. Annual events—such as Lilac Sunday and the Director's Lecture Series—will be specially designed to reflect the sesquicentennial observance. We also plan to share stories of our mutual, human connection to this special landscape. Emphasizing joy and renewal, our activities throughout 2022 will highlight the Arboretum's essential role in sharing nature with the public.
We hope you will join us over the coming year in celebrating the special relationship the Arnold Arboretum has fostered with the people of Boston, with scientists across many disciplines, and with tree and nature enthusiasts everywhere.