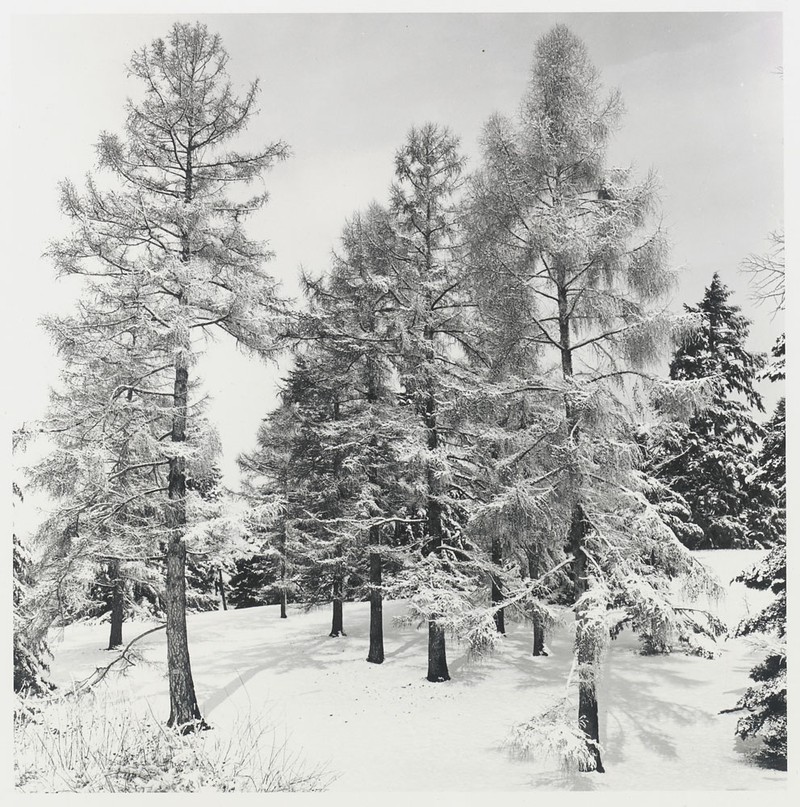 Alternate Title: Larch (Larix) Collection in the snow
Photograph by Pamela Bruns
Larch Collection, Arnold Arboretum, Jamaica Plain, Massachusetts, United States
1977
A larger version of this image is available in Hollis Images.
Highlights of golden autumn splendor in the Living Collections include the Larch (Larix) collection, and many of these trees on Arboretum grounds date back to the late nineteenth, early twentieth centuries. As indicated by Arboretum Director William (Ned) Friedman's recent blog post "Golden larches never disappoint" (November 18, 2019), it is safe to deduce that, due to the year they were photographed (1977), the grove of larches pictured here can be found near the Walter Street Gate near the southwest corner of our grounds [across from Hebrew SeniorLife (HSL)]. You do not need to wait for the inevitable snow to catch a view of these magnificent trees today.
From 1967 to 1975, Pamela Bruns worked as a Research Assistant and Art Director of Arnoldia, the Magazine of the Arnold Arboretum.
Copyright © 2003, President and Fellows of Harvard College; all rights reserved.