Local expeditions source meadow plants for the Weld Hill Solar Array
During a typical autumn, Arboretum staff fan out across the country and around the world on collecting expeditions. We meet up with regional and international partners, often searching for threatened and scientifically important species to add to our diverse collection. Of course, this year has been far from typical. With travels to distant localities on hold due to the pandemic, our plant explorers prioritized local collaborations and collecting from the valuable ecosystems within our own backyard.
By timely coincidence, this reorientation aligned with our plans for landscaping the new solar array at the Weld Hill Research and Education Building. Installed in 2019, the array is the largest and most advanced on Harvard property, capable of providing approximately 30 percent of the facility's power needs. In addition, the array is specifically engineered to accommodate a diverse, native pollinator meadow around, between, and beneath the panels. This provides us with an exciting opportunity to showcase both the potential of sustainable energy production as well as important plants for pollinators in our local ecosystems.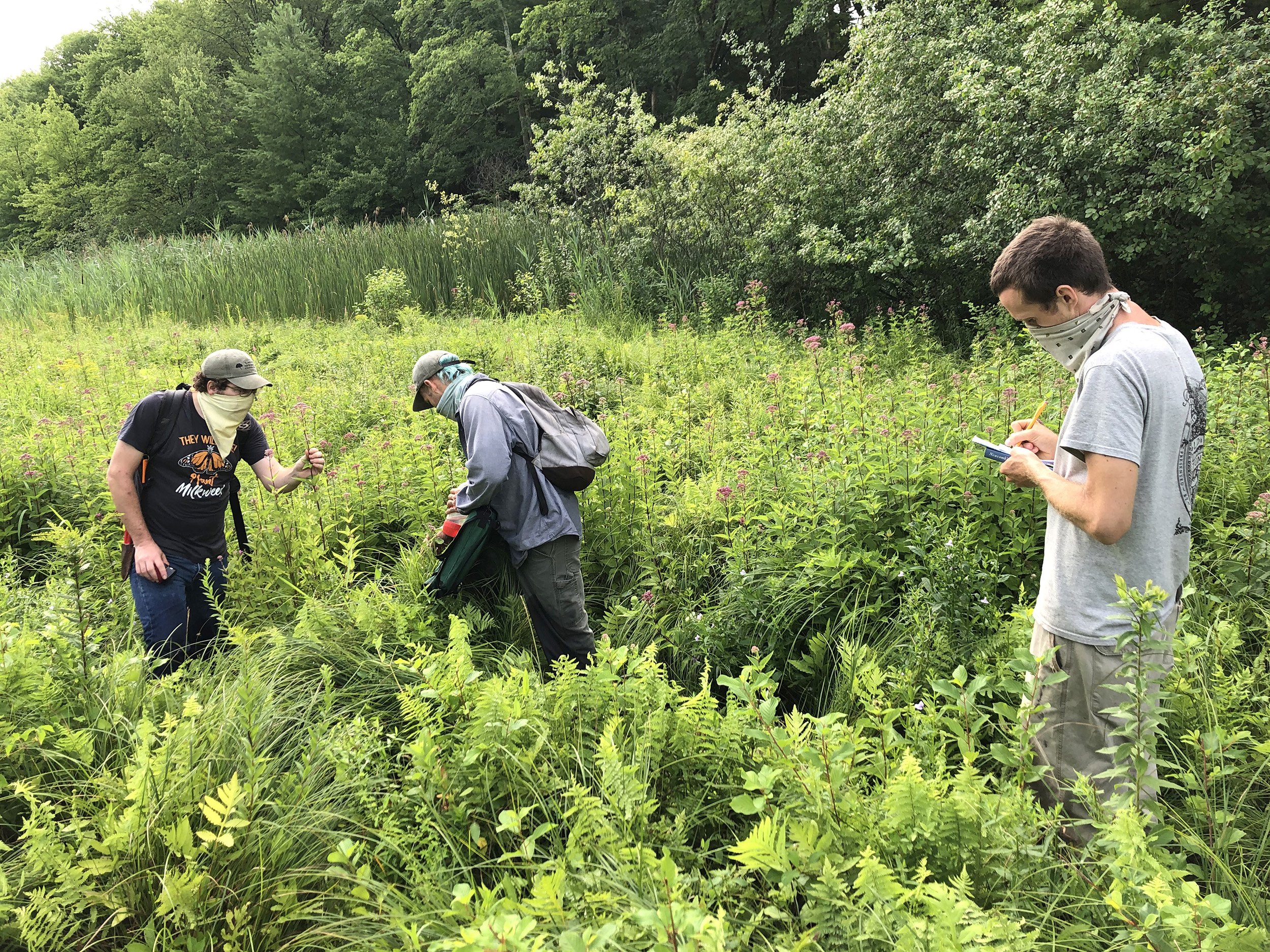 Maximizing the right conditions for native plants and their pollinators required us to rethink the solar array's design. Custom specifications from the Arboretum directed engineering decisions for panel height, spacing, and angle, allowing for greater plant diversity below. For example, our array provides at least four feet between the bottom edge of each panel and the ground as well as eight feet between each of the five panel rows. The increased height will allow us to introduce much taller plants than could exist in a typical solar array, while the spacing provides plenty of growing room and increased sunlight over the course of the day.
Our staff took advantage of this unique structural design when crafting our ideal planting list. For inspiration, we observed plant compositions in local habitats and gained advice from native plant and meadow installation experts. We also utilized pollinator planting resources from the Xerces Society and UMass Amherst, among others. Our final list includes a mix of native grasses, graminoids (grasslike plants), ferns, forbs (more showy-flowered, broadleaf species), and low-growing shrubs. Among the dozens of herbaceous species are likely familiar faces, including little bluestem (Schizachyrium scoparium), butterfly milkweed (Asclepias tuberosa), sweet goldenrod (Solidago odora), common mountain mint (Pycnanthemum virginianum), and blue wood-aster (Symphyotrichum cordifolium). Shrubs include meadowsweet (Spiraea alba), sheep laurel (Kalmia angustifolia), sweetfern (Comptonia peregrina) and more.
Although purchasing seed and plants from nurseries is an option, wild collecting emphasizes the institutional importance of cultivating plants from known provenance. Knowing exactly where each plant came from also increases the scientific merit of the collection for future research. Sourcing seed locally may also help preserve genes from regional populations, rather than introducing plants grown hundreds of miles away and from completely different environments.
Local collecting also enhances our relationship with local organizations. Collecting wild seed required crafting novel collaborations with the Trustees of Reservation, the Massachusetts Audubon Society, and the Hale Reservation, among others. Our staff gained a great deal of knowledge while scouting and collecting on their beautiful properties, and gave back to our collecting partners with copies of the notes we take at each location. This information can prove useful for evaluating and monitoring these ecosystems over time.
Despite collecting in a very familiar region (in some cases less than a half hour from the Arboretum), our trips continue to yield surprising insights. For example, staff initially assumed that large fields and remote meadows located well away from the city would yield most of our target species. However, urban, disturbed, regularly managed power line corridors proved far more diverse and ecologically valuable. The regular brush-cutting in these landscapes eliminates competition from trees and tall woody shrubs, while the disturbed soils and full sun encourages early successional grassland species. This phenomenon is well studied and research indicates that power line corridors may serve as wildlife havens in New England.
They harbor a diversity of plants, which in turn provide unique habitats for all manner of insects, birds, and mammals.
Finding our target species thriving locally heartened us and provided a sense of the ecological community these plants might support amid our solar array. For example, sun loving sweet goldenrod (Solidago odora) is abundant at many locations we visited. In addition to the masses of bumblebees, flies, and wasps that flock to its flowers, this species also supports tiny specialized solitary bees in the genera Andrena, Perdita, Pseudopanurgas, and Colletes. Wild yellow indigo (Baptisia tinctoria), a common sight in the power corridors, is a host plant for many butterflies and moths, including frosted elfin (Callophrys irus), which is listed as a special conservation concern in Massachusetts. Flat-topped aster (Doellingeria umbellatus) provides forage for both the specialist bee Andrena erythonii and is also a host plant for Harris' checkerspot (Chlosyne harrisii), a state butterfly species of concern.
The plants we selected to thrive in the shadier conditions beneath the panels will offer value to pollinators as well. Poke milkweed (Asclepias exaltata), a relatively uncommon woodland dwelling milkweed, will provide summer forage as well as host sites for monarch butterflies. Wood aster (Eurybia divaricata) and heart-leaved aster (Symphyotrichum cordifolium) will provide much needed fall forage for pollinators. The beautiful wreath goldenrod (Solidago caesia) will complement its full sun companions with dazzling golden spires which attract late season bumblebees.
Although some may argue that a meadow beneath a solar array is hardly a natural habitat, we hope this project highlights the harmony that can exist between nature and our modern world. As the power corridors' diverse plant communities illustrate, technological improvements also offer unforeseen opportunities for actively managing and enhancing landscapes for plants and wildlife. Over the course of the next few seasons, we hope the solar pollinator meadow will thrive as an example of how sustainable energy and environmental enhancement can lead to better outcomes for all.