Everyday Nature Tasks and Wonder Spots bring our nature programs home
When the pandemic forced the cancellation of school programs at the Arnold Arboretum, Ana Maria Caballero, Nature Education Specialist, knew that children and their families would need ways to learn from the Arboretum and create some emotional distance from the anxieties of the new normal.
"How could our closely-connected community of students, teachers, and parents stay physically active, engaged outside, and away from their screens?" she asked. Certainly, nature could still provide the space for peace and wonder amidst the challenges and uncertainties of the moment.
In answer, Caballero created Everyday Nature Tasks, a daily calendar of simple-to-execute, open-ended activities appropriate to all ages with opportunities for deeper learning that children can continue on their own. Tasks focus on a particular topic (color, wind, dogwoods, earthworms, leaf margins) and offer children ways to interact with nature, make careful observations, and record their observations in a journal—ways of science emphasized in the Arboretum's Field Study Experiences for elementary students in Boston Public Schools.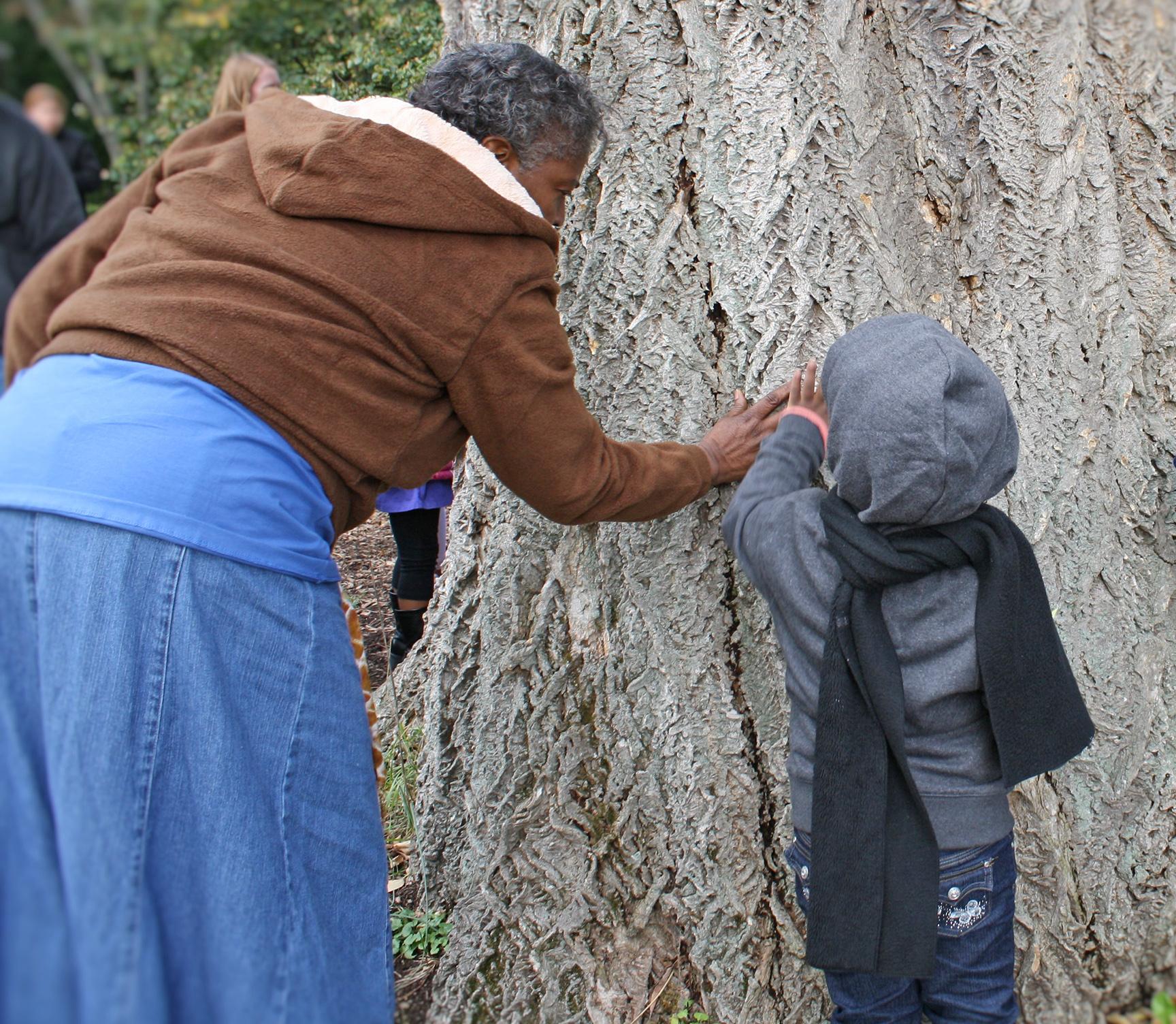 "Everyday Nature Tasks are meant to allow children to engage with the natural world on a daily basis," Caballero says. "Activities hone their observational skills and inspire wonder, curiosity, and appreciation of living things. Learning is secondary to the joy and agency of being outdoors, noticing simple phenomenon, and sharing moments of discovery with others."
With the immediate success of Every Day Nature Tasks and the strong desire to reconnect with visitors in the Arboretum landscape, the idea for Arnold Arboretum Wonder Spots arose. A collaboration between educators in the Arboretum's Children's Education and Visitor Engagement staffs, these location-specific opportunities are designed to make self-exploration of the Arnold's landscape and plant collections easy, fun, and enlightening.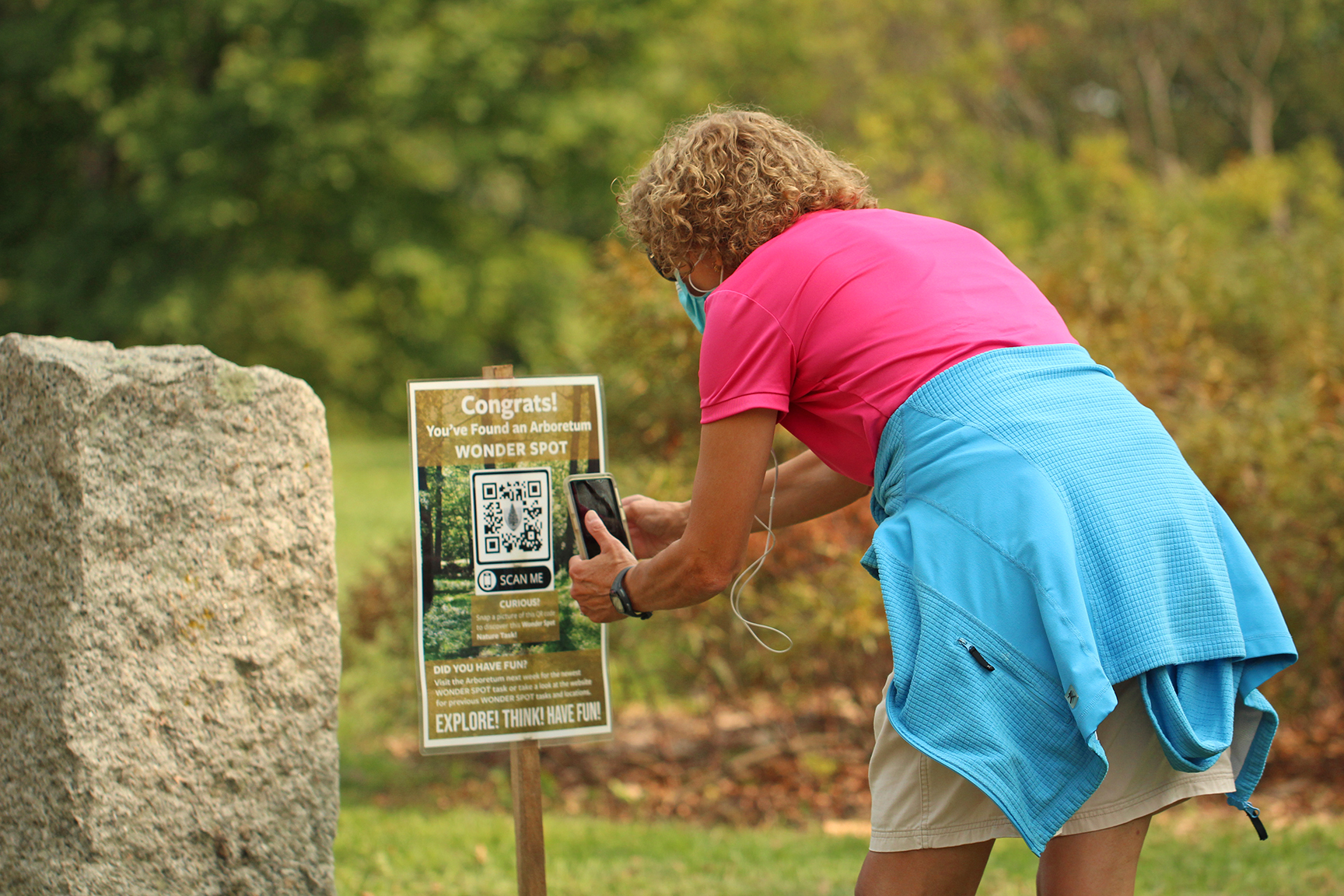 Each Wonder Spot, mapped in the Explore With Us section of the Arboretum's website, starts with a question: "Have you ever wondered…?" The specific topic considered, usually related to plants and seasonal phenomena, links to an actual location in the landscape.
Summer Wonder Spots asked visitors to observe pollinators, leaves, bark, rotting logs, and meadow life as they traveled through the Arboretum. Participants can actively follow along with the program, or serendipitously discover a Wonder Spot sign on a walk.
Given the Arboretum's switch to providing virtual experiences to the public in 2020, all Wonder Spots can also be enjoyed from the comfort of home, and a Dig Deeper section provides additional resources to continue exploring online.
Everyday Nature Tasks and Wonder Spots offer powerful antidotes to the rigors and disconnections of our time. While some adjustments made this year in the Arboretum's public programing are likely temporary, others are certainly here to stay as museums adjust to new sets of challenges. As a result, staff continue to explore new and innovative methods of engaging with the public to share nature, the Arboretum's historical Olmstedian landscape, and its awe-inspiring collection of woody plants, with learners near and far.