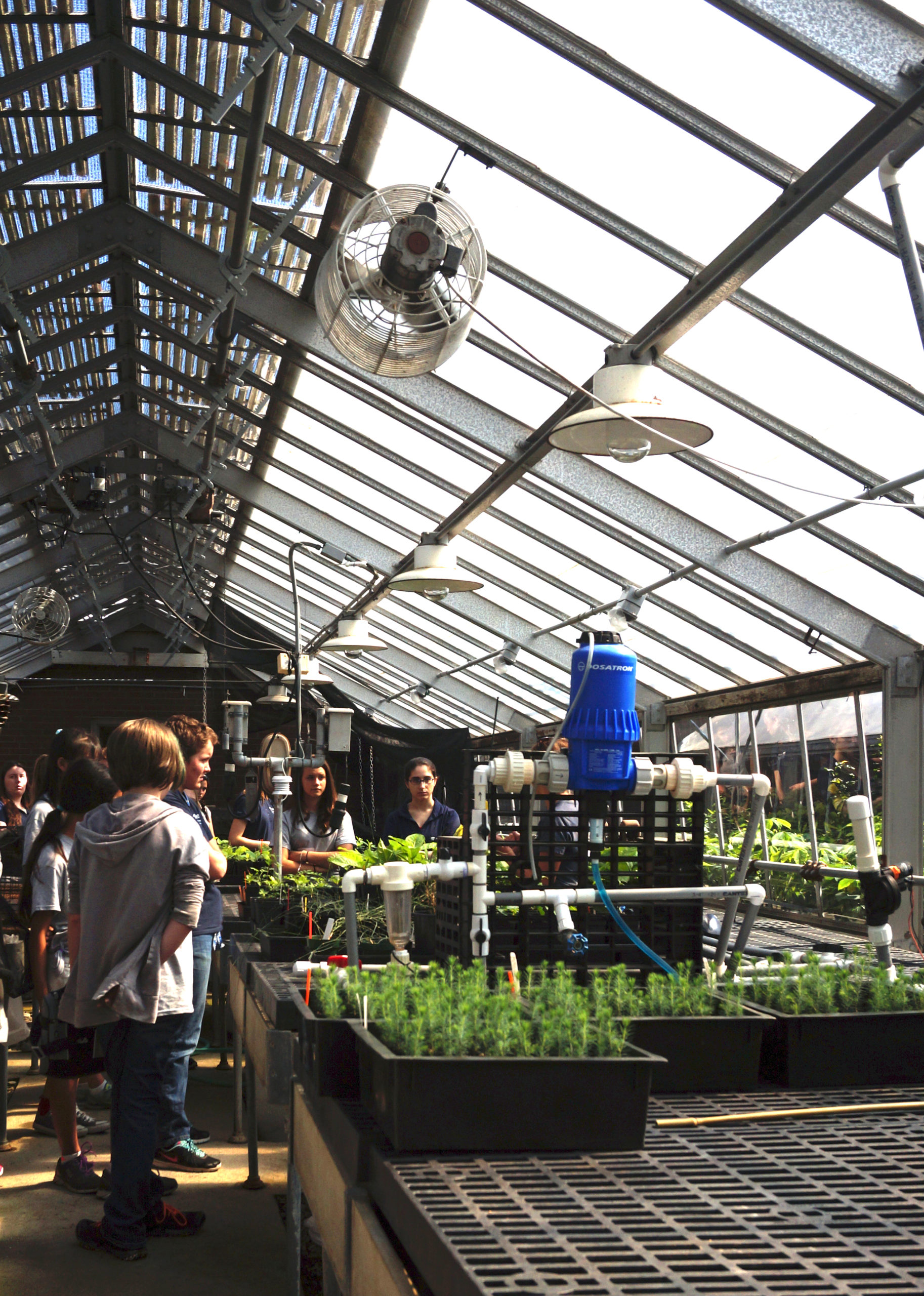 Although women represent nearly half of the country's work force, they make up only a quarter of workers in STEM fields (science, technology, engineering, and mathematics). The topic has come to national attention recently, as the US Department of Labor expects that there will be 1.2 million job openings in STEM related fields by 2018, but there won't be enough qualified graduates to fill them. A couple years ago, Eileen Pollack wrote an analysis in the New York Times of the cultural and psychological factors that she saw influencing young women interested in STEM subjects, and stressing the importance of mentorship. This and other recent studies highlight the value of programs aimed at encouraging and supporting young women in their teens who are interested in STEM fields.
Last Friday, the Arnold Arboretum was excited to host a visit by young women in the Girls in STEM program at Minuteman Career and Technical High School. Facilitated by Minuteman's engineering teacher, Becky Quay, the program features fun and engaging hands-on activities led by Minuteman students certified in mentoring and enrolled as STEM majors. Open to middle school girls in 7th and 8th grades, Girls in STEM engages girls who enjoy STEM courses and encourages them to pursue and succeed in their chosen fields, all while offering the support of a mentorship network.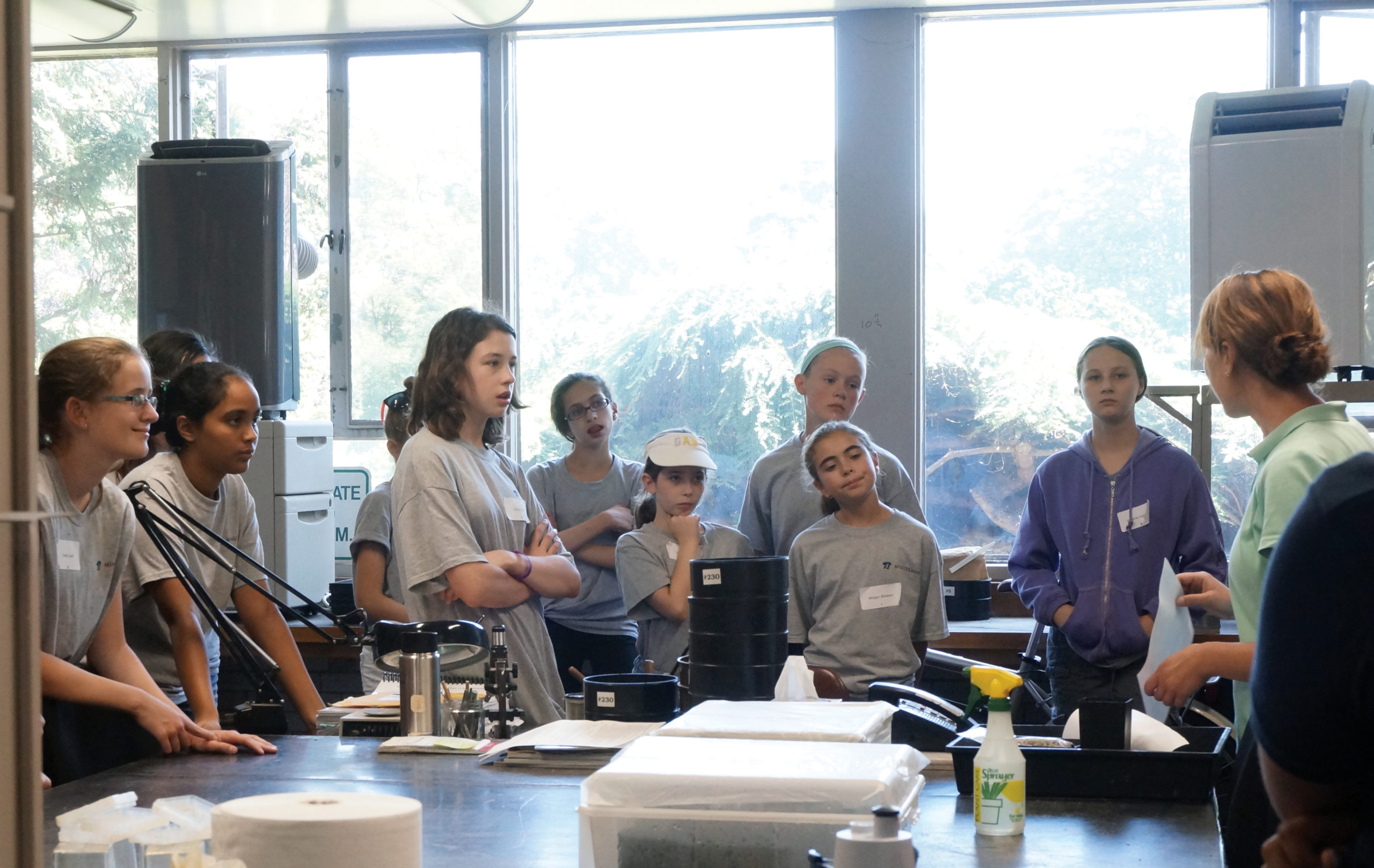 A group of 28 middle schoolers and their high school mentors started their day at the Arboretum with a presentation by Donna Tremonte and Kathryn Richardson about the technology used in the curation of the Arboretum's plant collections, particularly GIS (Geographic Information System) tools. This was followed by a tour of the Dana Greenhouses with Tiffany Enzenbacher, where students learned about the life of an Arboretum plant; from starting out in the nursery, to the care and cultivation required to keep them healthy, to the ins and outs of propagation. The group then moved on to the Arboretum's Weld Hill Research Building to learn about the laboratory investigations underway there and to meet the researchers. Students examined plant specimens magnified by advanced microscopes, visited labs to observe research projects in progress, and spent some time learning about plants in the Arboretum's teaching collection.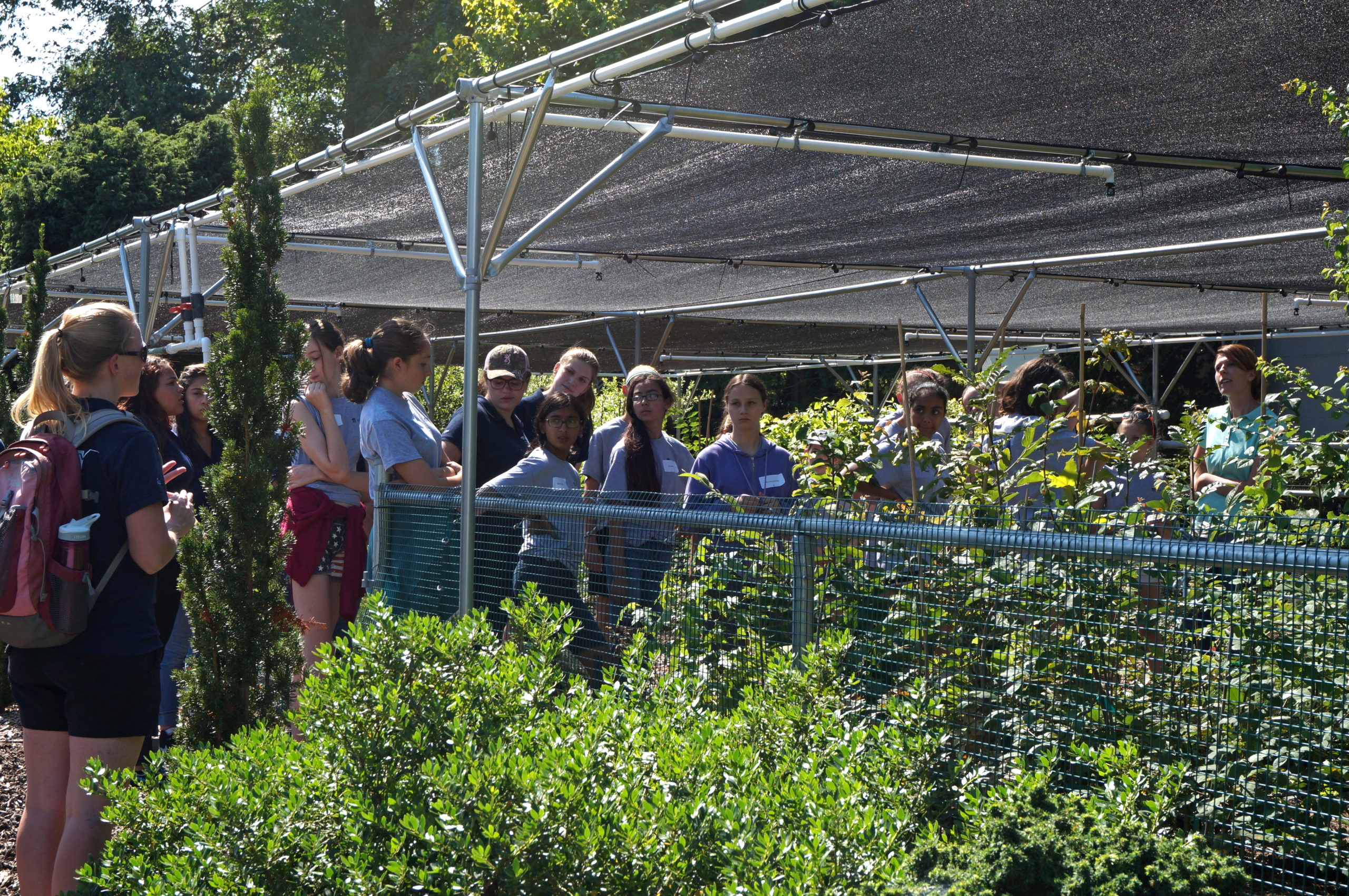 The visit concluded with an open forum discussion, where the young women could ask questions about what they had seen and about the variety of activities at the Arboretum. Students were encouraged to ask questions throughout the tour, and their curiosity touched on such diverse topics as seed cleaning and protection from insect pests to career-related questions like educational requirements for Arboretum researchers. Another topic of interest was the Arboretum's historic and current plant collecting expeditions.
By the end of their visit, the Girls in Stem group had learned that the Arboretum has an extremely diverse range of activities and staff expertise, and expressed interest in returning in the winter. Maybe one day their aspirations will lead them to study plants at the Arnold Arboretum as student interns, fellowship awardees, or perhaps even as Harvard faculty. As with the Arboretum's plants, much good can come of persistence and nurturing.
---
From "free" to "friend"…
Established in 1911 as the Bulletin of Popular Information, Arnoldia has long been a definitive forum for conversations about temperate woody plants and their landscapes. In 2022, we rolled out a new vision for the magazine as a vigorous forum for tales of plant exploration, behind-the-scenes glimpses of botanical research, and deep dives into the history of gardens, landscapes, and science. The new Arnoldia includes poetry, visual art, and literary essays, following the human imagination wherever it entangles with trees.
It takes resources to gather and nurture these new voices, and we depend on the support of our member-subscribers to make it possible. But membership means more: by becoming a member of the Arnold Arboretum, you help to keep our collection vibrant and our research and educational mission active. Through the pages of Arnoldia, you can take part in the life of this free-to-all landscape whether you live next door or an ocean away.
For more tree-entangled art, science, and writing, subscribe to Arnoldia by becoming a member of the Arnold Arboretum.