Plants collected on this Expedition
| Plant ID | Accession Date | Received As | Origin | Source |
| --- | --- | --- | --- | --- |
| | | | | |
| | | | | |
| | | | | |
| | | | | |
| | | | | |
China
Event Type

Expedition

Collection Type

Germplasm, Herbarium Specimens

Arnold Arboretum Participants

Michael Dosmann, Ned Friedman

Other Participants

Gao Xinfen1, Li Meng1, Yin Kaipu1

Other Institution(s)

1Chengdu Institute of Biology; Huanglong Nature Reserve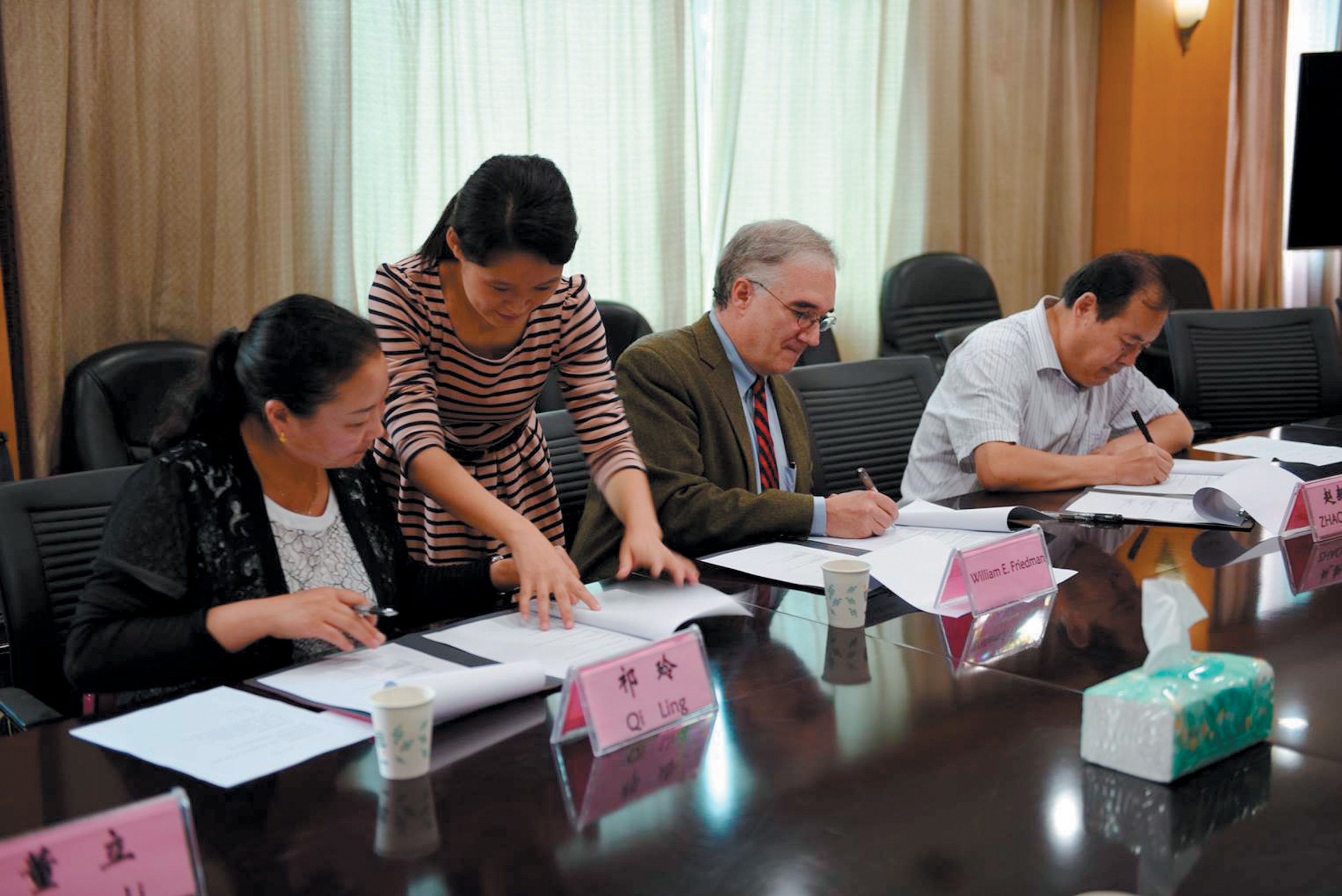 Following on the heels of the 2015 NACPEC expedition in search of paperbark maple (Acer griseum), Arnold Arboretum Keeper of the Living Collections Michael Dosmann spent time exploring the flora of northern Sichuan, particularly the area inside and around the spectacular Huanglong National Nature Reserve. This expedition occurred in advance of the signing of a tri-lateral agreement between the Huanglong reserve, the Chengdu Institute of Biology (CIB), and the Arboretum.
Located in Sichuan's Songpan County, not far from the town of Songpan, the Huanglong reserve is known for its diverse flora, geological features, and wildlife (including the giant panda and the Sichuan golden snub-nosed monkey).
Accompanied by Professor Gao Xinfen of the CIB, Dosmann made a dozen collections including five different species of plants in the rose family. Notable finds were the unusual four-petaled, Mount Omei rose (Rosa omeiensis), as well as zhai ye xian bei hua (Sibiraea angustata), a shrubby rosaceous plant.
Near the end of the trip, before signing the agreement on September 28, Arboretum Director William (Ned) Friedman joined Dosmann in Sichuan. Eager to explore in the field, the two, accompanied by CIB's Professor Yin Kaipu, and Li Meng, a graduate student of Professor Gao, visited Longchi National Forest Park, about an hour north of Chengdu. There the team made several more collections, including seeds from the dove tree (Davidia involucrata).
Back in Boston
This excursion to northern Sichuan yielded 14 different collections of unique taxa Taxon: In biology, a taxon (plural taxa) is a group of one or more populations of an organism or organisms seen by taxonomists to form a unit. .
Dig Deeper
The rose plant family is large and contains more than just flowers! Learn about the Arboretum's Bradley Rosaceous Collection and our extensive holdings.