Over the years, I have come to view "spring coning" of conifers as having all of the same wonderful and ephemeral aspects of spring flowering (of flowering plants). There is temporal order among genera (larches first, pines last) and within genera (Siberian larch first); there is wonderful variety among taxa in size, shape, and color; there are also subtle differences between individuals of the same taxon.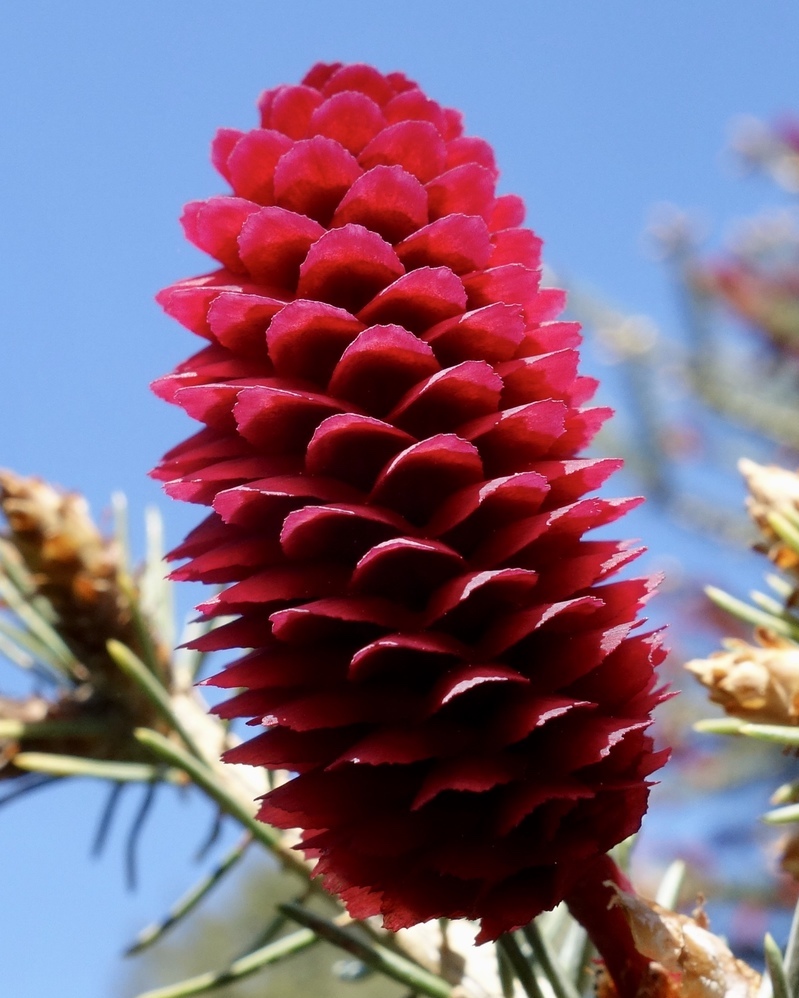 In the last two weeks I have pursued the young (future) seed cones of the twenty-five species of spruce (Picea) that call the Arnold Arboretum home. For me, these are the conifer equivalent of magnolias—showstoppers at peak color on a sunny day. Even the quiet fortitude of the Norway spruce breaks stride and puts on a dazzling show of yellows, pinks and deep crimson reds (Picea abies 'Acrocana'; 475-36*B; upper right). Picea jezoensis (Yeddo spruce; 502-77*B; bottom right) in the dwarf conifer collection is always worth a pilgrimage. It is a tossup between the Koyama spruce (Picea koyamae; 15821*B; left) and the Lijiang spruce (Picea likiangensis) for deepest blood red.
If you would like to see more spruces in full spring cone, head to my Flickr site. Here you will find cones from Picea abies (Norway spruce, Europe) to Picea wilsonii (Wilson spruce; central China), the endangered Picea chihuahuana (Chihuahua spruce, Mexico), and a host of others on full display.
If you crave more Arnold Arboretum plants, follow my Instagram account where I will post one image every day until things seem a bit more normal.

William (Ned) Friedman

Arnold Professor of Organismic and Evolutionary Biology
Director of the Arnold Arboretum
Harvard University