Last Friday, the week at the Arnold Arboretum went out with some serious drama. About 6:00, I got a call from Andrew Gapinski, Director of Horticulture, telling me that during the intense short thunderstorm some half an hour earlier, one of the trees on Bussey Hill had been struck by lightning and was on fire. I headed straight for Bussey Hill post-haste.
When I arrived, four firefighters from Engine 30 of the Boston Fire Department had extinguished the fire and were wrapping things up. The tree, an eastern white pine (Pinus strobus, 366-2012*A), had, until Friday, certainly seen far better days (left image taken November 25, 2021). I asked Captain Rob Farmer if he had gotten any photos and as you can see in the picture he shared with me (right), this was quite a fire. This eastern white pine was a stately tree, somewhat anomalously growing amidst (and towering over) the birch collection. Stately aside, this pine was also hollow and that created the right conditions for the amazing fire seen blasting out of some old lateral branch holes.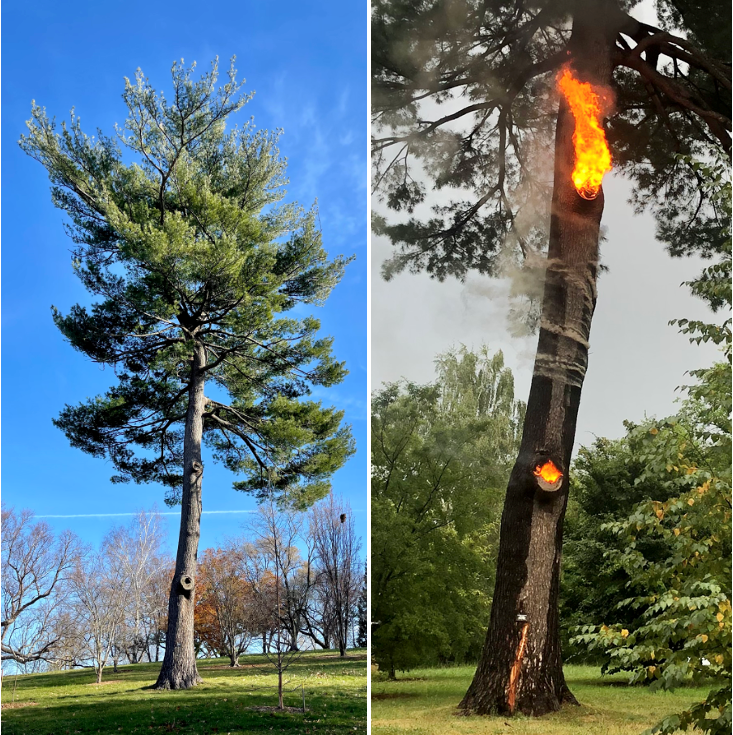 Lightning strikes are a part of life (and death) for the 16,000 accessioned temperate woody plants at the Arnold Arboretum. Indeed, the Arboretum arborists have been working to install lightning protection on some of our most cherished and important trees. This white pine, however, was a rogue that came up on its own some 70 or 80 years ago (a guess), with no provenance, so not on our lightning protection list. And almost certainly a goner.
If you crave more Arnold Arboretum plant images, follow me on Instagram @nedfriedman.
This incident stands as a reminder that tall trees do not provide safety—and in fact can be quite hazardous—to individuals seeking shelter in the outdoors during a lightning storm. The National Park Service provides information on how to best protect yourself in the outdoors when lightning incidents occur.