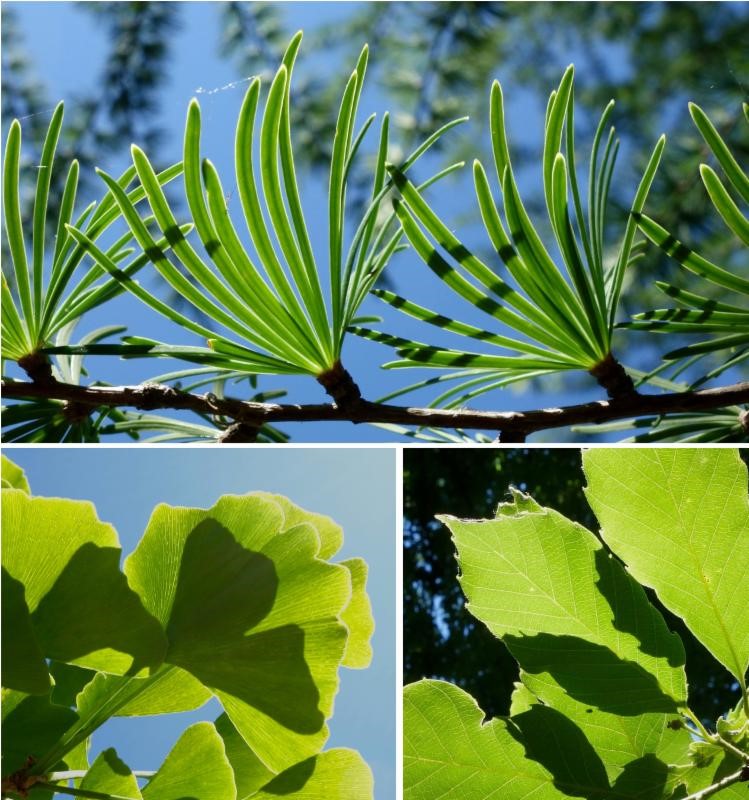 This week, I wandered the east side of Peters Hill, admiring the landscape, taking in long views of the collections of crabapples, pears, poplars, and ginkgoes. I dove into the deep understory darkness of the old dawn redwood grove down near the railroad tracks. I was dazzled by the extraordinary work of the Arnold Arboretum horticulturists to make these collections shine. Sinuous meadows have been outlined, much mulch has been laid, and the plants have never looked more vigorous.
Yesterday, the sun was brilliant and I was drawn to the shadows that leaves make upon their compatriot leaves on a tree. Here then, three images that I hope will evoke the intense beauty to be found in minutiae and the inexhaustible supply of such phenomena in nature. Top, short shoots of Pseudolarix amabilis (59-89*K), the golden larch—in my opinion the most magnificent of the deciduous conifers. The dark green cross banding is nothing more than shadows of other needles. Bottom left, the bi-lobed shadow of a Ginkgo biloba leaf (466-2002*F) "printed" on the leaf below it. And finally, perfect outlines of the serrated edges of Quercus acutissima (397-86*A), the sawtooth oak.
If you would like to see a few more pictures from my Peters Hill walks this week, head over to my flickr site (click here). And if you haven't been to Peters Hill in a while, now is a good time to become reacquainted.