When Frederick Law Olmsted and Charles Sprague Sargent designed the Arnold Arboretum, the democratic ideal of a shared park space in the city, with its restorative benefits accessible to all, was an essential and guiding principle. They understood that spaces like the Arboretum are not merely amenities or luxuries but essential commons that contribute meaningfully to people's lives. Escaping the rigors of the city by entering a verdant landscape supports public health and well-being, and facilitates the essential need for humans to connect both to nature and to one another. We have witnessed this time and again at the Arboretum, where our gate counters suggest that millions of visitors have made the Arboretum their restorative refuge since the pandemic began in early 2020. As a free landscape open to all, the Arboretum is a place where democracy and its values for equal opportunity feel nurtured and close at hand.
This notion is borne out by visitor metrics. Anonymized data derived from cellphones in our landscape indicate that the Arnold Arboretum is among the most diverse cultural institutions in Boston. This speaks not only to the wisdom and foresight of Olmsted and Sargent's vision, but to the Arboretum's historical value and accessibility as a community-wide resource. As part of our celebrations of 150 years as a botanical institution and public garden, we have committed ourselves to renewing our public promise for equity in the landscape—redoubling efforts to engage all visitors and make the experience more inclusive and welcoming for all. From a new Mobile Visitor Center deployed throughout our landscape (to meet people where they are), to public events like MassQ Ball 2022 and the upcoming Abilities Dance Boston performance this September that celebrate diversity, and plans to transform our entrances for improved experiences and connections with all who visit, the Arboretum is taking long and important strides to build and celebrate the shared experiences and mutual purpose that hold us together.
These and other outreach efforts represent our firm belief that our free landscape offers immeasurable benefits and provides a potent symbol of how democracy is nurtured in our own community. The simple gesture of saying good morning or smiling and nodding to a stranger passing by in our landscape (I always do and suggest you do too!) is a reaffirmation that we are connected and part of a greater whole. The founding of the Arnold Arboretum exactly 150 years ago was a testament to democratic ideals, a love of the natural world, and a belief that this urban preserve holds immense power to uplift all who enter. I invite each and every one of you—our valued members and essential partners in all we do—to visit us before year's end to participate in our special sesquicentennial year, share a story about what inspires you about this place, and celebrate the idea that our landscape will continue to bring people together to share the wonders of nature, and the bonds of community, for centuries to come.
William (Ned) Friedman
Director of the Arnold Arboretum and Arnold Professor of Organismic and Evolutionary Biology, Harvard University
PS…Visit now to enjoy mid-summer highlights like (below, clockwise from top left) late bottlebrush buckeye (Aesculus parviflora forma serotina 12514*A) along the edge of the North Woods; staghorn sumac (Rhus typhina 606-2008*C) near the Peters Hill summit; Chinese chestnut (Castanea mollissima 269-2011*A) by the Rockery on Valley Road; and the 'Daydream' cultivar of common smoketree (Cotinus coggygria 'Daydream' 1433-61*A) on Meadow Road near the maple collection.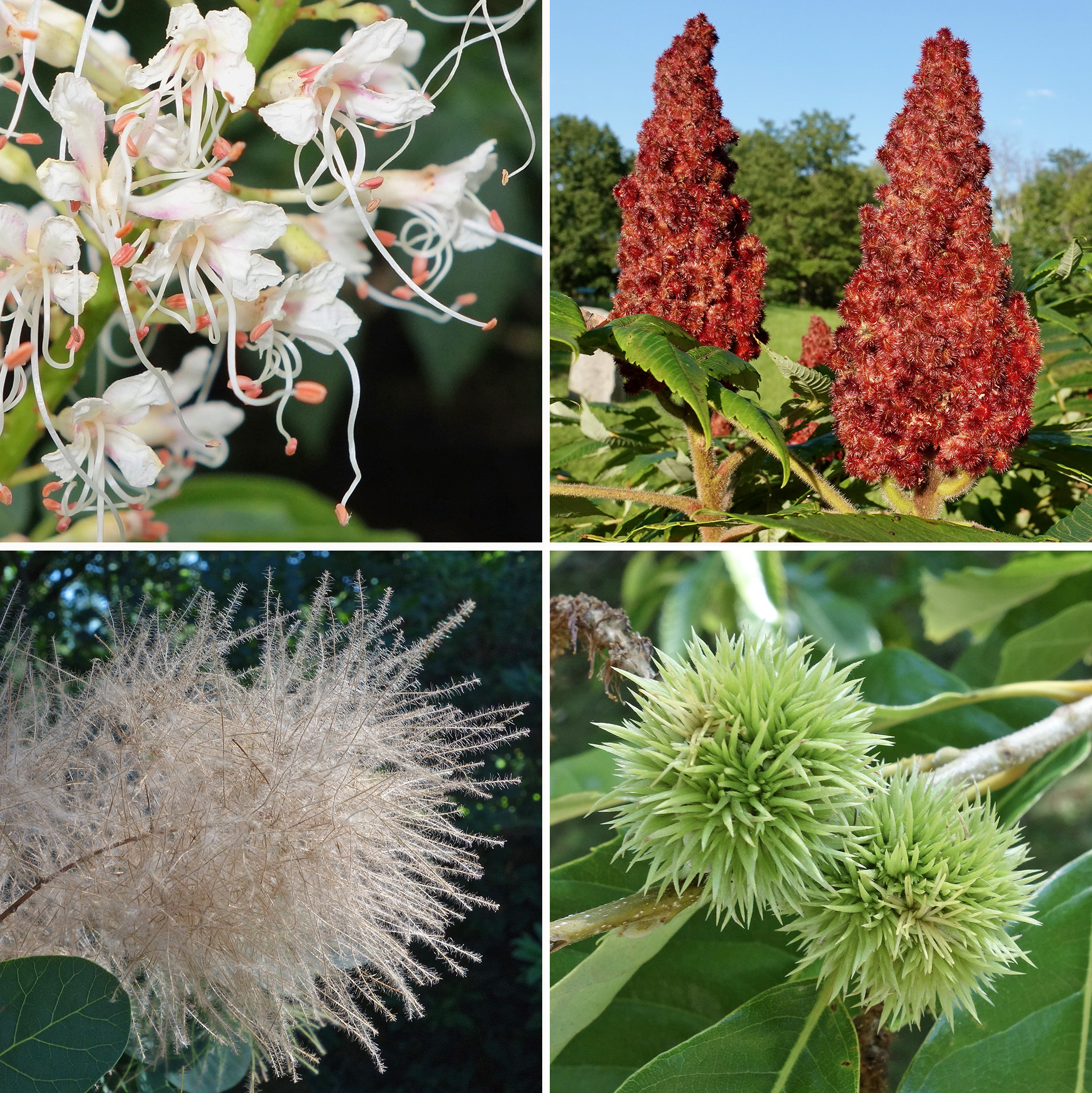 Sign up to receive my occasional Posts from the Collections by email or follow me on Instagram for more highlights from my Arboretum explorations.
---
The Arnold Arboretum was created through donations over 150 years ago and still depends on philanthropic support for nearly all of its annual funding. Members and donors are essential for the Arboretum to continue to thrive. And yet, for a quarter century, our membership structure has remained unchanged. This summer, as we hark toward the next century of leadership, we have refreshed our membership pricing and benefits, including raising the entry level membership to $65.