It would be hard to miss the thousands and thousands of pollen-bearing catkins dangling from every birch tree in the Arnold Arboretum (or perhaps your yard or woods) now. But, have you ever wondered where these pollen grains are heading? Far less apparent, but wonderful to see, once you know what to look for, are the female (future seed-bearing) catkins of birches.
Birches are wind pollinated, so the overwhelming majority of pollen grains are going to end up on the ground or stuck to random surfaces such as leaves, bark, and you. But, a few lucky pollen grains will swirl through the air and land on the stigmas of the small female flowers, thus setting off a developmental odyssey that culminates in the creation of very large numbers of minute winged fruits that will, themselves, be scattered to the winds in July and August (stay tuned later this summer).
Pictured left, are a dangling set of male catkins of the Asian species Betula schmidtii (Schmidt birch; 7486*B; this wonderful tree, an 1896 accession) about to shed pollen. A white arrow points to a less apparent structure, a female catkin. At right, a close-up of a female catkin with more than a hundred small reddish flowers (each subtended by a little green bract). The red protuberances are the stigmas, where pollen must alight to begin the reproductive dance.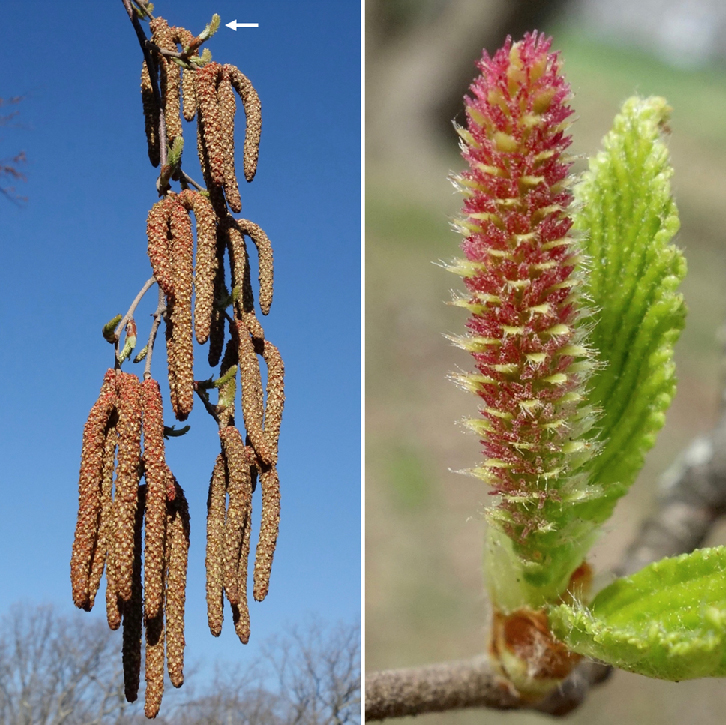 If you crave more pictures of the Arnold Arboretum, I started an Instagram account where I will post one image from the Arboretum every day until things seem a bit more normal.