A New Initiative Aims to Boost Global Cooperation in Protecting Biodiversity
For more than a century, plants from eastern Asia have been a strong collecting focus at the Arnold Arboretum, particularly the flora of China. With more than 4,600 native tree species China is one of the most biologically rich regions in the temperate world. To help protect this biodiversity and provide safe harbor for threatened species, the Arboretum has launched the China Conservation Collaboration Initiative. Funded through a five-year commitment from a group of friends and Harvard University alumni in China, the initiative combines elements of plant exploration, horticultural practice, and scholarship to conserve plants cooperatively. Importantly, it builds critical capacity among botanical institutions and scientists in China to collect, preserve, and study their rich botanical heritage.
Activities promoted by the China Conservation Collaboration Initiative complement both the Arboretum's longstanding collecting program in temperate Asia and specific research and collections goals of the present. In 2016, the Arboretum launched the Campaign for the Living Collections, a 10-year plan to escalate the institution's historical efforts to collect temperate plants from habitats where they naturally occur. Overseen by Keeper of the Living Collections Michael Dosmann, the Campaign has secured about half of some 400 species targeted for collection. Since progress on achieving international targets slowed during the global pandemic, the China Conservation Collaboration Initiative breathes new life, productivity, and collegial support to complete its ambitious goals and continue its vision.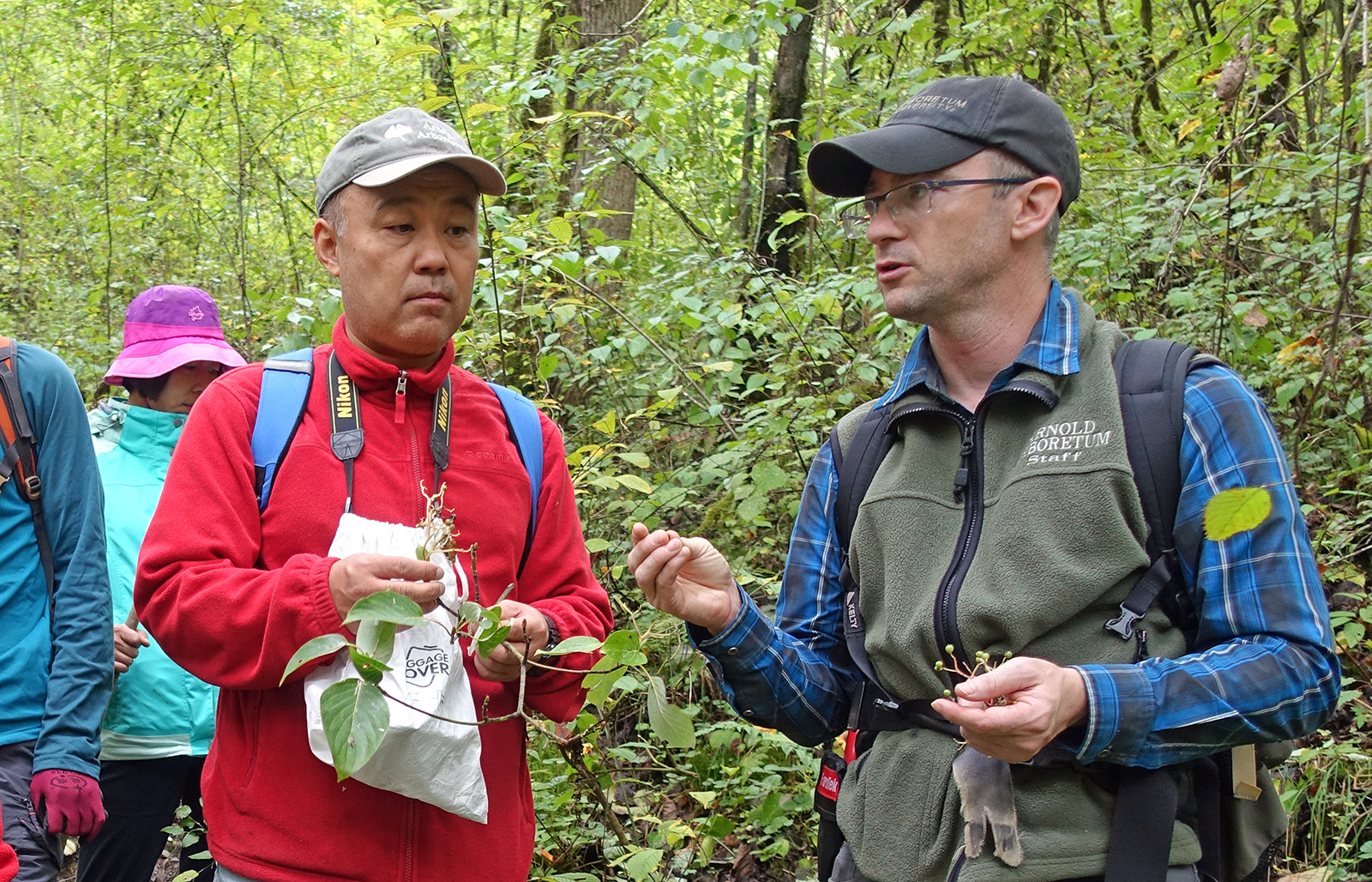 As the Collaboration kicks off, Dosmann leads the charge with the support of Miles Schwartz Sax, PhD, who joined the Arboretum as assistant curator for the initiative in March. Most recently serving as Director of Connecticut College Arboretum and as an adjunct associate professor of botany, Sax began his career as an apprentice in horticulture and curation at the Arnold Arboretum. As project coordinator for the initiative, he is administering all activities of the partnership. This includes researching species ranges, local vulnerabilities, and other factors driving species occurrence and abundance. From there Sax will plan collecting expeditions to be conducted by our partners in China to obtain germplasm, genetic samples, and herbarium vouchers, and conduct scholarship extending from the initiative's collaborative work. His first responsibility, already underway, is generating a plant list to focus the expeditionary work.
The Arboretum's partners in China for the initiative are the China National Botanical Garden in Beijing, Kunming Institute of Botany, and Zhejiang University. Our colleagues there will mount field surveys and collecting expeditions in country—efforts coordinated and carried out by the lab groups of Professor Pan Li at Zhejiang and Professor Tao Deng at Kunming. China National Botanical Garden will play a pivotal role in coordinating how plant material is shared among the participating institutions, led by Dr. Kang Wang, a participant in numerous expeditions previously with Arboretum staff. Kang and his team will also receive initiative funding for infrastructural improvements of China National Botanical Garden's plant production and nursery facilities to boost their capacity to steward species for ex-situ conservation.
In fact, all participating institutions will amass and cultivate their own collections of the threatened species acquired through the initiative's field work and coordinated expeditions. These living collections will provide safe harbor for the collected germplasm and provide source material for habitat restoration and research to inform future conservation efforts globally. They will also offer genetic back-up for the Arboretum's holdings should any germination or cultivation attempts falter here. To maximize the potential of these collections, the initiative is facilitating the exchange of horticultural knowledge and best practices by connecting professionals in Chinese and American gardens for training in propagation, nursery management, and horticultural care. Collaborative work in this arena will greatly increase horticultural capacity in China, ensuring that its botanical gardens are best equipped with knowledge and resources to grow and maintain rare and endangered species—many of which have proved challenging to cultivate successfully.
This spring the Arboretum and its partners finalize the formal agreements guiding collaborative activities. Soon Professors Pan Li and Tao Deng and their laboratories will begin their field surveys of rare and endangered plant species throughout temperate regions of China, with hopes that by this autumn plant material transferred by Kang at Bejing will begin arriving at our Dana Greenhouses to begin their journey as accessioned Arboretum plants. For our partners, preparation begins for the influx of plants and knowledge exchange at their own institutions. There will be much to discover and share.
Confronting Earth's plant extinction crisis requires innovative and collaborative approaches to protect imperiled plants. The China Conservation Collaboration Initiative represents a huge step forward in applying 150 years of botanical and horticultural know-how at the Arnold Arboretum to the service of global conservation. Closer to home, a bounty of new trees, shrubs, and vines will take root here over the next decades, admired and valued as much for what they contribute to science as the beauty they bring to our landscape.