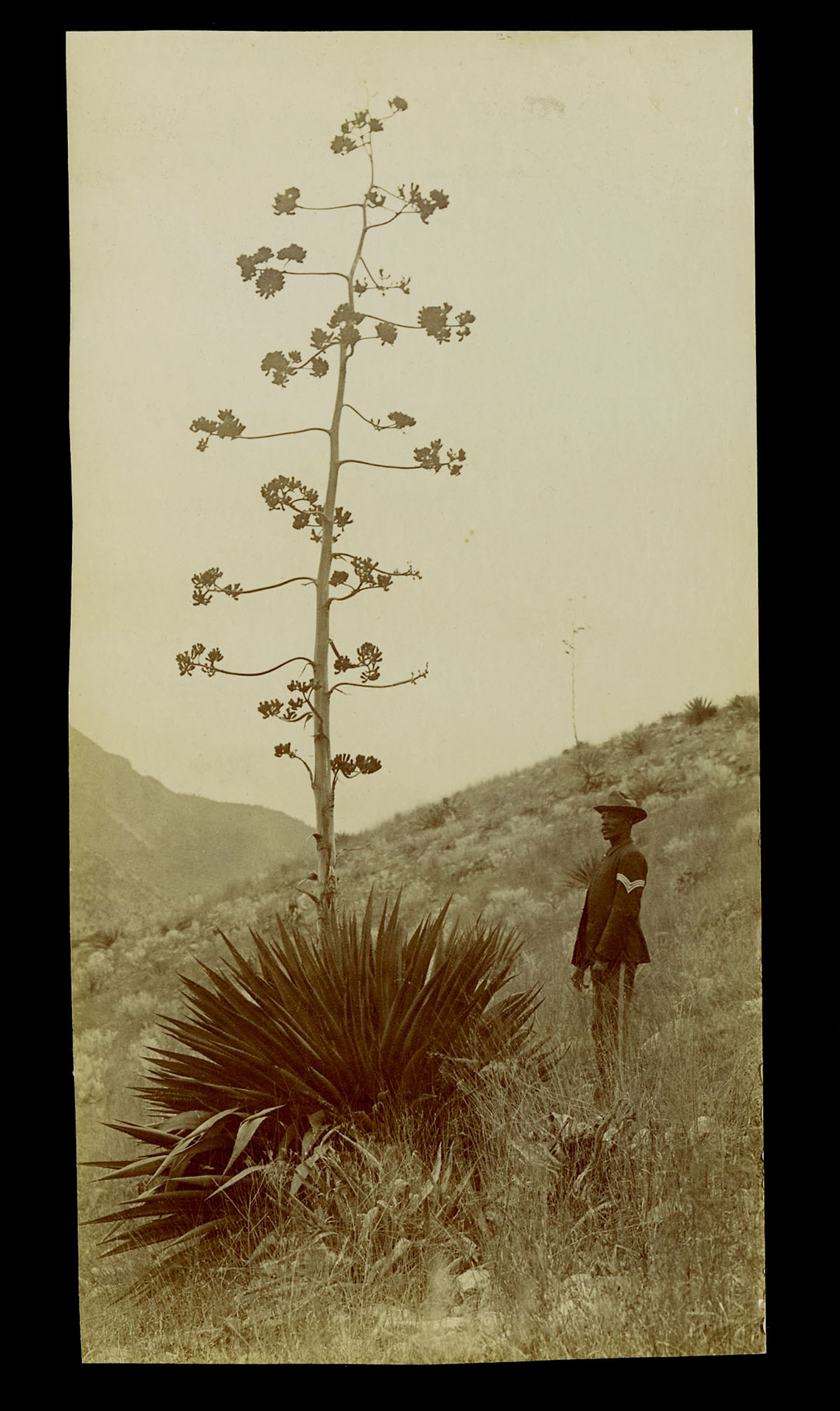 A recent research request gave me the chance to look through our historical photograph collection of pictures of Agave. While searching for a photo of Susan Delano McKelvey, a long-time Arnold Arboretum associate who botanized in the American southwest, I came across this image of a large Agave plant with a man posed next to it for size. The yellowed label on the back of the mounting card reads, "Agave palmeri Ft. Huachuca, Ariz. 1895."
The man in the photograph, standing tall and looking into the distance, caught my attention. He is African-American, and wears the uniform of the United States Army. In 1895, the US military was still segregated. The Army had fought in segregated units in the American Civil War (a notable example being the 54th Massachusetts Volunteer Infantry), and afterwards African-American regiments were formed for both cavalry and infantry. Fort Huachuca, Arizona was part of a string of forts commissioned to secure southern Arizona during the Indian Wars of the 1870s. The region was at peace by the 1890s, and in 1895 the fort was garrisoned by Companies A, B, C, and H of the 24th Infantry Regiment. The unnamed soldier in our photograph is a sergeant, a position of trust and authority.
Taking a look at our collection of plant monographs for information on Agave, I happened on a copy of A study of the agaves of the United States by A. Isabel Mulford [In Missouri Botanical Garden Annual Report. St. Louis. 25 cm. v. 7 (1895), p. 47-100], which had belonged to Susan Delano McKelvey! The book included our photograph (plate 48) of the sergeant from Fort Huachuca. The caption tells us that the image was taken by Dr. T.E. Wilcox, United States Army. Dr. Timothy Erastus Wilcox was the post surgeon at Fort Huachuca who spent a portion of his time making botanical and zoological collections for the Herbarium of Columbia College and the United States National Museum, respectively. He was born in 1840, served in the Civil War as an Assistant Surgeon, was posted to Fort Huachuca from May 1891 to May 1895, and retired a brigadier general. He died in 1932 and was buried at Arlington National Cemetery.
In the end we could not uncover the name of the sergeant with the resources at hand, but perhaps one of our readers may take up the challenge of finding it out.
— Lisa E. Pearson, Interim Library Supervisor, Arnold Arboretum Horticultural Library