"Mr. Collins invited them to take a stroll in the garden, which was large and well laid out…To work in this garden was one of his most respectable pleasures… and [he] could tell how many trees there were in the most distant clump."

Jane Austen, Pride and Prejudice, 1813
Jane Austen's enduring reputation owes much to her clear sense of—and unique slant on—social respectability in early 1800s Great Britain. Fast forward to the twenty-first century and the Arnold Arboretum, Frederick Law Olmsted's vision preserved from the late nineteenth century, where more than a "respectable pleasure" is obtainable by all. Rigorous care and documentation of the collections for over 147-years affords every person who strolls here the good fortune to encounter trees, shrubs, and vines collected from around the globe in a harmonious, naturalistic setting.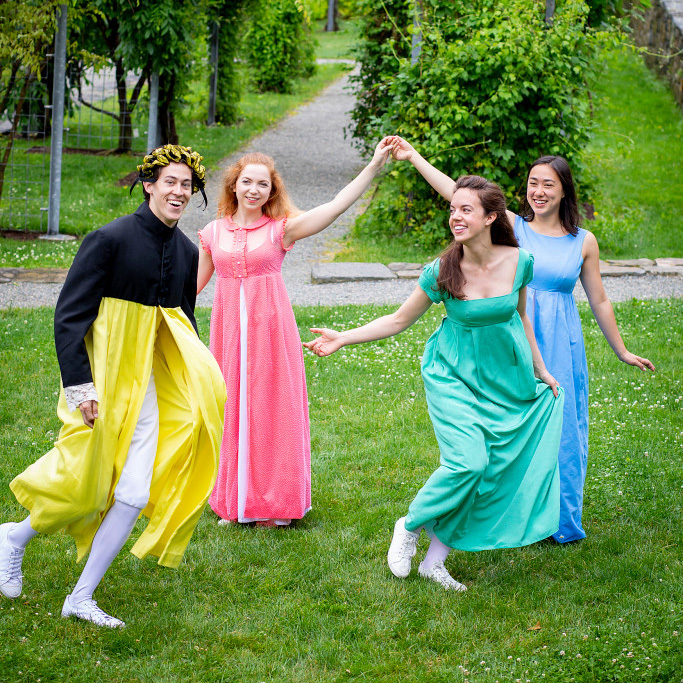 On Sunday, June 23 at 5:00pm, the Arboretum offers a special free performance of Austen's Regency Period romance Pride and Prejudice in the Leventritt Shrub and Vine Garden. This adaptation by Kate Hamill will be staged by Actors' Shakespeare Project (ASP), the award-winning theater company that brought the site-specific Fog × Macbeth to the Arboretum last October. Presenting theater performances like these to Arboretum visitors represents an exciting, fresh way for the institution to make new connections in our richly multi-cultural community through the arts.
The seed for these events was planted in 2016, when an incredible group of 92 percussionists offered the Arboretum's first foray into large-scale performance with a production of Inuksuit in our oak collection. Composed by Pulitzer Prize winner John Luther Adams, Inuksuit illustrated the unqualified appeal of free art in the landscape, attracting visitors from around the region. Last June, conversations began with ASP on a collaboration, and their production of Macbeth offered a perfect complement to programs associated with Fujiko Nakaya's temporary fog installation on the Hunnewell Building lawn. The overwhelming success of the effort—more than 1,500 attended a one-night-only performance—cemented a strong relationship rooted in a shared value to educate and to reach more diverse audiences. Through the development of a new Artist in Residence program here, more visitors will discover the pleasure derived from experiencing art—its universal, as well as immediate and intimate, life lessons.
The "magical" experience fostered by ASP's Fog × Macbeth finds Artistic Director Chris Edwards enthusiastic about bringing Pride and Prejudice to a "truly living" landscape like the Arboretum. "An actor responds to the energy that exists in a natural setting, knowing they have to match that energy," says Edwards. The living world of wind, rain, trees, and natural sound energizes the actors and the audience, who suspend belief to fully enter the world of the play.
In Pride and Prejudice, the inspiration of Pemberley's gardens (the estate of the story's suitor, Mr. Darcy) looms large. Elizabeth, the object of Darcy's conflicted heart, is impressed by the openness of Pemberley's landscape, a "place where natural beauty had been so little counteracted by an awkward taste," and the gardens help transform her feelings about its owner. Gardens in Austen's world and time were changing. Earlier Renaissance formality was evolving into a more natural look. Straight paths made way for curved ones, allowing mystery around the bend to tempt and delight (á la Mr. Olmsted). Our Pride and Prejudice will take place in the more formal Leventritt Shrub and Vine Garden, yet its proximity to the "naturalized" collections surrounding it provide both foreground and background to Hamill's contemporary take on this classic.
Hamill's adaptation of Austen's novel brings its own unique energy to our garden. Her Pride and Prejudice debuted in 2017—in the outdoors. Edwards offers that the playwright "is funny, a free spirit, and down to earth," bringing a comic Pride and Prejudice to the stage. Edwards directed the play at the Dorset Theatre Festival in 2018, where it was voted BroadwayWorld Vermont Award winner for best professional play. A review of the New York production by Dan Dwyer for the Berkshire Edge concludes that Hamill's adaptation is "…about three-quarters her own, a bubbling, contemporized mix of period dialogue and modern idiom."
Despite her humorous take on the story, one thing Hamill remains serious about is who plays the parts in her adaptation, insisting that at least half of the cast be women or non-gender identifying; her non-traditional cast sees men acting women's parts and women as men. The laughs are nonstop, though the awkwardness of finding love in Austen's nineteenth-century novel still holds true in the twenty-first: both the struggles in finding love and the social tensions we endure when the norms of who, and when, we love are broken.
Oh, and let's not forget Mr. Collins, the pompous, self-important foil for Austen's seminal look at love and whose garden she describes with such relish. What, we wonder, will Mr. Collins make of the Leventritt when he visits our large, well laid out garden this summer? We hope you'll join us for Pride and Prejudice to find out.

Originally published in Silva, Spring/Summer 2019