With plant biodiversity as a unifying theme, research at the Arnold Arboretum of Harvard University by staff and visiting scientists from around the world builds on a broadly integrative program that will advance knowledge about how plants function, how they have evolved and diversified over time, how they shape ecosystems, and how they respond to a rapidly changing planet. The DaRin Butz Foundation Research Internship Program at the Arnold Arboretum of Harvard University gives undergraduates in the life sciences a unique opportunity to experience research from start to finish while gaining training and connections among scientific colleagues. DaRin Butz Interns will not only conduct research, but will also develop their project with their advisors and be guided through the process of sharing their research through written reports and oral presentations, an important component of scientific research. Interns will participate in activities with the other DaRin Butz Interns, including a weekly reading group and tours of the Arboretum's diverse collections. (FAQs)
Program dates: May 31 – August 5, 2022
Read about Emily Rosa's experience as a 2017 DaRin Butz Intern here!
Read about Bridget Bickner's experience as a 2018 DaRin Butz Intern here!
Experiences and expectations
During the ten-week program, DaRin Butz Interns will:
Work full time for the full ten-week period.
Perform hands-on-research on a project that the intern helps develop.
Participate in activities with the advisor's research group.
Actively participate in weekly reading group and other weekly activities with the other interns.
Prepare and write research proposal under the guidance of their Arboretum Advisor.
Attend the end-of-program research symposium and give a 10-minute presentation on their research.
Stipends
The DaRin Butz Foundation Research Internship Program pays a stipend of $6250 for the ten-week period. Interns will be reimbursed for the costs of one round trip travel between the internship site location (Boston metro area) and their home base. Reimbursement will be either the actual airfare or mileage (at rate determined by the IRS) up to $550.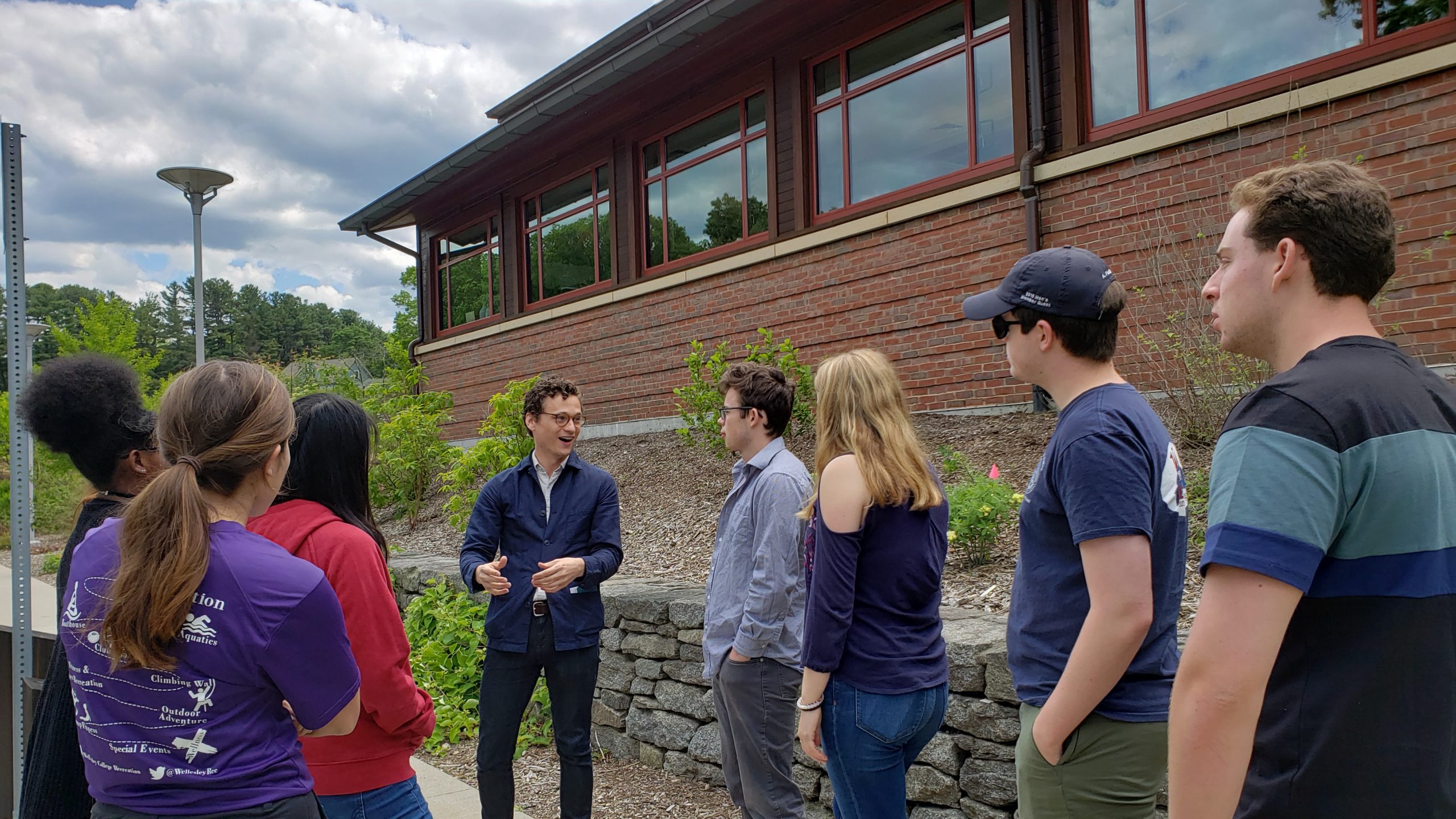 Research Topics
During the internship, DaRin Butz Interns will conduct research in the lab of an Arboretum Advisor. Potential advisors and research projects are listed below. Applicants should choose the research topic they find most interesting and contact a relevant potential advisor (see below) as early as possible to express their interest in working with the advisor during the internship. Potential advisors may conduct interviews prior to acceptance into the program and their lab.
Adaptation and Speciation in Plants
Under the leadership of Robin Hopkins, John L. Loeb Associate Professor of the Natural Sciences at Harvard University and Faculty Fellow of the Arnold Arboretum, this research program is focused on the evolutionary processes involved in speciation and adaptation in plants, using diverse tools from population genetics, field biology, genomics, and molecular biology. Send email.
Leaf Formation Strategies
Under the leadership of Morgan Moeglein, Arnold Arboretum Putnam Fellow, this research program focuses on characterizing strategies for leaf growth within buds across a variety of species. Many plant species form tissue during one season for use in another season, a growth strategy called preformation. The preformation of tissues can allow plants to add tissue while growth conditions are favorable, cease growth and conserve resources during times of stress, and then resume growth quickly with tissues that are already partially developed. This project will involve using leaf morphometric programs to track leaf development, and comparing leaf traits across species growing at the Arnold Arboretum within a phylogenetic statistical framework. Send email.
Ecosystem Ecology
Under the leadership of Benton Taylor, Assistant Professor of Organismic and Evolutionary Biology at Harvard University and Faculty Fellow of the Arnold Arboretum of Harvard University, this research program focuses on how plants respond-to and influence their environments, particularly in view of global change. Send email.
Air Pollution and Urban Ecosystems
Under the leadership of Boston University Professors and Associates of the Arnold Arboretum Pamela Templer (email) and Lucy Hutyra (email), this research program is focused on air pollution in urban ecosystems and its effect on plants, soils, waterways and the atmosphere. This project will be integrated with the National Atmospheric Deposition Program site established at the Arboretum and provides a unique opportunity to analyze real-world data in the environment the student lives in, while taking advantage of the national network that places their findings in the context of national trends.
Winter Physiology in Plants
Under the leadership of Camilo Villouta, Arnold Arnold Arboretum Putnam Fellow, this research program focuses on the different strategies the trees have developed for surviving winter and ensuring reproductive success in the spring. This work will add insight to how climate change may impact temperate woody species. Send email.
Application Information
To be considered for an internship, online applications should include the following:
Cover letter. In 1-2 pages, your cover letter should state clearly the following: (i) interest in the program, (ii) interest in the selected research topic, (iii) career objectives and how the internship will help to achieve these goals.
Resume.
Unofficial transcript. An unofficial or unencrypted electronic transcript from the institution where the applicant is currently enrolled is preferred. A PDF copy or screenshot of courses/grades is acceptable.
One letter of recommendation. As part of the online submission, you must send a request to the referee to submit a letter of recommendation (via the request section). The referee will be automatically sent an email with a link to an online submission form where they will upload a letter of recommendation. It is highly recommended that you contact your referee prior to sending the request. Please inform the referee to expect an email from admin@communityforce.com with instructions for submitting a recommendation letter. Each referee must upload his/her letter of recommendation via the link by Feb 15.
Qualifications
Interns selected for the DaRin Butz Foundation Research Internship Program are expected to participate fully in the all aspects of the program and the work-life of the institution with maturity, curiosity, and commitment to learning. We encourage applications from groups under-represented in the sciences. An excellent academic record and participation in a wide range of campus activities are highly regarded, but not the sole criteria for the selection process.
Must be enrolled in an undergraduate degree program in the life sciences (part-time or full-time at the time of application) leading to a baccalaureate or associates degree. High school graduates who have not yet enrolled and students who have already received their undergraduate degree at the time of application are not eligible for the program.
Prior research experience is not required.
Maturity, self-motivation, and willingness to work independently and as part of a team.
Must be authorized to work in the United States.
Must be able to work at least 40 hours per week for the entire ten-week term. Late starts, early departures and vacations are not permitted during the 10-week program (except for official Harvard-wide holidays).
Harvard University does not provide health insurance for summer interns. All costs of any health care required is the responsibility of the intern.
Students who have already participated in the program are not eligible to reapply. Those students are encouraged to contact Arboretum staff directly to discuss potential opportunities.
Additional Information
For questions about the internship or submission process, contact the selection committee (Email).

The DaRin Butz Foundation Research Internship Program at the Arnold Arboretum of Harvard University is made possible by the generosity of The DaRin Butz Foundation.