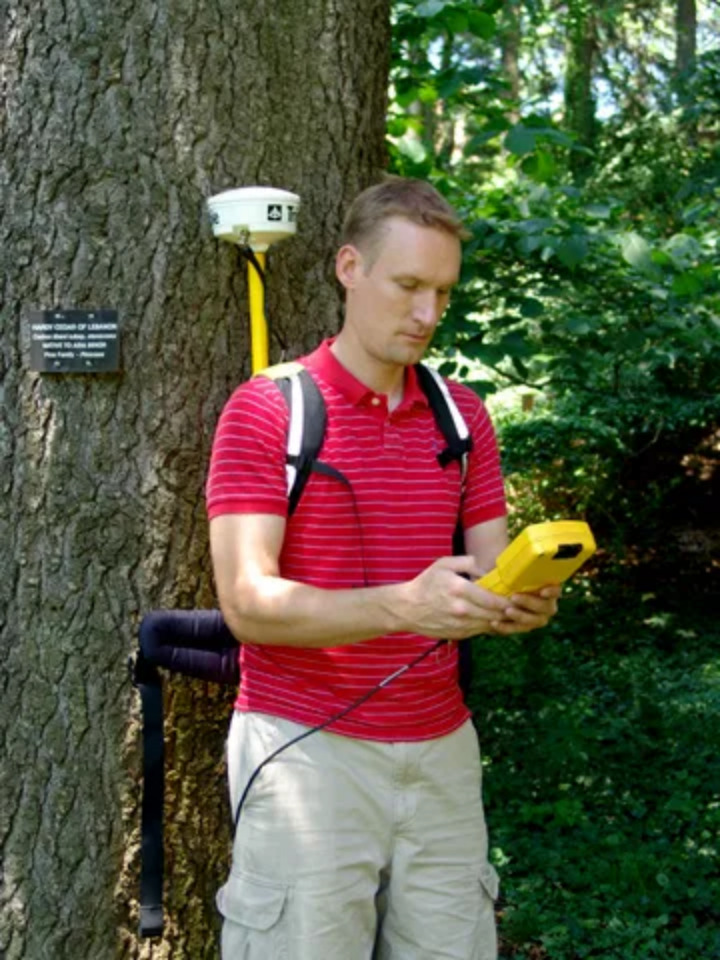 To support the scientific value of its plants, the Arnold Arboretum has historically collected and maintained vast information resources that document the natural history of the collection. Documentation of plants in the landscape began in earnest with the institution's founding in 1872, pioneering methods that today serve as a standard for botanical gardens and arboreta around the world. Over the past twenty-five years, the Arboretum has improved precision and expanded access to this information for staff, researchers, and the general public through the use and development of a geographic information system (GIS).
GIS enables the Arboretum to integrate collections documentation with geographically-referenced information for wide-reaching purposes, from collections care and curation to scientific study and public enjoyment. The 2011 launch of Collection Researcher delivered the first online map application to link current and historical information about Arboretum plants with the means to pinpoint them in the landscape. Built by former Arboretum Putnam Research Fellow Brian Morgan, Collection Researcher not only provides efficient and enhanced access to the living collections, but connects users to a number of external resources on plant taxonomy, scholarship, and conservation. On Lilac Sunday 2012, the Arboretum unveiled two web applications that optimized this technology for mobile devices—the Arboretum's Mobile Interactive Map (MIM) and AA Navigator. A year later, on Lilac Sunday 2013, a new and improved mobile application was released, combining the best of both into one new web application Arboretum Explorer. All of these solutions contribute innovation toward advancing the mission of the Arnold Arboretum to share our collections toward a greater understanding and appreciation of plants and biodiversity.
The Arboretum uses ESRI ArcGIS software to maintain it's GIS. Arboretum Explorer uses Web Mercator projection, while our printed map book uses Mass State Plane. More information can be found on our Curatorial Procedures or our Data Resources pages.
Why GIS?
As a living museum of natural history, the Arnold Arboretum is distinguished from the majority of gardens and landscapes through the systematic development and documentation of its collections. Like zoos and botanical gardens, the Arboretum differs from other museums in that the objects it curates are living things. However, like the treasures held by other types of museums, the individual plants in our landscape hold value through their provenance and the accumulation and dissemination of relevant information about them.
At the Arboretum, this information includes data about a plant's natural history; its botanical description, taxonomic placement, and associated nomenclature; passport data related to its original collection in the wild (or other source); and unique evaluations and observations generated through field checks and research throughout its cultivation. Also included are collections control data compiled to manage the objects within the collection, including its accession number, its precise location in the landscape, its maintenance records, and documentation of its use in programs and research. Wrapping these data into a powerful GIS opens new avenues for curation, teaching and research, planning and maintenance, visitor-based initiatives, and biodiversity informatics.
Online Resources
References
Morgan, B. 2012. A Map is Worth 1,000 Words: Exploring the Arboretum Online with Collection Researcher. Silva (Spring/Summer).
Connor, S. 2009. Bird's-eye Views: Aerial Photographs of the Arnold Arboretum. Arnoldia 67(1): 10-19. [pdf]
Johnson, E. W. 1989. Cartographic Records of the Living Collections. Arnoldia 49(1):61-64. [pdf]
Quigley, J. 1989. Chronicling the Living Collections: the Arboretum's Plant Records. Arnoldia 49(1):54-60. [pdf]