Plants collected on this Expedition
| Plant ID | Accession Date | Received As | Origin | Source |
| --- | --- | --- | --- | --- |
| | | | | |
| | | | | |
| | | | | |
| | | | | |
| | | | | |
Oregon, Washington
Event Type

Expedition

Collection Type

Germplasm, Herbarium Specimens

Arnold Arboretum Participants

Kyle Port and Terry Huang

Other Participants

Dale Reinhart, Measurements & Special Forest Products Program Manager1; Mark Skinner, Ph.D., Regional Botanist1; Lauri Malmquist, Acting Forest Botany Program Manager, Wenatchee River Ranger District Botanist1; Sean Hogan, Nursery Owner and Principal Designer2; Preston Pew2; Richard Olmstead, Ph.D., Department of Biology Professor3; David Giblin, Ph.D., Research Scientist/Herbarium Collections Manager3

Other Institution(s)

1United States Forest Service, Pacific Northwest Region (R6); 2Cistus Nursery (Portland, OR); 3University of Washington (Seattle, WA)
Each year the Arnold Arboretum sends staff members to collect germplasm—plant seed and tissue—to build our living collections and preserve threatened or endangered species.
In late summer 2018, Kyle Port, Manager of Plant Records, and Terry Huang, Living Collections Fellow, journeyed to the Pacific northwest to gather seeds, fruits, and herbarium specimens as a part of our Campaign for the Living Collections.
Starting in far southern Oregon, they worked their way north to Washington, collecting on both private and public land including state and national forests. They were careful to obtain any required collecting permits before beginning. In one week, they made 39 collections of 34 different taxa of plants, and traveled over 1,366 miles.
The captions for the illustrations in this article have additional narrative of Kyle and Terry's trip. All quotes in the text are by Kyle Port.
August 31
Klamath-Siskiyou Ecoregion
Laden with plant press, collecting bags, bug spray, and a long list of other necessary items, Kyle and Terry arrived in southern Oregon to begin a week of plant collecting.
Their first stop was in Josephine County in far southern Oregon, where they collected germplasm from nine different taxa of plants, including the vine maple (Acer circatum), California incense cedar (Calocedrus decurrans), and the Pacific dogwood (Cornus nutallii), all shown in the photographs below. Other collections that day included the big leaf maple (Acer macrophyllum) and the creamy flowered ocean spray (Holodiscus discolor).
September 1
Klamath-Siskiyou Ecoregion
Our collectors moved on to Jackson County, Oregon, in the Rogue River–Siskiyou National Forest the next day. In spite of difficult traveling, eight plant taxa were collected that day including specimens of the stately Ponderosa pine (Pinus ponderosa), and western white pine (Pinus monticola), but seed bearing cone from the largest of the pines continued to elude them.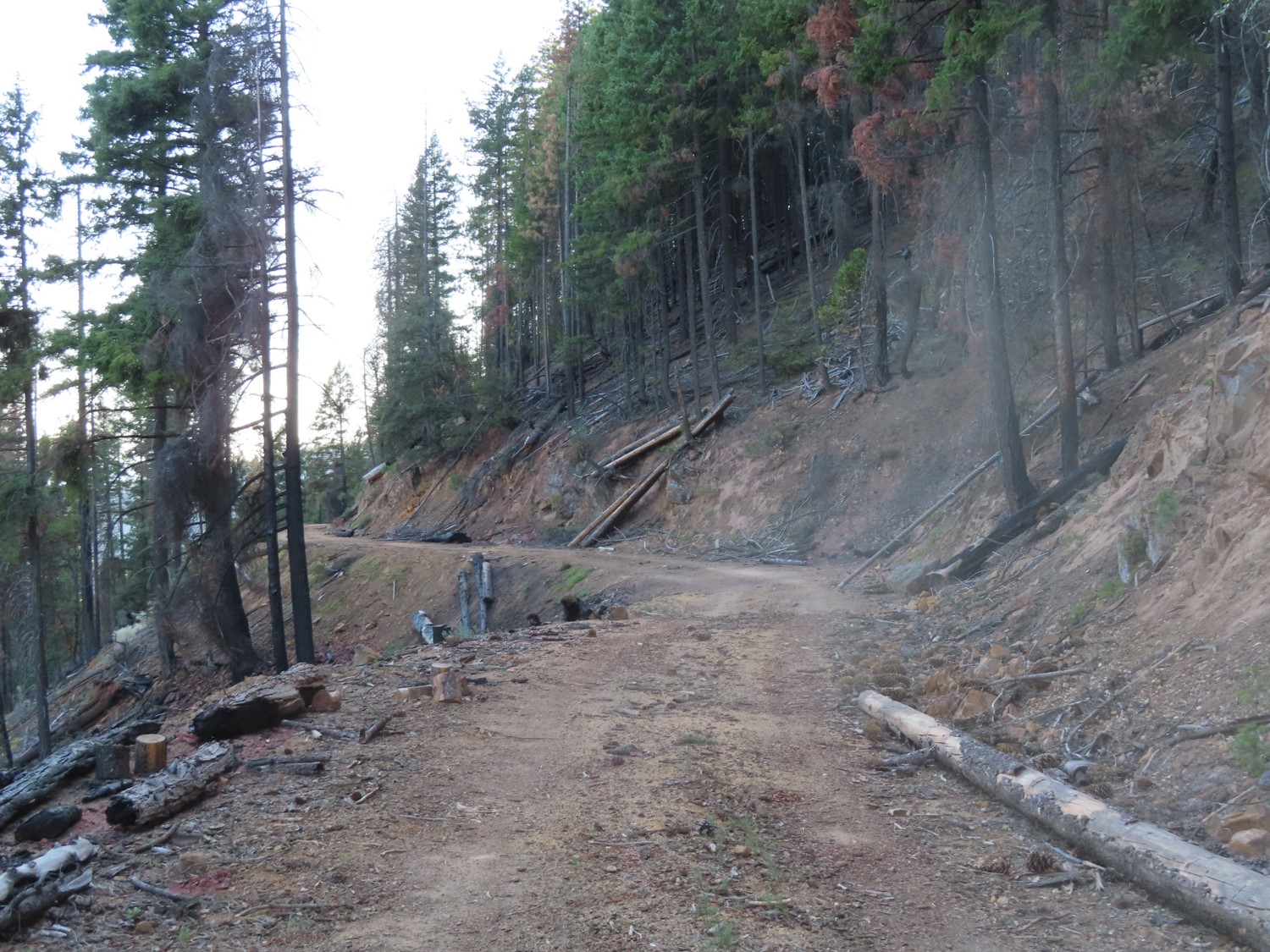 Of our many collections, we are most pleased to bring back Pinus lambertiana (sugar pine), the largest pine in the world. This sugar pine cone will be wrapped in butcher paper in preparation for its long journey to Boston.
– Kyle Port
September 2
Journey to Prineville
The next day, our collectors started their long drive north towards Prineville, Oregon, making several stops along the way for plant collecting.
September 3
Ochoco National Forest

From Prineville, Oregon, Kyle and Terry drove to the Ochoco National Forest in search of their quarry, the western larch (Larix occidentalis), and then on to the Mt. Hood National Forest, where they located bunchberry (Cornus unalaschkensis). An important collection was that of Pacific yew (Taxus brevifolia), which can be difficult to collect.
September 4
Mount Hood National Forest
If it's Tuesday, it must be Mt. Hood! Kyle and Terry continued their successful collections with a bumper day in the field. "Our collecting site along the Clackamas River yielded the most target taxa of any area on this expedition. These species include: Acer circinatum (vine maple), Acer glabrum (Rocky Mountain maple), Philadelphus lewisii (mock orange), Tsuga heterophylla (western hemlock), and Viburnum ellipticum (oval-leaved viburnum)."
September 5
Journey to Leavenworth
The day was spent on the road to the quaint town of Leavenworth, Washington. Their drive took them past ponderosa pine forests, vineyards, orchards, the Yakima Reservation, to arrive at last in Leavenworth, Washington. They had an early evening in preparation for a long hike the next day to high elevations.
September 6
Okanogan-Wenatchee National Forest

After an evening of rest Kyle and Terry made an early start on their most ambitious collecting day of the expedition. Kyle narrates, "Our ascent to Icicle Ridge will begin on the Fourth of July Trail, which switchbacks through swaths of forest burned in 2017. Our aim is to reach Pinus albicaulis (whitebark pine) and Larix lyallii (alpine larch), which have been untouched by fire. These very populations are found at elevations above 6,000 feet and our National Forest collaborators have assured us that we will find them there."
"At 6pm, we finally returned to the moist valley below with the sun just beginning to set. From mountain shadow to mountain shadow, we wish you could have joined us for this memorable hike. Our trip ends tomorrow and we look forward to sharing more stories with you in the days ahead," said Kyle.
September 7

Kyle and Terry's last day on the 2018 Oregon Washington Expedition was spent on the road to Seattle and their flight home, but they left time for a little bit more botanizing along the way.
---
Back in Boston
What happens to all the seeds?
All the plant material collected during the 2018 Oregon Washington Expedition was sent to our propagation facility, the Dana Greenhouses, located on the grounds of the Arnold Arboretum. If there was plant material still attached to the seeds, they were cleaned, and any cone or casings removed.
In the photograph on the right, seeds are being removed from a dried sugar pine (Pinus lambertina) cone. After they are removed, the seeds are counted, divided into lots, and placed in the small manila envelopes seen at the top right of the picture.
The envelopes will be labeled with the Latin plant name, or binomial, accession number, expedition name, and seed count. This photograph shows completed packets with their accession cards. From the moment it is collected, every piece of information about a seed or specimen is recorded for entry into BG-Base, our plant information database, a system used by the Arnold Arboretum and many other botanic gardens and arboreta for recording information about their plants.
Manager of plant production, Tiffany Enzenbacher, reveals the lengthy process required for germinating this species of Viburnum.
"Single-seed Viburnum ellipticum (AA# 257-2018) drupes were received on 11 September 2018 in a labeled polyethene bag, cleaned, and 200 seeds were divided into two lots. Lot 1 was prescribed 5 months warm stratification followed by 3 months cold stratification and were placed in a small polyethylene bag containing moist, well-drained medium on 18 September held at room temperature (65-68°F). After nearly 5 months of warm stratification, the seed was then placed in a refrigerator (38-40°F) on 10 February 2019, for 3 months cold stratification. On 17 May 2019, the seed was removed from cold stratification and sown in 50% germination mix/50% sand and placed in a warm greenhouse with a low of 64-68°F and supplemental LED lighting. No seed germination occurred after 9 months, and the seed flat was placed in the refrigerator for another round of cold stratification on 4 February 2020. On 4 May 2020, seed flat was placed in a warm greenhouse again and germination was noted soon thereafter on 8 May 2020."

Tiffany Enzenbacher
Dig Deeper
You can learn more about what goes into planning and executing a plant collecting expedition in The Arnold Arboretum Expedition Tool Kit: A Reference Manual for Expedition Plant Collectors.
Credits
We would like to thank Kyle Port for his assistance in preparing this expedition story. Field photographs by Kyle Port and Terry Huang. Greenhouse photographs by Kyle Port and Tiffany Enzenbacher.