Plants collected on this Expedition
| Plant ID | Accession Date | Received As | Origin | Source |
| --- | --- | --- | --- | --- |
| | | | | |
| | | | | |
| | | | | |
| | | | | |
| | | | | |
Indonesia, Papua New Guinea
Event Type

Non-Arnold Arboretum Expedition

Collection Type

Germplasm, Herbarium Specimens

Arnold Arboretum Participants

Leonard John Brass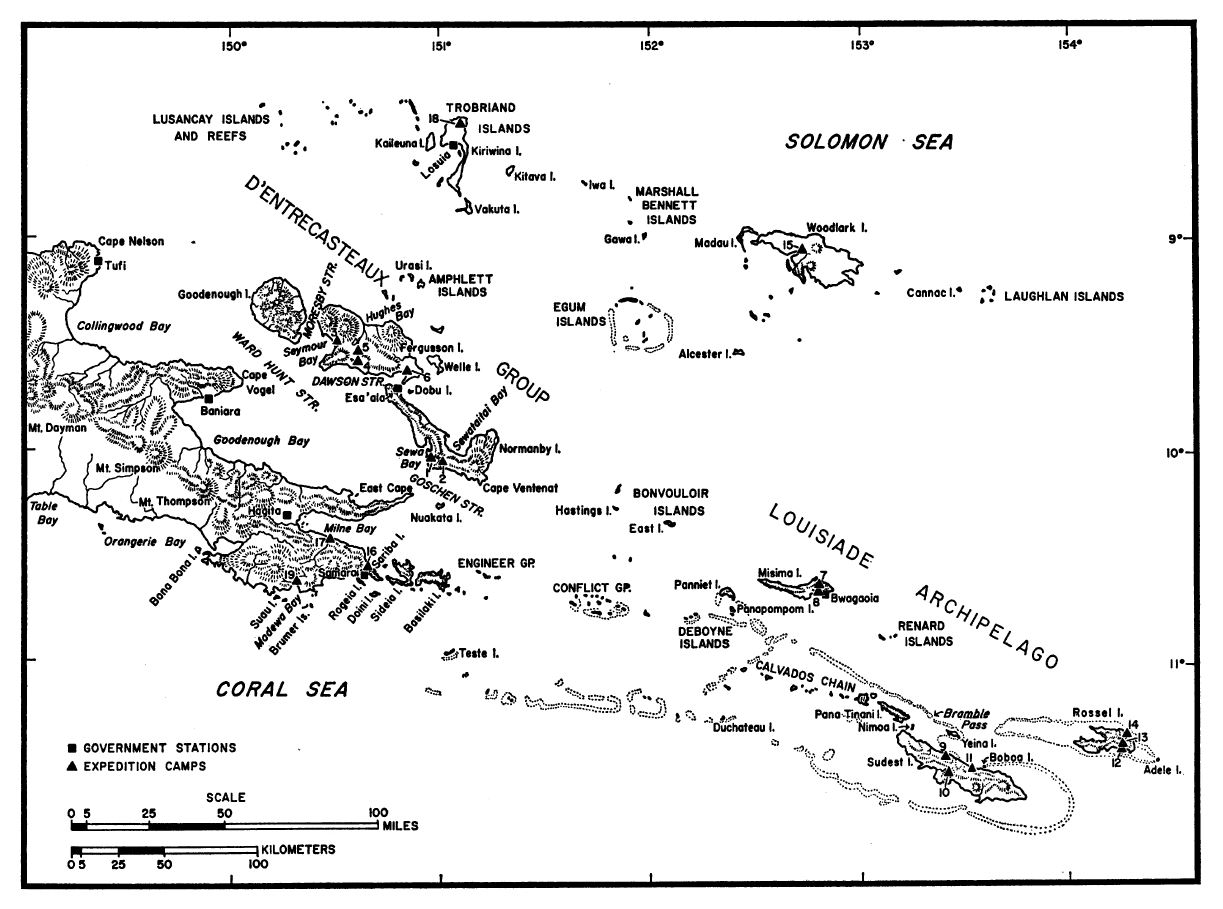 The 1956-1957 Fifth Archbold Expedition to Papua New Guinea was again led by Leonard J. Brass, an Australian botanist and associate curator of the Archbold Expeditions. Two staff members from the American Museum of Natural History (AMNH) accompanied him, zoologist Russell F. Peterson and assistant Lionel J. Evennett.
The trip was a continuation of the previous effort to describe and classify the biology, geography, and climate of the southwestern Pacific archipelago. The Arnold Arboretum funded this expedition under the condition that plant material from the Fourth Archbold Expedition be identified and submitted to the Harvard University Herbaria.
The team departed in March of 1956 and returned in January 1957. They explored the southeastern mainland of Papua New Guinea, and four islands to the north: Fergusson, Normanby, Rossel, and Woodlark. The regions explored on this expedition contained less biological diversity compared to the regions explored on previous trips. Those areas possessed more varied forest types and a wider elevation range.
The quantity of collections were notable. As Brass published in his summary report, the team made 2,657 collections of plants yielding 14,640 herbarium specimens Herbarium specimen: An herbarium specimen is a pressed and dried plant sample that is generally mounted on a sheet of paper. Specimens can be stored indefinitely and are used for a wide variety of botanical research. including duplicates. Vouchers were sent to Rijks Herbarium in the Netherlands for identification before sets of duplicates were sent to the Arnold Arboretum, the United States National Herbarium, and additional herbaria.
Dig Deeper
Peterson's field catalog of zoological specimens from the expedition has been digitized by the AMNH, as has Brass's trip diary.
Read Brass's Summary of the Fifth Archbold Expedition.