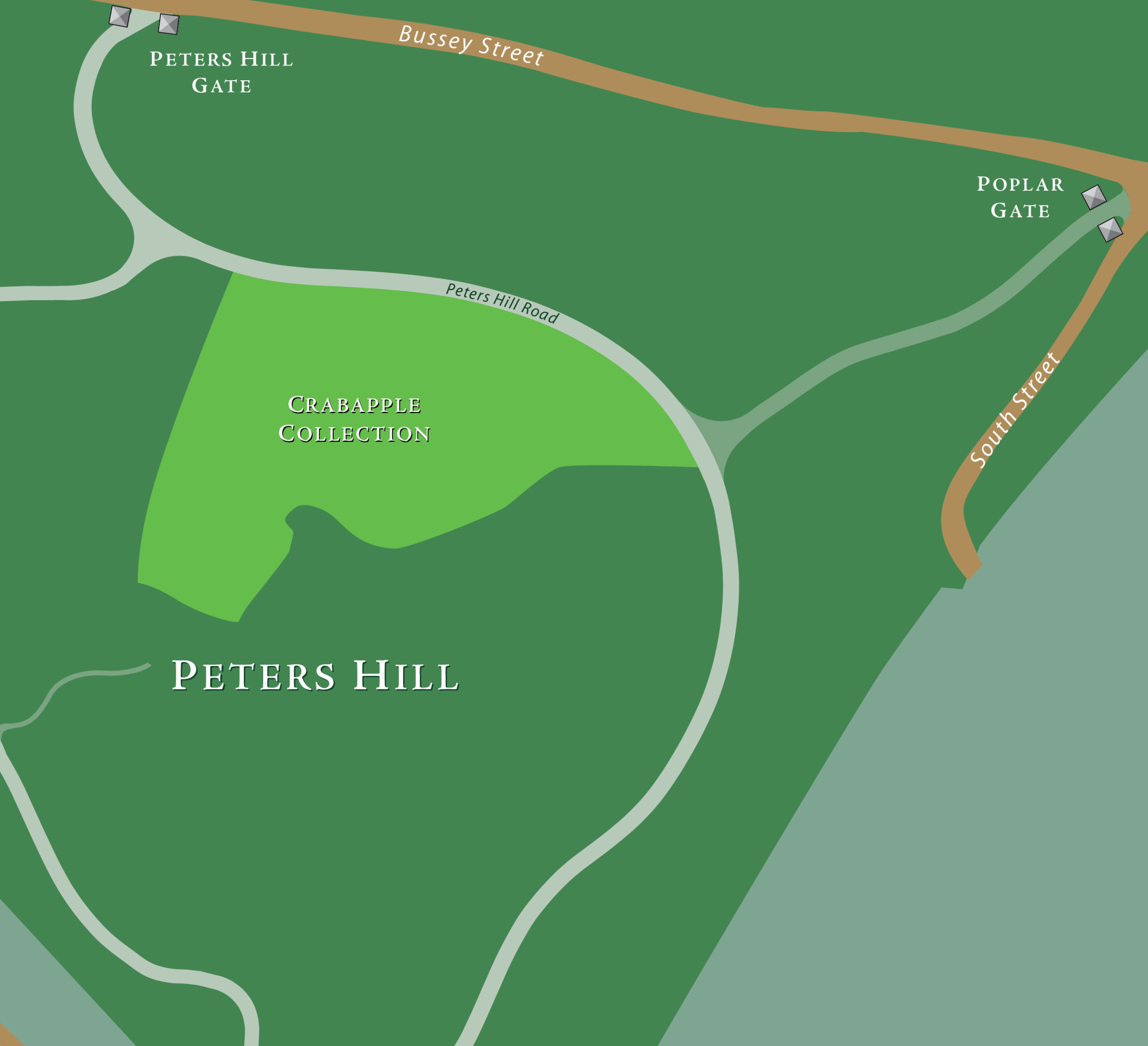 Directions
The Arboretum's core collection of Malus species (apples and crabapples) is located on the north and east sides of Peters Hill. The collection lies about a ten minute walk from the Mendum Street Gate, and less than five minutes from the Peters Hill Gate and the Poplar Gate. View the Malus collection from Peters Hill Road, or explore plants sited farther up Peters Hill by walking on the grassy slope. If driving, park along Bussey Street or in front of the Poplar Gate.
Additional Malus species can be found in the Bradley Rosaceous Collection. The collection is adjacent to the Forest Hills Gate, about fifteen minutes from the Arborway Gate, and about thirty minutes from the Bussey Street Gate. Walk to the collection from Meadow Road or Willow Path. If driving, park along the Arborway.
Accessibility
Peters Hill has the highest elevation in the Arboretum. Peters Hill Road is fully paved; it circles the base of the hill and has a moderate incline in its northwest section. Many of the plants in the Malus collection can be viewed from Peters Hill Road. Portions of the collection grow on the steep, grassy slopes of the hill.
Interpretation
Download a self-guided tour [pdf] of the crabapple collection, and look for a sign at the top of Peters Hill describing the hill's geology, how the crabapple collection developed, and the role of the Arboretum as an urban ecosystem. An information kiosk at the Bussey Street Gate provides seasonal updates. Map tables at the Peters Hill Gate, the Poplar Gate, and the Mendum Street Gate provide Arboretum wayfinding information.
You can also view this tour on the Arboretum Explorer interactive map. Follow this link and you will see colored leaf icons. Click/tap on an icon to get a plant name and image; click/tap the circled "i" on the right to get more detailed information. For more information on how to use the mobile application click/tap on "Help" in the menu.
How long should I explore?
Plan to spend about fifteen minutes exploring the Malus collection on Peters Hill, and longer when the plants are in bloom in May. Peters Hill Road is a loop that takes approximately thirty minutes to walk.
Plan your visit to the Arboretum.