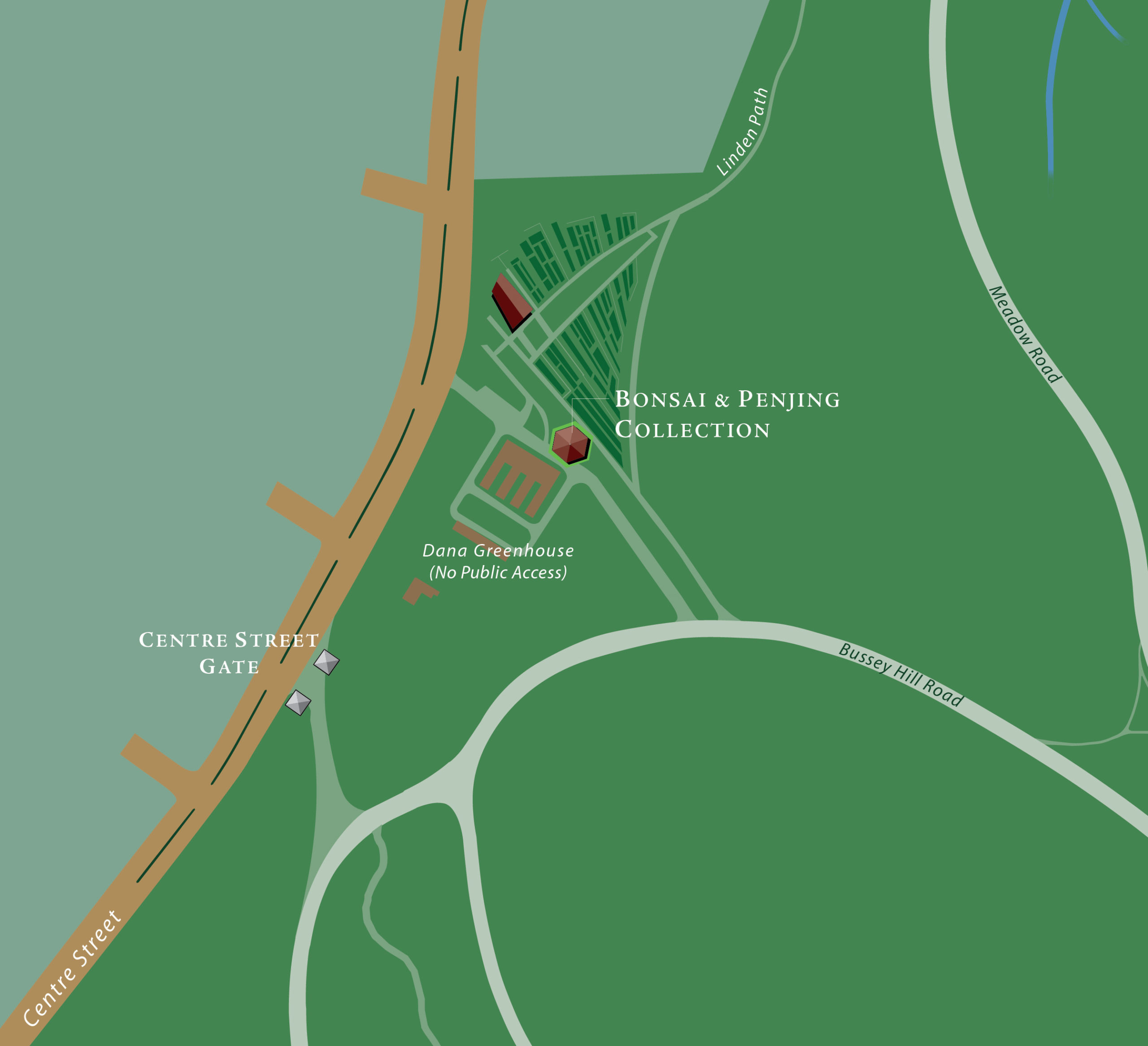 Directions
The collection is displayed adjacent to the Dana Greenhouses, approximately a 10-minute walk from either the Arborway Gate or the Forest Hills Gate, and about a twenty-minute walk from the Bussey Street Gate. Look for the wooden lath house overlooking the Leventritt Shrub and Vine Garden, just beyond the stone wall running along its southwestern border. Use the stairwell that cuts through the stone wall, or turn off of Bussey Hill Road toward the Dana Greenhouses for an accessible path to the Bonsai Collection. If driving, park outside the Centre Street Gate or along the Arborway.
Accessibility
The collection is on view from mid April through mid November, daily from 8:00am to 3:45pm, excluding holidays. For a wheelchair-accessible route to the collection, access it from Bussey Hill Road. Take the paved road that leads toward the Dana Greenhouses, and go through the gate. The pavilion will be on your right. There is no entry to the bonsai pavilion itself; the structure is designed to allow visitors to view the collection from the outside.
Interpretation
Labels provide plant names and the year each was first trained as bonsai. On select Thursdays and Sundays the pavilion will be opened by a trained volunteer. You will have the opportunity for an up close and personal look at the bonsai and penjing and the volunteers will be available to answer questions.
How long should I explore?
Most visitors spend between ten and twenty minutes viewing the collection, which may be enjoyed from multiple angles as visitors circulate around the perimeter of the lath house.
Plan your visit to the Arboretum.