'Schlesingeri' Red Maple
Acer rubrum 'Schlesingeri'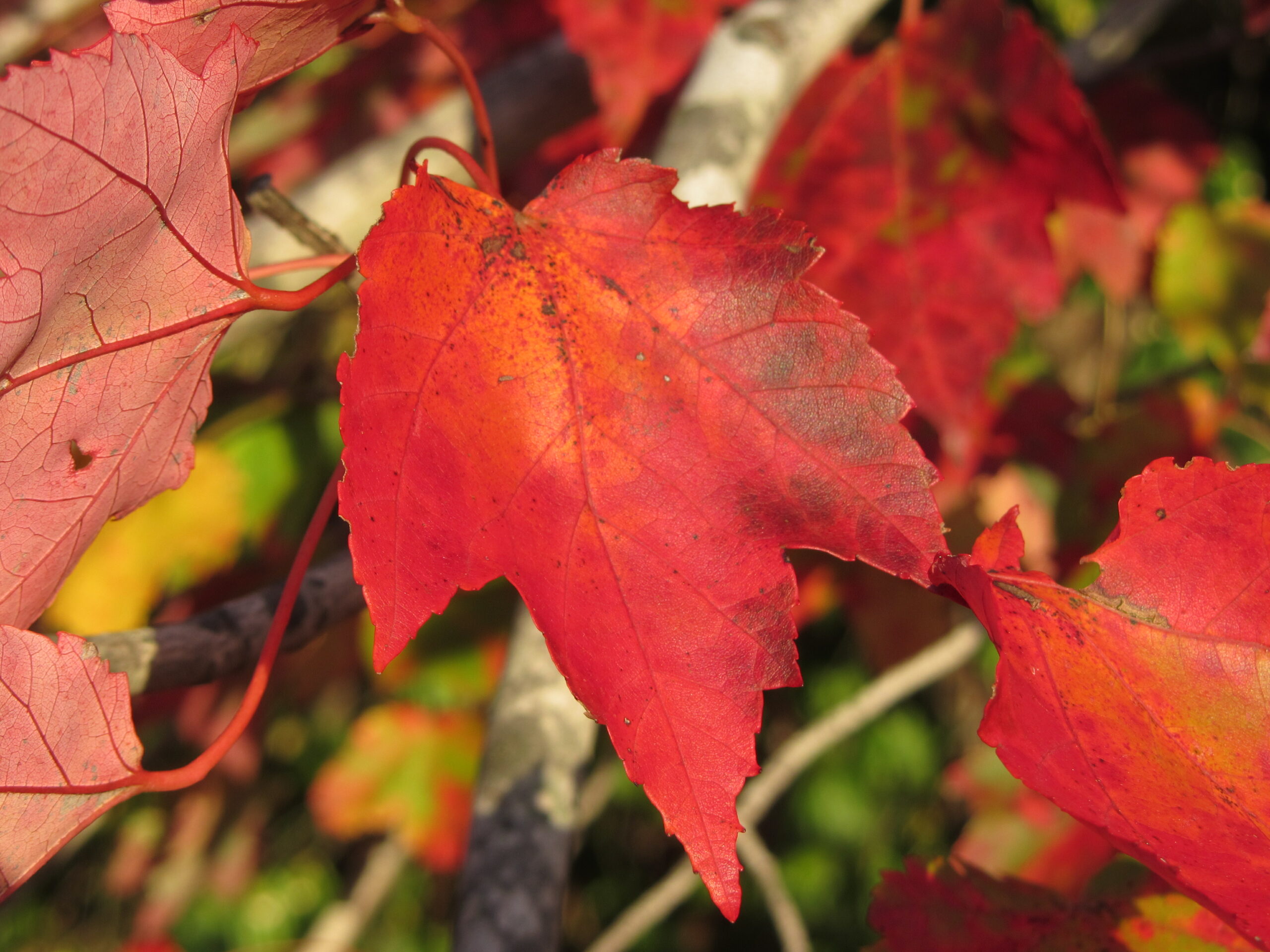 'Schlesingeri' red maple starts to color just after the summer heat has peaked, typically in mid-August, and is fully aflame in September.
Inaugural Arnold Arboretum of Harvard University director Charles Sprague Sargent initially found this prematurely-coloring red maple growing in the garden of Brookline, Massachusetts neighbor Barthold Schlesinger during the late 1800's. Sargent brought dormant stem cuttings in for grafting to the Arboretum in winter 1888. After a successful propagation take, it was planted at the main Arborway entrance gate at the Arboretum, where this centenarian remains today across from the Hunnewell Building. Sargent shared propagules with the well-known Spath Nursery in Berlin, and it became available commercially in 1896. In 1951, Arboretum horticulturist Donald Wyman (1935-1970) distributed plants to 25 nurseries to promote this exceptional cultivar and affirm that its early coloring was genetic and not environmental.
'Schlesingeri' red maple begins its annual color transformation in mid-August, and by early to mid-September, is in full glory. Fall shades range from brilliant red to reddish-purple and last for a significant time – 20 to 30 days. Red inflorescences are borne on branches before leaves appear in spring, in March to April. Foliage is lobed, with toothed margins. Leaves are red at emergence, changing to dark green with gray undersides. Fruit, red two-winged samaras, are produced in autumn. Twigs also have a reddish hue, which becomes more pronounced as winter approaches. Red maple forms a large, upright spreading crown, and can reach 60 to 70 feet in height at maturity.
'Schlesingeri' can be obtained in the nursery trade; however, in some instances it may not be true to type.
Viewing this plant in-person? Look for these defining characteristics:
1

Vibrant early red fall color.

William (Ned) Friedman

2

Flowers in early spring before leaves emerge.

Suzanne Mrozak

3

Close up of stamens (male floral organ).

William (Ned) Friedman

4

Oval to rounded crown of a young tree.

William (Ned) Friedman
The original 1888 tree stands over 65 feet tall.

Cutting and grafting propagation of the centenarian has produced several replicates, which are planted throughout the Arboretum to serve as genetic backups.

The youngest 2014 clone is located next to the 1888 type specimen by the main Arborway entrance.
Living Specimens

Specimens Dead or Removed

First Addition

Most Recent Addition

Tallest Specimen
| Plant ID | Accession Date | Received As | Origin | Source |
| --- | --- | --- | --- | --- |
| | | | | |
| | | | | |
| | | | | |
| | | | | |
| | | | | |