'Gus Mehlquist' Sprawling Sand Cherry
Prunus pumila var. depressa 'Gus Mehlquist'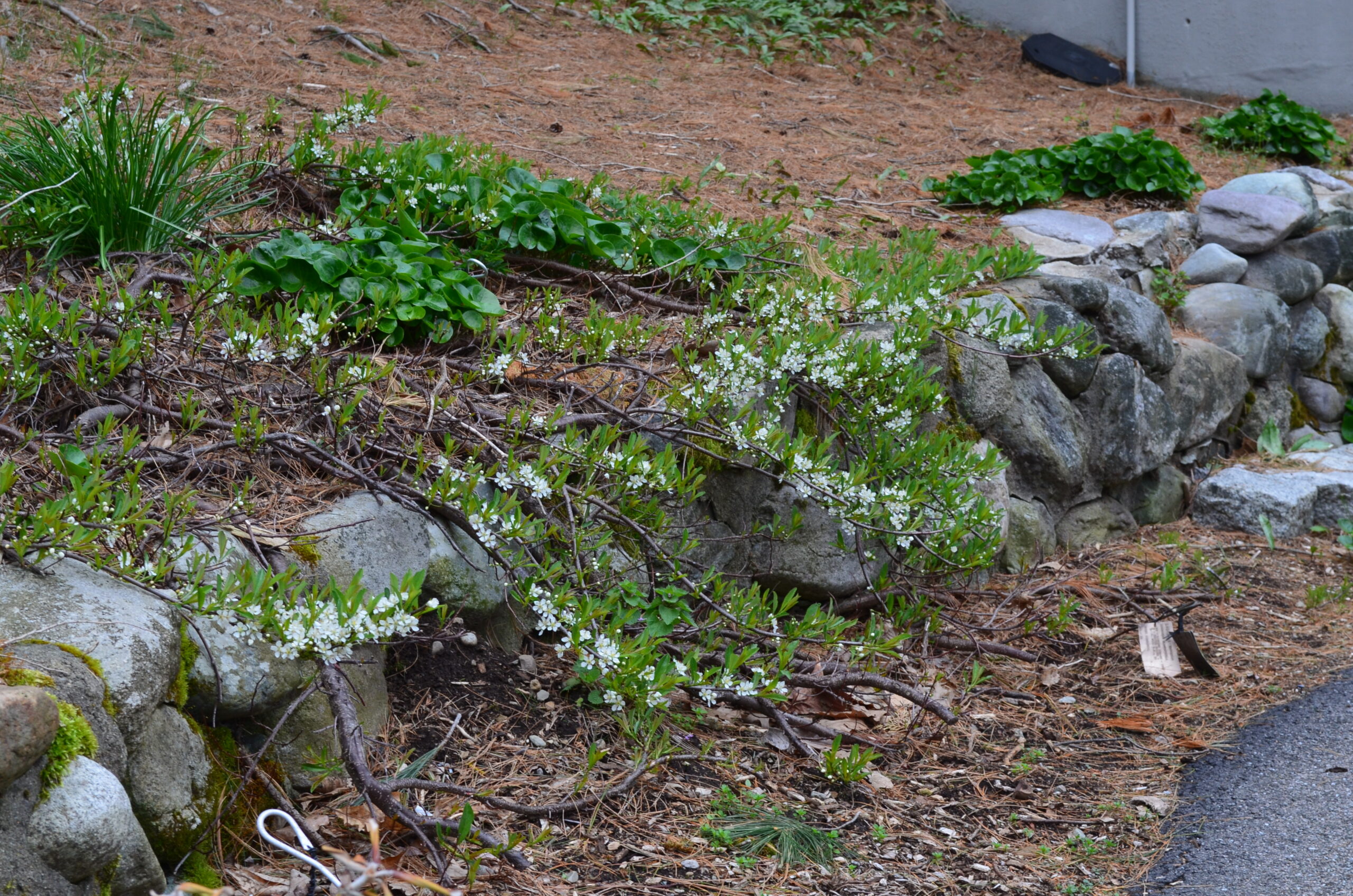 This New England native sand cherry was collected by the Arnold Arboretum in New Hampshire. Its name honors University of Connecticut plant breeding and biology professor Dr. Gustav Mehlquist.
On May 4, 1990, Harvard University research scientist David Boufford and Robert Nicholson, then Arboretum assistant plant propagator, found an extremely low-growing sprawling sand cherry (Prunus pumila var. depressa) along the bank of the Connecticut River in Cheshire County, New Hampshire. Boufford and Nicholson recognized the stature of this short sand cherry as something special. A division was harvested on that spring day, transported to the Arboretum, and transplanted directly into the plant production facility landscape. The small division later flourished into a thriving groundcover in the landscape beds adjacent to the Dana Greenhouses.
Under Nicholson's watchful eye, the plant kept its prostrate habit over the next several years. Nicholson introduced the exciting horticultural find as 'Gus Mehlquist' in 1993 through the New Plant Forum of the International Plant Propagator's Society (IPPS) in conjunction with the Smith Botanic Garden, where he was employed at the time of release. The cultivar name 'Gus Mehlquist' honors the University of Connecticut plant breeding and biology professor Gustav Mehlquist (1906-1999). Like Nicholson, Mehlquist was also an active IPPS member and was a contemporary rhododendron hybridizer to boot. In fact, one his hybrids, Rhododendron smirnowii × degronianum ssp. yakushimanum can be viewed in its spring glory in Rhododendron Dell, near the intersection of Hemlock Hill and Valley Roads.
To ensure that the desirable diminutive habit is retained, 'Gus Mehlquist' can only be propagated vegetatively (for instance, by stem cuttings) not seed, which is typical of cultivated varieties. Replicates of 'Gus Mehlquist' were provided to the nursery industry as part of the Arboretum's first formal plant introduction endeavor, the Plant Introduction, Promotion, and Distribution (PIPD) program. This initiative was started by former Putnam Fellow Kim Tripp in 1995 and was actively stewarded by the living collections department into the early 2000's. 'Gus Mehlquist' was one of three 2002 releases, together with Chinese plum-yew (Cephalotaxus fortunei) and Korean weigela (Weigela subsessilis).
Sprawling sand cherry is native to eastern Canada south to the northeastern United States. It is a spreading, low-growing variety of sand cherry (Prunus pumila), which has a wider range and is found throughout the northern half of the United States and southern Canada. 'Gus Mehlquist' sprawling sand cherry is a rapid spreader, growing 3' per year once established. It is entirely prostrate, forming a dense mat as it roots along its stems. It stands only 6-12 inches above the ground, compared the 9-foot-tall height that a sand cherry shrub can attain.
Flowers are dainty with five white petals, followed by  blue-black fruits in September. It has elliptic dark green foliage through the growing season, with fall color displaying brilliant crimson and maroon hues. New stem growth is a warm brown turning to gray in maturity, marked with white lenticels. 'Gus Mehlquist' sprawling sand cherry performs well in normal garden conditions, and displays bolder fall foliage when planted in full sun. It is extremely adaptable to both dry and wet sites.
Viewing this plant in-person? Look for these defining characteristics:
1

Prostrate, spreading shape.

Tiffany Enzenbacher

2

Dainty white flowers in spring.

Tiffany Enzenbacher

3

Red fall color.
The original 30-year-old plant is flourishing behind the Arboretum's Dana Greenhouses. It was collected as a division from the wild.

'Gus Mehlquist' only reaches a height of 12 inches, but grows several feet wide. It will also root along its stems, increasing its footprint.

Rabbit browsing during the winter has no effect – vigorous growth the following spring and summer recoup any feeding by rodents.
Living Specimens

Specimens Dead or Removed

First Addition

Most Recent Addition

Tallest Specimen
| Plant ID | Accession Date | Received As | Origin | Source |
| --- | --- | --- | --- | --- |
| | | | | |
| | | | | |
| | | | | |
| | | | | |
| | | | | |