'Dunfee' Highbush Blueberry
Vaccinium corymbosum 'Dunfee'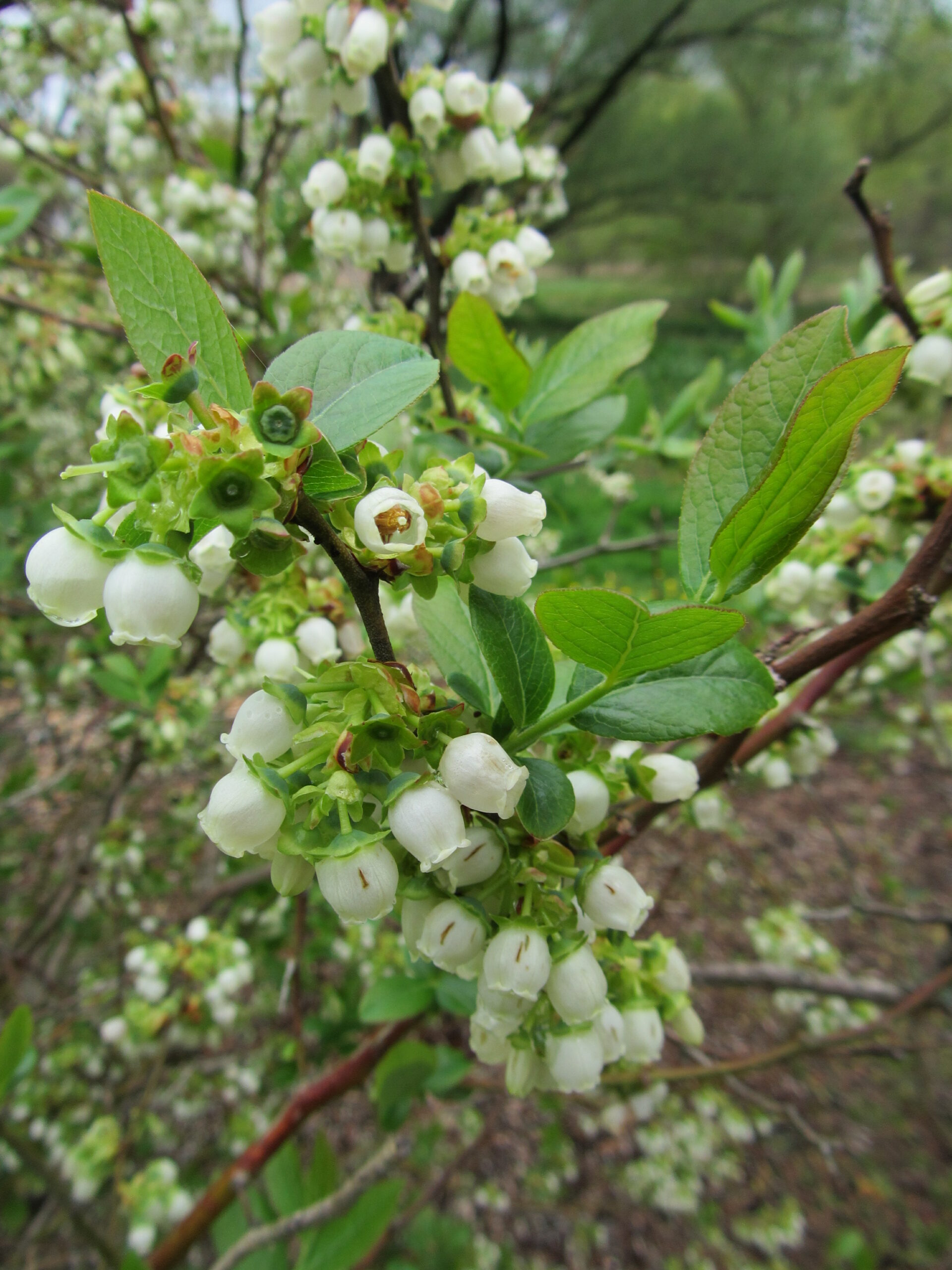 It took a village to tame the wild blueberry.
Along the Arboretum's Meadow Road grows a highbush blueberry discovered by a ten-year-old boy. Highbush blueberry (Vaccinium corymbosum) is the same type of blueberry available in our grocery stores. However, before 1916, it could only be found in the wild. In 1916, USDA botanist Frederick Coville and cranberry farmer Elizabeth White, of Whitesbog in Browns Mills, NJ, did what scientists and farmers nationwide had been unable to do for decades: they brought to market the first blueberries grown agriculturally. The 'Dunfee' highbush blueberry shrub on Meadow Road was instrumental to that achievement.
Wild high- and lowbush blueberries (V. angustifolium) flourished near Coville's New Hampshire farm, yet most attempts to cultivate them had failed miserably. Intrigued, Coville began a series of experiments to learn more, publishing his findings in a 1910 article titled "Experiments in Blueberry Culture." One of his key discoveries was that, unlike most agricultural crops, blueberry plants thrive in acidic soils—the same type of soil in which cranberries (V. macrocarpon) flourish.
White likely leapt out of her chair upon reading this. For years, she and her father, Joseph White, had dreamed of cultivating blueberries on their farm. Wild highbush blueberries (also called swamp huckleberries) grew abundantly around Whitesbog, offering a delicious treat when the fruits ripened in summer. If they could be tamed, they would make the perfect complement to the autumn cranberry harvest and provide a longer work season for the Whitesbog pickers.
Immediately, White wrote to Coville offering encouragement and support. Their collaboration began in 1911. White provided choice wild specimens; Coville did the breeding work, developing methods of propagation that are still used today; and when seedling plants were ready for the field, White provided testing fields with ideal soil and experienced caretakers at Whitesbog.
Since large berries would be easy to pick rapidly and catch the consumer's eye and interest, largeness of the berries was the only consideration in selecting the first wild specimens. With a nod to their knowledge of the Pine Barrens, White enlisted her neighbors' assistance, offering up to $3 per bush to any local picker who located a plant with at least one fruit measuring 5/8th of an inch or more. At first, the bar was set at ½ an inch, but such fruit was so easily found that the standard was quickly raised.
White and Coville were surprised to receive, in just three to four years, no fewer than one hundred bushes that met the higher 5/8th inch standard. Among them was a bush found by a boy named Theodore Dunfee, who was quite tickled to have found a qualifying specimen. After plants grown from these wild collections were studied under field culture, Vaccinium corymbosum 'Dunfee' (White named the first several plants after their finders) earned the further distinction of being one of only six varieties out of the hundred "considered worthy of further multiplication for commercial fruit production."
Of the seven named cultivars (cultivated variety) of highbush blueberry sent by J.J. White, Inc. to the Arboretum, the 'Dunfee' along Meadow Road is the oldest remaining. After one hundred years in Arboretum soil, it is still looking as spry as the young boy whose name it bears.
Viewing this plant in-person? Look for these defining characteristics:
1

Flower bud break that leads to distinctive, cream-colored and bell-shaped flowers

Suzanne Mrozak

2

Alternating ovate leaves

William (Ned) Friedman

3

Ripe indigo-colored fruit

4

Red autumnal foliage

Suzanne Mrozak
This plant specimen (accession# 8163*A) was given to the Arnold Arboretum a century ago by J.J. White, Inc. It is the oldest remaining Whitesbog specimen at the Arboretum.

Named for the White family, Whitesbog was the largest NJ cranberry farm in the early 1900s, employing more than 600 workers, who lived on the land. Elizabeth's father inherited the farm from his father-in-law in 1882. With his daughter's help, Joseph White built the existing bog and surrounding land into a hugely successful enterprise.

Highbush blueberry plants typically grow 6-7 feet tall. 'Dunfee' can grow as tall as 15 feet.

The flowers of the highbush blueberry are botanically perfect—they contain both male and female parts.

Although theoretically able to self-pollinate, blueberry bushes rarely do so successfully. As Coville discovered, many are sterile to their own pollen.

The best pollinators of highbush blueberry plants are buzz pollinators like bumble bees.
Living Specimens

Specimens Dead or Removed

First Addition

Most Recent Addition

Tallest Specimen

The oldest of the Whitesbog specimens in our collection, 'Dunfee' has been around the Arboretum block. It was planted in our Arborway Nursery in 1922, where it remained until 1933 when it was planted in a bed at the South Street Entrance. Then, in 1948, it was moved to its current location on Meadow Road, coincident with Beatrix Farrand's creation of the Azalea Border.

The tallest of the seven Whitesbog specimens at the Arboretum is a hybrid cultivar named 'Katharine.' Standing 10.5 feet tall, it is named in honor of Coville's daughter, Katharine Woodburn, who, Coville noted, "took a deep interest in the development of the blueberry and at one time did all the pollination work."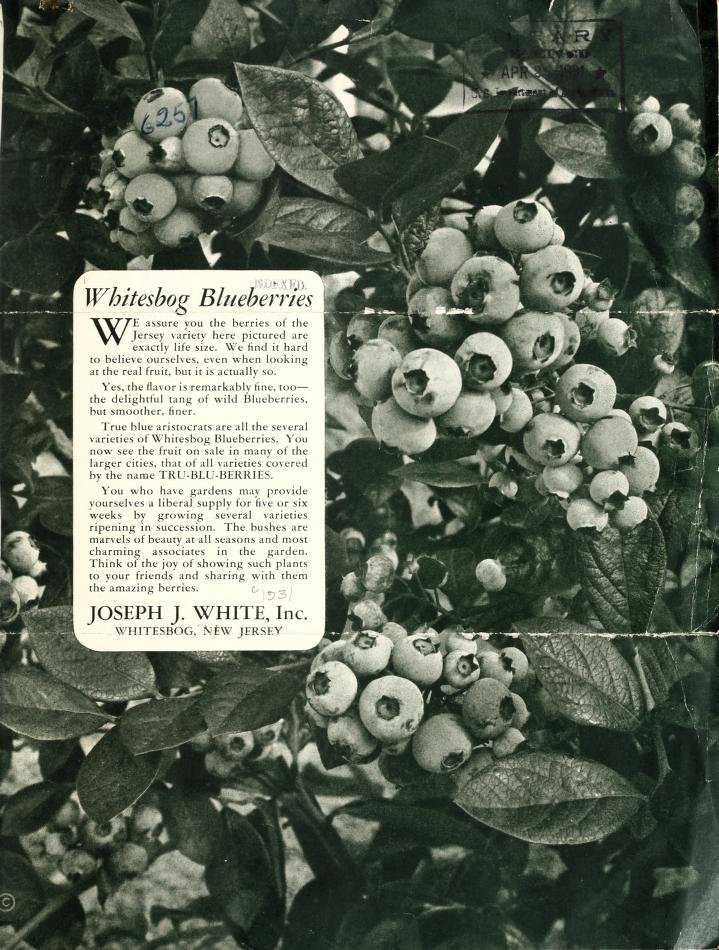 | Plant ID | Accession Date | Recieved As | Origin | Source |
| --- | --- | --- | --- | --- |
| | | | | |
| | | | | |
| | | | | |
| | | | | |
| | | | | |