James Papargiris, Arboretum Working Foreperson
Address:

125 Arborway
Boston, MA 02130

Phone:

617.719.7637

Fax:

617.524.1418

Email: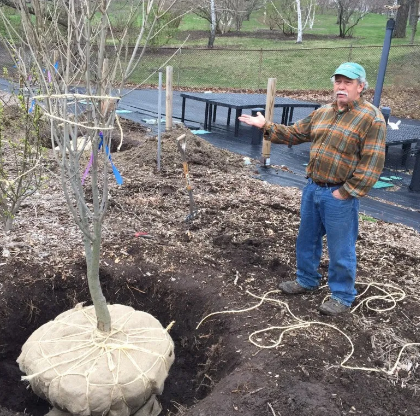 The year was 1979, the day after labor day to be exact, when I started my career at the Arnold Arboretum. I was hired for my mechanical abilities and previous landscape experience. With the title of " labor to start,"and a starting wage of $5.15 an hour, I began work with a ride through the grounds on the back of the chipper. There had been a weekend nor'easter that brought a lot damage to the collections. The first stop was the Acer 'Shlesingeri' (AA 3256-A) across from the Hunnewell Building, which had lost its first major leader. Three months passed and with them came a change in title to "laborer" and a raise to $5.20 an hour. Four months later, after construction of the Arboretum's exhibit of the Boston Flower Show, I became a "semi- skilled laborer" at $5.25 an hour. In the summer of 1980, I took the exams for the Massachusetts commercial pesticide license and received the title of "skilled laborer" that September. Over the following years I performed numerous tasks including grounds maintenance, mechanical repairs on equipment, pest and weed management, and occasional building and facilities maintenance. My qualifications and responsibilities evolved—with licensing for the Mauget system of pesticide injection, a hoisting license for loader use, certified arborist requirements, and computer literacy and BG-Base use—all to provide a more professional approach to the landscape. My title also changed from laborer to laborer specialist, then to gardener specialist, and then to Arboretum horticultural technologist.
My current position of horticulturalist/working foreman started in January of 2004. A multitude of duties and responsibilities accompany this position. First and foremost is facilitating the smooth, safe, and timely operation of the day-to-day duties of the horticultural technologist and arborists. This includes ensuring that equipment runs properly, supplying any materials that may be needed, and solving any problem that might arise. I have the additional duty of assigning summer interns to work details from April through October. You will also find me addressing other operational needs, including integrated pest management, irrigation, seasonal equipment rotation and maintenance, mowing, and chipping. I also have the responsibility of overseeing outside contractors for infrastructure repairs, including storm drains, paving walls, and off-site equipment repair. Finally, I assume all grounds operations responsibilities in the absence of the manager of horticulture.