Jul 31 - Oct 03, 2022
On view in the Hunnewell Building exhibition space, Friday through Monday, noon–4:00pm or by appointment
Anna Von Mertens' Tree Ring Histories is an apt exhibition for the Arnold Arboretum on many levels. Her art itself is exquisite—an extraordinary attention to details within the fabric of her hand-stitched quilts is mesmerizing. Stark white threads on a black background create art attuned to movement, elemental design, and a strong graphic sense of swirling concentric circles. Other threads in gray and black gather as shadow and form within the continued repetition of the rings.
Minute stitched dashes are reminiscent of code, a code fitting in the context of the Arnold Arboretum, a museum of woody plants. Each quilt's circle of stitches represents tree rings, and the code by which a tree's life is discovered. Tree rings are a measurement of the growth of a woody plant, and its reactions to its environment. Within that measure are contained the effects of time—times of drought and rainy seasons, times of catastrophic weather patterns and fires, and the tree's code to whether temperatures are cool or hot.
Working with international dendrochronologists, I culled source images of tree ring cross sections from studies connecting climate variability and periods of human instability. The events represented in this series—the Fall of the Roman Empire, Aztec Conquest, Black Plague, and Anasazi migration in the 12th century—correlate to periods of drought recorded by the tree rings.

Anna Von Mertens, artist
These rings are a record of history, the history of a tree to be sure, but extrapolated, the history of civilizations and ecosystems. Did droughts bring migration, did years of ample rain allow populations to increase? As we look to see what impact climate has had on a tree, we connect it to the survival of surrounding populations. Von Mertens enables us to contemplate further histories as thread hues change within the rings.
The fading thread colors mirror and highlight historical events. For example, as the Roman Empire weakens and the Barbarian Invasions begin, white thread turns to grey then black as the tree ring density increases, corresponding to the drying period.

Anna Von Mertens, artist
Although Von Mertens' tree rings represent centuries past (the Arnold Arboretum exhibition includes Roman Empire pieces and Anasazi migration, 228AD-12th century), the environmental indications of flux in the rings is applicable to our own time. In the present, we are able to discover and construct climates of the past through these rings and compare it to our current climate. Climate patterns from thousands of years ago allow us a baseline to view alongside human-induced climate change.
In a wider sense, Von Mertens' Tree Ring Histories is a beautiful caution, an exhibition of stunning quilts, and another way, through art, to find a way in to climate change.
Von Mertens has had numerous solo and group exhibitions, showing her work throughout the United States and the world. Her work is in many collections, including the Museum of Fine Arts, Boston (MFA) the Rhode Island School of Design Museum (RISD); Oberlin College, Ohio; Smithsonian American Art Museum's Renwick Gallery, among others. Learn more about her work on her website.
The artist would like to thank the scientists who collaborated with her on this project: Ulf Büntgen and Daniel Nievergelt at the Swiss Federal Research Institute WSL; Jose Villanueva-Diaz at the National Research Institute of Forestry, Agriculture and Livestock, Gómez Palacio, Mexico; Pearce Paul Creasman, Laboratory of Tree-Ring Research, University of Arizona.
Ulf Büntgen is the lead author of "2500 Years of European Climate Variability and Human Susceptibility" that became the spark for this series (published online in 2011 by the journal Science).
---
All rights of the images reside with the artist. For more information on making a copy, or reusing an image, please send your request to arbweb@arnarb.harvard.edu.
For information on the work itself, or to inquire about purchasing art, please also send your request to arbweb@arnarb@harvard.edu. We will put you in touch with the artist's representative.
To best view this exhibition, hold your mouse on an image to see the small magnifier, then click to get the gallery.
All work is hand-stitched cotton.
---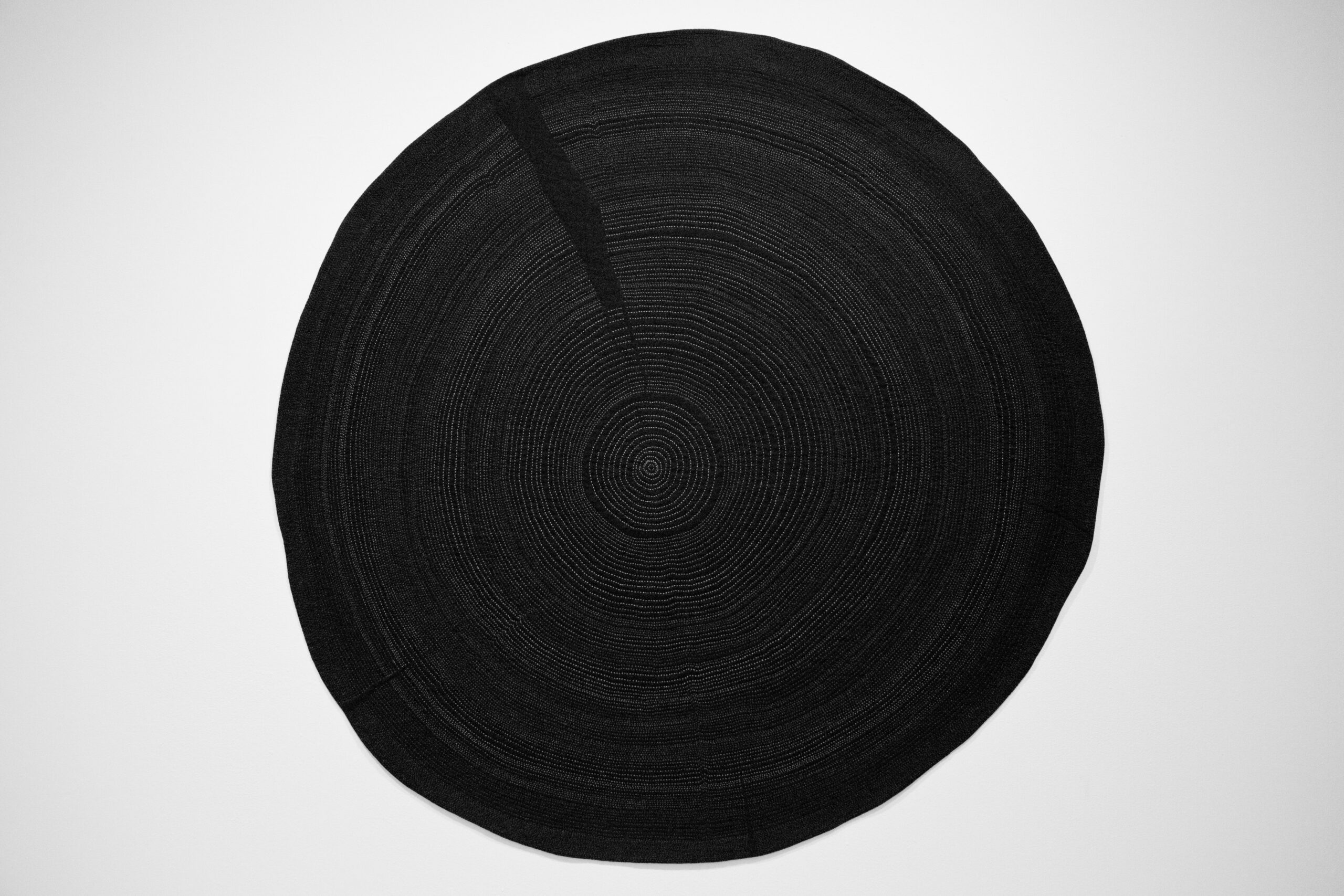 ---
---
---
---
---
---
---