Expand your knowledge of the Arboretum and share your passion for plants with others. As an Arboretum Interpreter, you will be trained to talk with visitors in casual interactions, one-on-one or with small informal groups. You'll help people find their way through the landscape, explore the fascinating world of plants, communicate how the Arboretum is a living museum, and make Arboretum history come alive. Check out an Interpreter profile from spring 2011.
For more information, contact Sheryl White, Coordinator of Visitor Engagement and Exhibitions, at swhite@oeb.harvard.edu, or fill out and submit the volunteer application. We will contact you regarding the next training program!
How does it work?
Arboretum Interpreters are trained to talk knowledgeably about the Arboretum and plants. In addition to training on Arboretum history, plant terminology, and the landscape, volunteers learn interpretive techniques to effectively engage with visitors. Arboretum Interpreters are trained to use kits in various locations in the landscape. The portable kits include props, activities, study sheets, and other materials. Interpreters learn the kit during the training period, then pair up with with a veteran Interpreter during a "try-out" period immediately after training.
Responsibilities and Time Commitment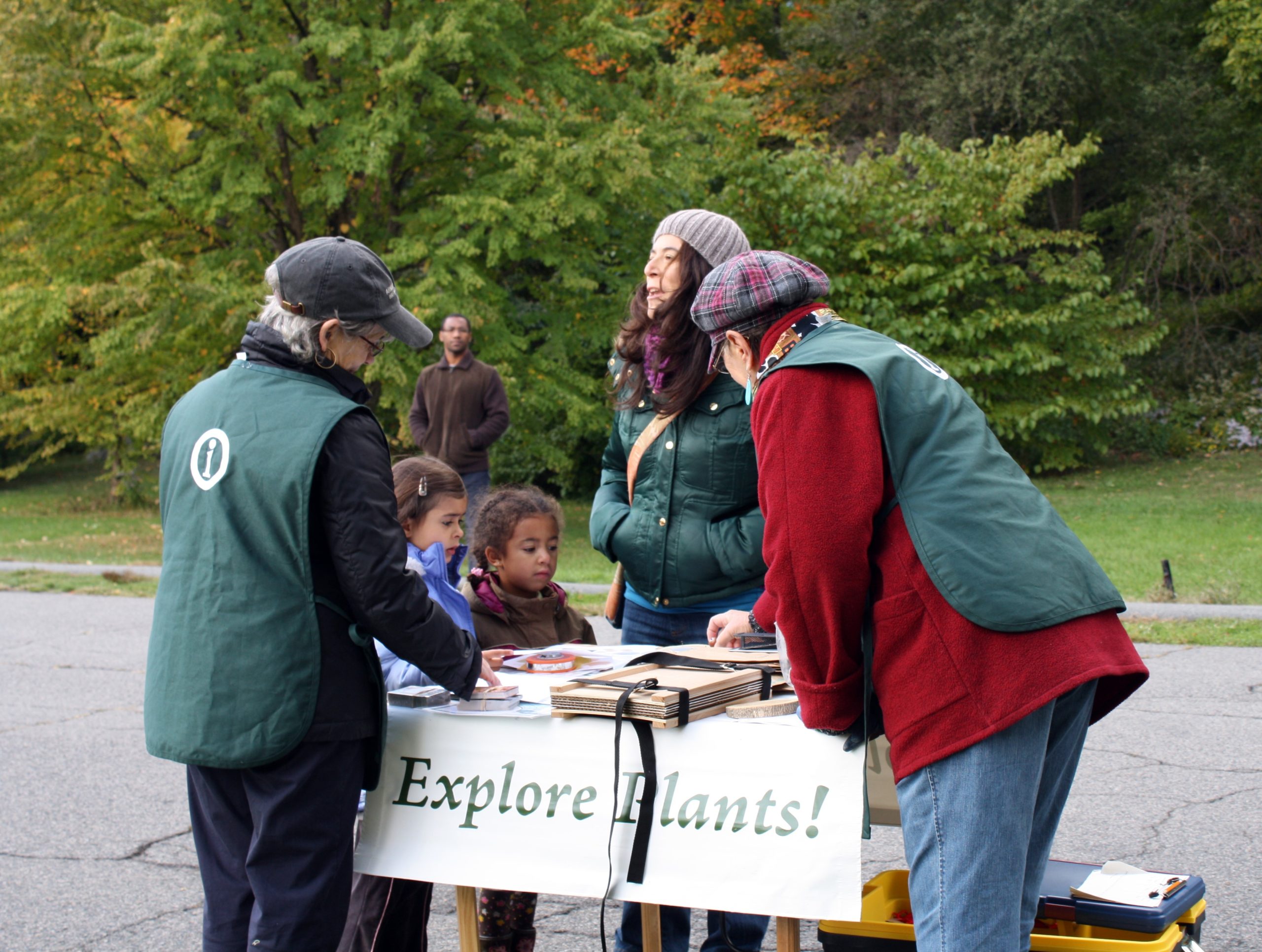 Attend all five to seven mandatory training days, which cover Arboretum history and current activities, horticultural information about the living collections, natural history and botany, and interpretive techniques.
During the training, shadow at least one Interpreter shift, work outside of class hours on training assignments, and attend at least one free public tour.
After the training, continue to expand your knowledge of plants, Arboretum history, and interpretive techniques, independent study, periodic evaluation, and by attending special "refreshers," lectures, and tours for volunteers.
Commit to at least one year of volunteering, a minimum of eight-six shifts.
Shifts occur on weekends during peak seasons (Saturdays and Sundays in May, June, September, and October).
Shifts are in two-hour time blocks (there is some additional setup and breakdown time required)
Required Skills & Abilities
Able to meet the responsibilities and time commitment above
Excellent communication and interpersonal skills; fluency in English (languages besides English are a plus!).
Ability to work independently.
Enthusiasm for interactions with people of all ages and backgrounds.
Interest in learning more about the plants and history of the Arboretum.
Interest in the environment and enthusiasm about the importance of plants.
Desire to continuously gain new knowledge and share it with others.
Ability to walk outdoors, remain standing for up to three hours, and transport a wheeled kit containing props and supplies.
Dependability and punctuality.
Knowledge of woody plants and the Arboretum landscape is preferred but not required.
Benefits
Access to the resources of oldest public arboretum in North America.
Invitation to the annual Volunteer Appreciation Event.
Periodic free "refresher" classes, lectures, tours, and field trips on timely and interesting topics.
Access to certain membership benefits.
Library borrowing privileges after successful completion of training (restrictions apply).
Training Notebook.
Location
The Arnold Arboretum, Boston, MA
Directions are available.
The Arboretum Interpreter program is a partnership—you provide your time, commitment, and enthusiasm and the Arnold Arboretum provides rich resources and experienced staff. It is also a wonderful opportunity for self-growth and for reaching out to Arboretum visitors to communicate the importance of plants in our lives.