The Isabella Welles Hunnewell Internship Program supports the educational and horticultural missions of the Arnold Arboretum by providing students in the plant sciences with on-the-job training during the summer months. An annual cohort is selected to learn and work directly with the Arboretum's historic landscape and world-renowned scientific collection of trees and shrubs. Interns work alongside the Arboretum's dedicated team, gaining practical experience in public horticulture, collections and landscape management, and the arboreal sciences. While receiving a valuable mentoring opportunity, interns also engage in a formal program of instruction, both in the classroom and in the field, and are provided with networking opportunities and exposure to the operations of many other botanical institutions through a series of field trips scheduled throughout their summer experience.
---
2023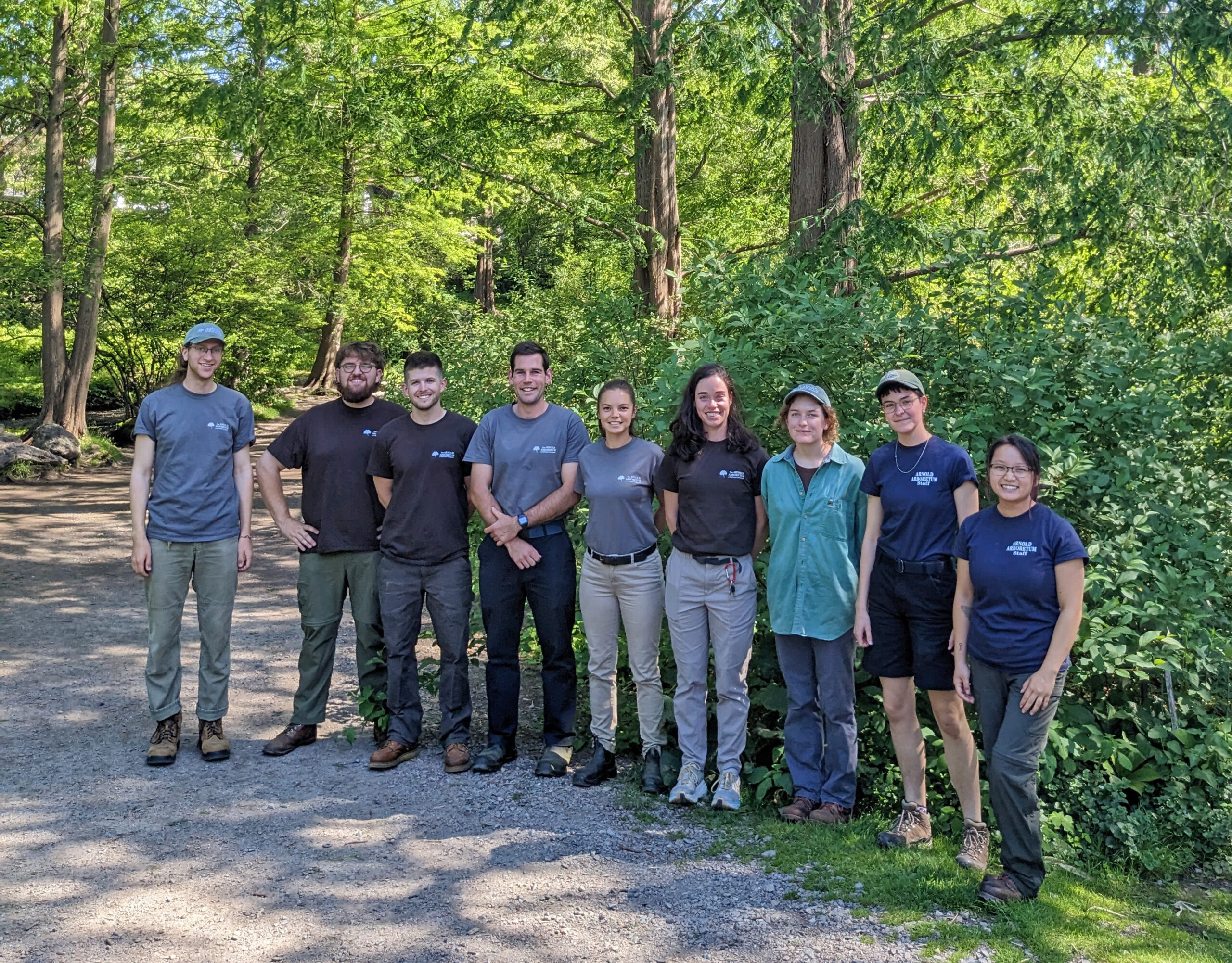 Robin Andresen
Horticulture Intern
Majoring in Conservation Biology at Middlebury College
Adam Fundytus
Horticulture Intern
Pursuing a Horticultural Technician diploma at Niagara Parks Commission School of Horticulture
BS in Mathematics & Statistics from McMaster University
Tanner Hamerling
Curation Intern
Majoring in Horticulture with a concentration in Production and Entrepreneurship at North Carolina State University
Olivia Liebing
Plant Production Intern
Majoring in Horticulture and Agronomy with a minor in Forestry at Iowa State University
Delia Mahoney
Arboriculture Intern
Pursuing a Masters in Environmental Conservation with a concentration in Arboriculture and Forest Resources at University of Massachusetts, Amherst
BS in Architecture from University of Massachusetts, Amherst
Drummond Poole
Horticulture Intern
Pursuing a Masters of Landscape Architecture at Harvard Graduate School of Design
BA in History with Music minor from Colby College
Zach Shein
Plant Production Intern
Majoring in Environmental Science / Sustainable Food and Farming at University of Massachusetts
Allie Wornell
Horticulture Intern
Majoring in Environmental Studies and Policy with a minor in Landscape Studies at Smith College
Kelly Young
Horticulture Intern
Pursuing a Horticultural Technician Diploma at Niagara Parks Commission School of Horticulture
BA in Anthropology from University of Western Ontario
2022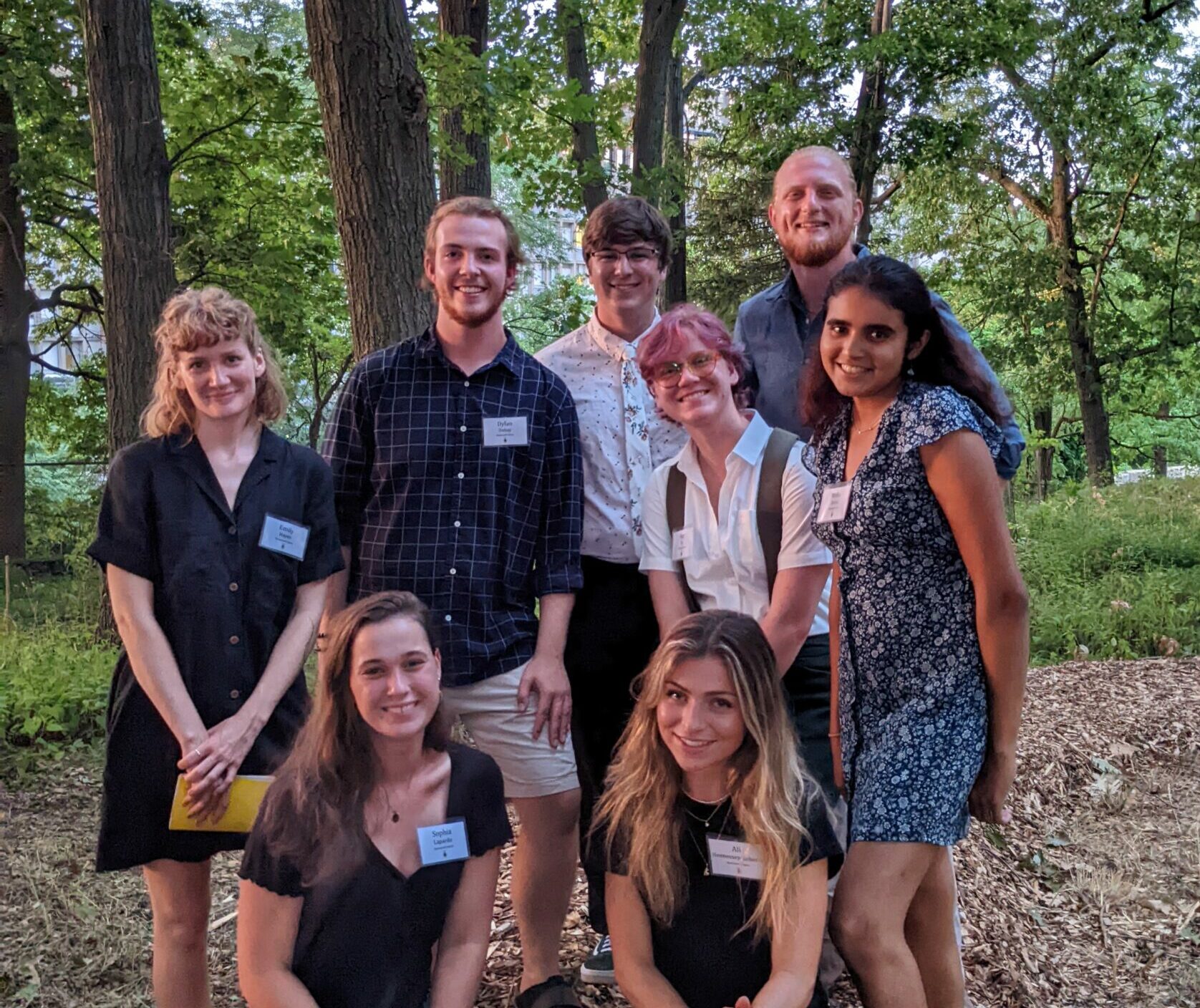 Dylan Dubay: A senior studying biology at Goucher College, Dylan grew up in Western Massachusetts appreciating the beauty that plants offer us and our landscapes. At Goucher, his interest in plants has grown exponentially, particularly through his efforts to convert some of the college's campus trees into a formal living collection and arboretum. He has also conducted independent research in woody plant ecophysiology and morphology as part of his degree studies. Dylan first joined the Arnold Arboretum community during the summer of 2021 as a DaRin Butz Research Intern. Dylan returned this summer to learn more about public garden management in the Hunnewell Internship program, and he hopes to continue to develop this skillset professionally through a curatorial position at a public garden or arboretum.
William Haskell: Will's love for horticulture and plant production began in his grandfather's home garden, and a host of family camping trips, hikes, and walks throughout his youth spurred a parallel appreciation for public parks, gardens, and green spaces. After a brief stint studying chemical engineering, Will managed crews with a local landscaping company for six years, completing projects ranging from commercial maintenance to large-budget design and installation. Wishing to focus more directly on horticulture, Will stepped away from landscaping to pursue a degree in horticultural sciences at the University of Massachusetts–Amherst with a concentration in greenhouse production. The plant production track in the Hunnewell Internship Program offered the perfect confluence of public horticulture and greenhouse propagation, and has broadened his perception of careers in horticulture.
Emily Hayes: Emily is earning a Master's degree in landscape architecture at the Harvard Graduate School of Design. Her interest in plants developed through her work as an undergraduate on food systems and by conservation work on the Appalachian Trail in Vermont. Emily continued to combine her interest in plants, people, and the outdoors via five seasons of growing vegetables and flowers in small-scale regenerative farms throughout Maine. Her interests in public parks, native plant design, labor rights, and climate resilience brought her to study landscape architecture at Harvard. As a Hunnewell intern, she has increased her familiarity with many woody plants and their physical and spatial characteristics while building a physical repertoire for managing and sustaining a designed landscape. In the future, Emily hopes to apply the knowledge from this internship to opportunities in the professional field of design/build landscapes and public horticulture.
Ali Hennessey-Roberts: Ali found her love of plants by spending time in nature with her mother (a bird photographer) and her grandmother (a talented gardener). A senior at Tufts University majoring in architectural studies and art history, Ali hopes to combine her interests in plants and art to pursue a career in garden design. Her interest in horticulture solidified during the summer of 2021 when she learned to maintain ornamental and historic gardens as a horticulture intern for the Trustees of the Reservations at Long Hill & the Sedgwick Gardens in Beverly, MA. For years, Ali has visited the Arnold Arboretum as one of her favorite places in Boston, and is thrilled for the opportunity to learn more about it and to further connect her to woody plants, public gardening, and landscape design.
Misha Mehta: The work of her aunt's forestry organization―Acacia Eco in Ahmedabad, India―kindled Misha's interest in sustainable agriculture, urban forestry, and green solutions. Growing up in urban landscapes in India and Los Angeles, Misha discovered the importance of educational access in green spaces to both community development and personal well-being. In this spirit, she helped design and manage her own school garden as a community learning and gathering space. She found her calling in urban agriculture an intern with Garden School Foundation (GSF) in Los Angeles, where she helped maintain a 1.5-acre garden and led science, nutrition, and seed-to-table cooking classes as a camp counselor. Now a third-year undergraduate in the BA/BFA degree program at Tufts University and the School of Museum of Fine Arts, Misha is studying anthropology food systems and studio art. The Hunnewell Internship Program has influenced her aspirations to pursue a career in horticulture, concentrating in urban and sustainable agriculture in food deserts and implementing green solutions in non-institutional spaces.
Theodore Lavalla: Theo became interested in caring for trees as a student of Norfolk Agricultural High School, and earned his degree in arboriculture from Paul Smith's College in New York. As a Massachusetts native, he'd heard about the Arboretum from his teachers and pursued the Hunnewell internship as an opportunity to dive into the field and learn more about the trade while making important professional connections. Theo's experience as the arboriculture intern this summer gave him a chance to develop chainsaw skills both on the ground and in the air, as well as learn and practice techniques for climbing, felling, chipping, and rigging. In the future he aspires to find a job in a public setting similar to the Arboretum. He also hopes to gain the skills needed to teach and pass on what he has learned to the next generation.
Sophia Lopardo: Sophia was introduced to the world of plants at an early age, spending afternoons weeding her mother's garden. Her passion for ornamental horticulture was cultivated while working at an oceanside farmstand and nursery in Matunuck, Rhode Island. Sophia attended the University of Rhode Island, earning degrees in both plant science and biology and minoring in soil and environmental science. At the University of Rhode Island, Sophia participated in the Northeast Regional Soil Judging Competition at Rodale Institute in Pennsylvania. Next, she plans to pursue graduate school to further her education in horticulture, and pursue a personal goal to one day grow all of the fruits and vegetables she consumes from her own gardens.
Nat Xu: Born underwater in a bathtub in suburban Chicago, Nat has always been immersed in the trappings of nature. They grew up picking semi-invasive flowers and peeling bark off birch trees, only to recognize the destructive results of these acts and vowing to find ways to help protect the environment. Nat volunteered at the arboretum of the University of Wisconsin-Madison for six years while pursuing degrees in environmental studies and gender and women's studies. Nat worked in state government and climate advocacy for the Department of Natural Resources and 350 Madison before accepting the Hunnewell internship to study horticultural care and historic land stewardship. Next, they will undertake an internship with the New York Civic Corps, working in nonprofit leadership and volunteer management for the Van Cortlandt Park Alliance in the Bronx.
2021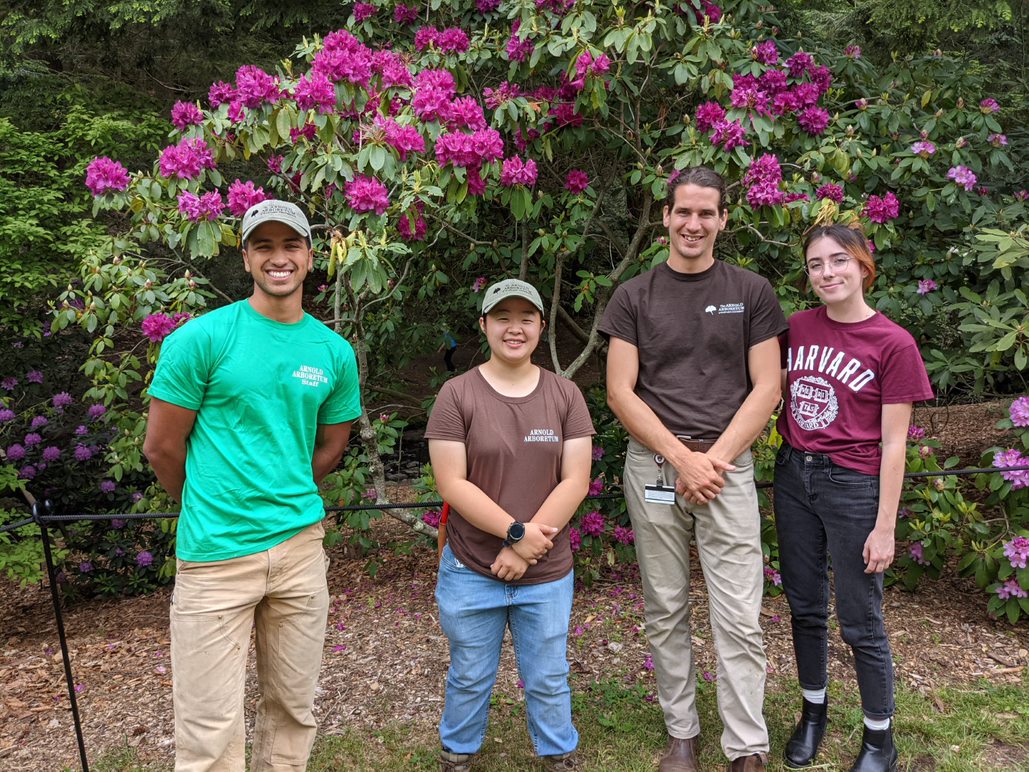 Adam Banks: He recently graduated from Bates College in 2021 with a degree in environmental studies. Growing up in Jamaica Plain, Adam frequently visited the Arboretum and considers it a formidable influence on his interests in horticulture and urban parks. He was excited to make contributions to a space that has significance to both his personal story and his community. Adam viewed the Hunnewell Internship at the Arboretum as an avenue to advance his knowledge of plants and park functions. His work as a plant production intern, gave him the opportunity to explore plant care from the earliest stages of germination and development, and helped improve his plant identification skills. In the future, Adam hopes to use the horticultural knowledge he gained at the Arboretum to further his career and hopes to contribute additional improvements to Boston's historic park system.
Kelvin Devries: He was introduced to horticulture at an early age with his family's private landscaping company in the Niagara Region of Ontario, Canada. Working for the family business during his summers as a youth made him passionate about horticulture and landscapes, and he followed this vocation by studying landscape design after high school. While working as a landscape designer, Kelvin was attracted by the larger audience and focus on shared green space offered by the public horticulture field. Seeking opportunities to further his education and career prospects, he returned to school at the Niagara Parks School of Horticulture. Working and learning as a Hunnewell Intern at the Arnold Arboretum offered him an ideal opportunity to advance his skills and gain experience. Following his internship Kelvin hopes to secure work in the management and development of public gardens and arboreta.
Larissa Li: She first encounteded horticulture as an agriculture student. As a NYC native, she attended the John Bowne High School Agriculture Program where she developed a strong interest in vegetable production. During the summer of 2020, Larissa served as a horticulture intern at the Queens Botanical Garden, where she enjoyed maintaining the collections and was fascinated by how plants can educate and inspire the public. The Hunnewell Internship Program aligned with her goals to learn multiple aspects of the horticulture field and expand her knowledge of public horticulture. Throughout the summer she was interested to note the similarities and differences between horticultural practice and vegetable production. Larissa hopes to use her new-found knowledge to reinstate the arboretum on her school's campus.
Samantha Shrier: She first became interested in plants as a child, exploring the woods in her native South Carolina with her brother and grandfather and planting an annual summer garden with her family. She decided to further her interest in plants in the horticulture program at Clemson University, her state's land grant university with a deep history in agriculture and research. On campus, Sam focused most of her efforts on learning greenhouse production of annual flowering plants with Dr. James Faust, assisting in novel research on industrial hemp production. The Hunnewell Internship at the Arboretum offered her an experience unlike any she could experience closer to home, particularly in working with a broad range of plantings, microenvironments, and ecological perspectives. She feels the experience illuminated the intertwined relationships between plants, soil microbes, and the landscape. In the future, Sam plans to pursue graduate studies in conservation ecology or secure a job in a related field.
---
2019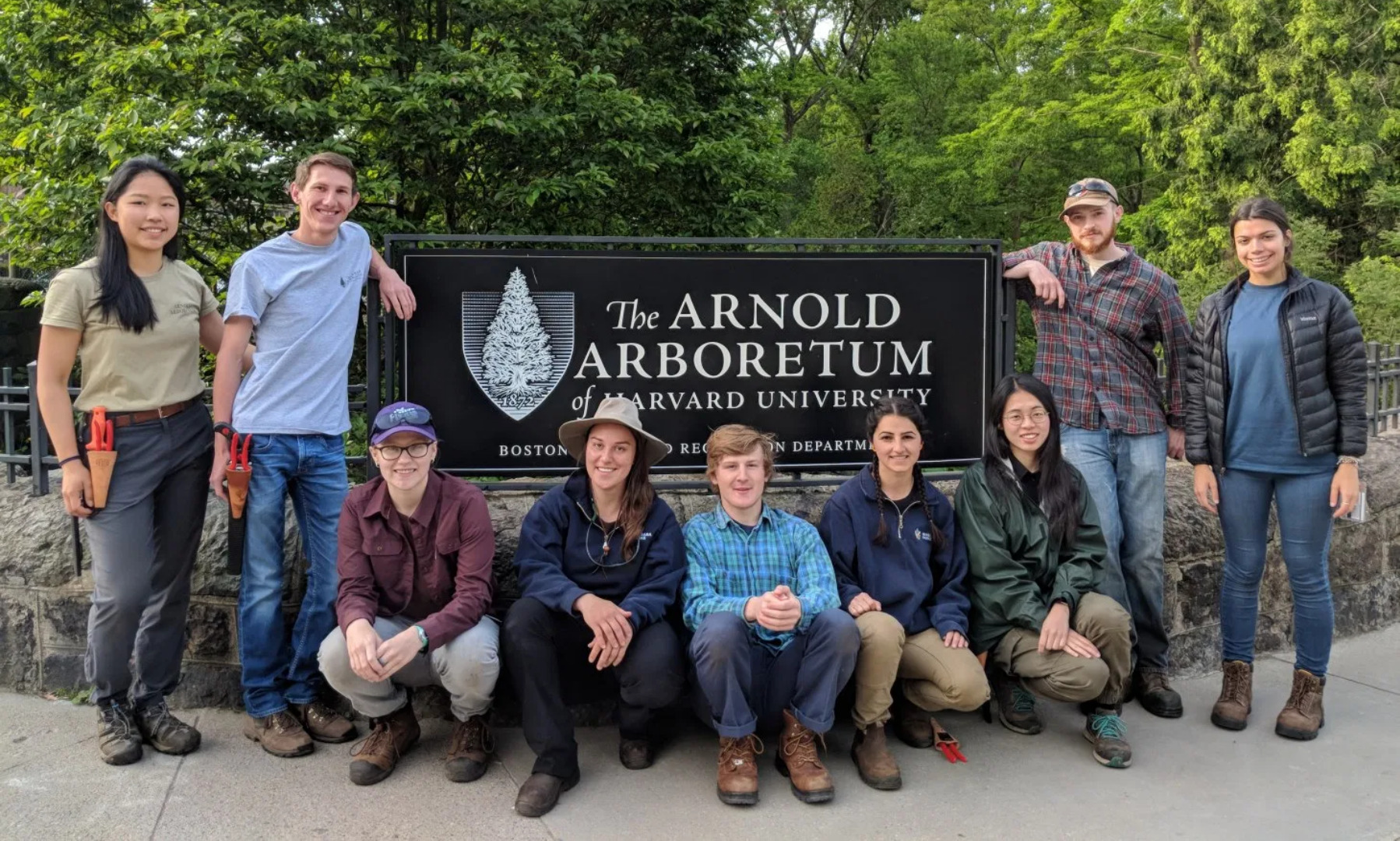 Ninway Aziz: She graduated from Humber College in Toronto as a horticulture technician. Striving to become a more multifaceted horticulturist, she was accepted to the Niagara Parks School of Horticulture in Niagara Falls, Canada, where she pursues a degree in ornamental horticulture while completing her formal apprenticeship requirements. Through this program she discovered a strong interest in arboriculture and its relation to ecology. She was drawn to the Hunnewell Internship Program at the Arnold Arboretum to further develop her dendrology and arboricultural experience. She believes this unparalleled internship serves as a great start for providing valuable knowledge on integrating arboriculture with ecologically-conscious operations.
Julie-Anne Cote: Her first job in horticulture was working at a fruit and vegetable farm in Orléans, Ontario, where she enjoyed learning about the cultivation of crops. While obtaining a bachelor's degree in communications at Carleton University, she continued working at the farm whenever she could, which sparked her interest in exploring plant life more formally. Afterwards she obtained a diploma in ornamental horticulture at the Niagara Parks School of Horticulture in Niagara Falls, Canada. Her long-term career goal is to help with the creation of Canadensis, the Garden of Canada, in Ottawa, her hometown. Her exposure to botanical garden management practices instilled her desire to pursue work with curatorial responsibilities at a public garden. Her internship at the Arboretum offered Julie-Anne the unique opportunity to test drive this area of knowledge and to practice valuable skills that relate to plant collection development, use, and conservation.
Meghan Detlaff: She originates from the frozen prairies of North Dakota. Born and raised in Minot, her interest in plants began with an environmental science class in high school. Botanizing and identifying plants by name was empowering, and she followed her newfound passion through jobs at a local greenhouse, flower shop, a North Dakota arboretum, and a tissue culture lab. She attended one year at Minot State University before transferring to North Dakota State University in Fargo to pursue a horticulture degree with a focus in urban forestry. Meghan is interested in bringing nature into the urban environment and connecting people to plants and each other through public green spaces.
Lane Diesa: She attends North Carolina State University, pursuing a degree in horticulture science. Her interest in horticulture began in high school, where she took as many classes in the field as possible and could always be found in the greenhouse. She continued to pursue her love for plants at North Carolina State University in Raleigh. She accepted her first internship at the University of Florida's extension program working as a research intern at the Brevard Botanical Garden and helping maintain the production of tropical plants. Next she interned for NASA, researching new crops in microgravity including a variety of lettuce for astronauts living on the international space station. While at NASA, Lane had the opportunity to work with seeds produced in space and researched their viability back on earth. She hopes to continue to explore her passion for plants and keep on growing!
Grant Hughes: Growing up in the town of Glenwood, IA, Grant gained an affinity for horticulture by sowing seeds in his grandmother's garden, and interest which continued to grow. Grant studies at Iowa State University, majoring in horticulture with a concentration in public horticulture. He previously participated in two internships at Lauritzen Gardens in Omaha, NE, as a plant production intern and a horticulture intern. These experiences furthered his interest in greenhouse work and all stages of plant development, as well as creating garden displays for public enjoyment. Grant enjoyed learning about the importance and value of plants in the landscape of a living museum, and it strengthened his aspirations to help create connections between the community and horticulture.
Thao (Emma) Le: Emma obtained a degree in horticulture with a minor in nutrition from Temple University. Emma's budding interest in the realm of plants, and more specifically in agriculture, began when she started college. Gaining more knowledge and experience through horticulture and landscape architecture classes as well as farming internships, Emma found herself gravitating away from agriculture and towards ornamental horticulture. Emma's mission is to travel the world and gather as much knowledge as possible, in order to push the boundaries of horticulture back home in Vietnam. The Hunnewell Internship at the Arnold Arboretum allowed her to do this, from working alongside knowledgeable horticulturists to visiting spectacular botanical gardens along the East Coast. Emma's professional interests have narrowed to using the outdoor environment to facilitate health and well-being.
Nicholas Mayer: His interest in plants and horticulture began at home, growing up on a small grass-fed beef cattle farm in Oberlin, OH. He quickly discovered his preference for working with plants, pursuing a degree in agricultural science with a concentration in crop production and management at Cornell University. His interest in the Hunnewell Internship Program stemmed from the Arnold Arboretum's reputation as a public park and the opportunities it offers for learning. The internship experience provided him with an introduction to public gardening and an opportunity explore his horticultural interests. While at the Arboretum, he became particularly interested in native herbaceous flora and its preservation.
Liam McTigue: As a high school freshman, Liam developed an interest for plants studying photosynthesis and plant anatomy in biology class—and credits his teacher with inspiring him to continue learning about the natural world outside of the classroom. His passion for plants continued at the University of Pennsylvania-Millersville, where he studies biology with a concentration in botany. Liam's internship provided hours of invaluable education from experts, practical training in horticulture, and more passion to work with plants.
Siqi (Joyce) Zhu: Was born and raised in a small city in southeastern China. Growing up near a public garden, Joyce developed an affinity for the outdoor landscape which drove her to choose landscape architecture as her major. She attended Zhejiang University, a university famous for its horticulture programs. In her sophomore year, she was selected for a dual degree program with Cornell University, with the opportunity to study in the US. At Cornell, she developed her interest in landscape under clinical and healthcare settings with a special concentration on healing gardens. The therapeutic value of plants obsessed her and roused her curiosity to find more connections between landscape and horticulture. Being part of the horticulture team at the Arboretum honed her skills in plant identification and landscape management, and demonstrated the unique characteristics of each plant. These unforgettable experiences not only encourage her to pursue her passion in the public landscape realm but also shape her aspirations to design sustainably, with low environmental impact.
---
2018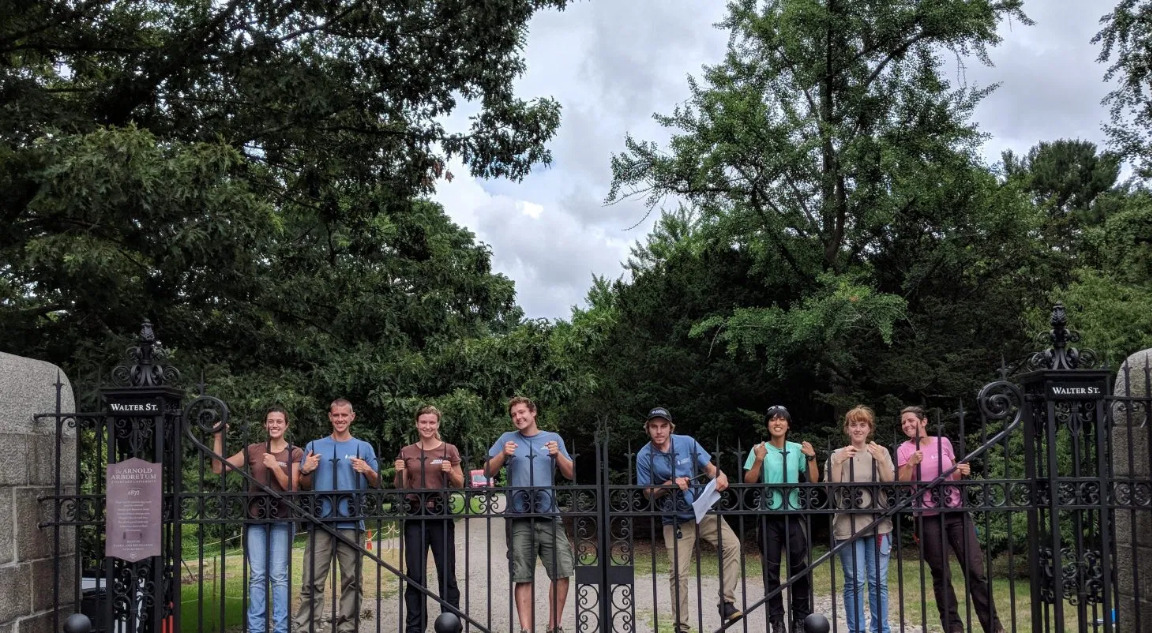 Erin Conley: Born in Omaha, Nebraska, Erin attended high school in a very rural part of the state. She realized the large-scale agriculture she knew was unsustainable, which led her to pursue a bachelor's degree in agroecology at the University of Wyoming. During her sophomore year, a horticultural science class led her to pursue a year-long internship in the Rose and Flower Garden at the Morris Arboretum of the University of Pennsylvania. Wanting to continue to explore horticulture in the context of public gardens, Erin couldn't think of a better place to gain experience than the Arnold Arboretum. After the completion of her internship, Erin became a full-time horticulturalist at the Morris Arboretum.
Connor Davis: He attended Roanoke College in Salem, VA, graduating in 2011 with a bachelor's degree in business administration. A career change found him working for a small landscape installation company specializing in drought tolerant designs throughout the Bay Area. He narrowed his career path to the public landscape and conservation realm. His internship at the Arboretum served as a great start for understanding operations at a world-class arboretum. After completing the internship program, Connor worked at the Arboretum in the horticulture and curation departments for a year before moving on to continue his career development.
Connor Heffer: Obtained a bachelor's degree in plant biology at the University of Vermont. His first exposure to a formal garden was Long Hill, located down the street from his childhood home. This internship helped him understand the curatorial mindset and best practices involved in representing an exquisite landscape of plants. Conor hopes to hone and fuse his interests in plant diversity, public gardening and curation and be involved in landscapes like that of Long Hill or the Arnold Arboretum.
Vanessa Igoe: Growing up in the city of Quincy, MA, Vanessa Igoe learned from her father how to mow the lawn and explore her family's garden. She attended Norfolk County Agricultural High School where she majored in urban forestry and became very interested in plant identification. Participating in the NCAHS Internship program through the Arnold Arboretum, she solidified her ambition to work further in the green industry. Vanessa continued pursuing her passion for plants through the Hunnewell Internship program and as a seasonal gardener at the Arboretum after completing her studies at the University of Massachusetts.
April Joren: Attends the University of Tennessee-Knoxville where she is working towards a bachelor's degree in public horticulture. After working in tourism and hospitality, and then serving a term in the United States Air Force, April chose to integrate her background in public service with her passion for plants. One of the things that drew April to the Arnold Arboretum was its status a city park, free and open to the public. This aspect of the Arboretum aligns with April's strong belief that people and communities are the most important aspects of public horticulture, and plants are the tools we use to enrich and improve the lives of those people.
Lindy Latham: Attended Miami University of Ohio and majored in biology with a focus in botany. For three years she worked in the conservatory on campus, helping maintain a diverse collection of tropical plants. Lindy is interested in both plants and insects and the ecology of plants and how they interact with insects. After working at the Arboretum, she hopes to focus in areas of conservation, working native plants and their pollinators.
Jamie Lim: Jamie is from Singapore and has previously worked for the National Parks' Board of Singapore as an arborist. To develop her knowledge and technical skills in tree work, she took a sabbatical from her work to pursue a master's degree at the University of Massachusetts-Amherst, focusing on arboriculture. She applied for the arborist internship position at the Arnold Arboretum to learn more tree work in the public gardens of the United States. The passion of the staff at the arboretum sparked her interest to work in public gardens. The experience also spurred her to continue pursuing her development as an arborist, which she practices professionally now at Central Park Conservancy in NYC.
Matthew McNeer: Matt was born and raised in Evansville, IN, and has had an affinity for the outdoors since he was young. Matt became more interested in the biodiversity and incredible complexity of the plant world as he got older. He started as a plant biology major but decided he enjoyed the cultivation and hands-on aspect of production horticulture. He has worked in the Southern Illinois University's Greenhouse and Conservatory and completed another internship at Newfield Gardens in Indianapolis. After graduating with a production horticulture degree from SIU, he hopes to continue working with and cultivating rare and exotic plant species as well as share his love of plants with the world.
---
2017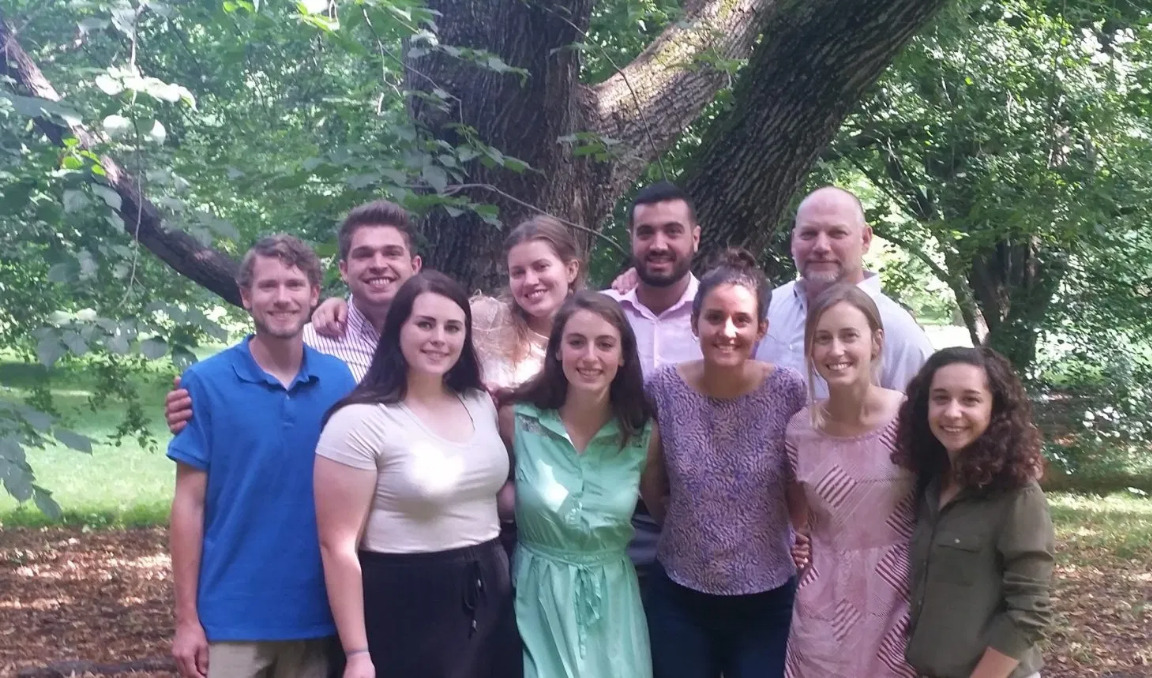 Monica Alves: She completed a master's degree in water science and governance at King's College London and has a bachelor's degree in environmental science from Simmons College. Monica is an avid observer of human behavior and their interaction with nature. She believes dissecting cultural as well as individual values and attitudes may change society's growing disinclination to preserve public gardens and arboretums. The Arnold Arboretum's remarkable collections and inclusive urban setting have provided a unique opportunity for Monica to assess how institutions can better serve their diverse audiences. After her summer as a Hunnewell Intern, Monica hopes to expand on this work through career aspirations in the field.
Alexander Bernette: Completed his undergraduate studies at North Carolina State University in the Agricultural Institute, earning an associate's degrees in ornamental landscape technology and agribusiness management with a horticulture concentration. During this time he was introduced to arboriculture and tree climbing and discovered a passion for trees. After graduating from the Agricultural Institute, he transferred to NCSU's College of Agricultural and Life Sciences to pursue a bachelor's degree in horticultural science. Since starting college Alex has worked for several tree companies to gain experience in the tree care industry, and was excited to apply for the Hunnewell Internship program for the opportunity to learn about working at a public garden and an institution focused on trees.
Alexander Disyak: Alexander obtained a diploma in ornamental horticulture at the Niagara Parks School of Horticulture in Niagara Falls, Canada. Upon completion, he pursued a bachelor's degree in horticulture at Olds College, the oldest agricultural/horticultural school in Canada. His interests in plants, plant healthcare, and sustainability derive from previous experience in the oil and gas industry, working in such diverse landscapes as the deserts of the Middle East and UNESCO-protected sites in Madagascar. Working in isolated environments gave Alexander a unique perspective about plants and cultural practices, including the complete reliance some cultures have on native plants to sustain survival in harsh environments. The Hunnewell Internship program gave Alex an excellent opportunity to explore his aspirations in plant healthcare and sustainability.
Anna Fisher: She discovered her passion for horticulture after starting college at Clemson University. Since then she has gained tremendous knowledge to advance her career in horticulture from classes, working on peach farms, and assisting in research greenhouses—including her experience this summer as a plant production intern at the Arnold Arboretum's Dana Greenhouses. In the future, she aspires to galvanize these experiences toward greater social justice by sharing the importance of sustainable agriculture in underserved areas of the southeast.
Sarah Fox: Studies environmental science at the University of Pennsylvania. Her professional interests focus on conservation, and she sees exhibits and public gardens like the Arnold Arboretum as important catalysts for social activism. The Hunnewell Internship program has given her the tools to inspire others to value nature (particularly biodiversity) and become environmental stewards themselves.
Melissa Green: Living close to New York City cultivated her curiosity for people and urban spaces. These interests coalesced during her undergraduate studies at Skidmore College where she received a bachelor's degree in environmental studies. After college, she worked on a Massachusetts Department of Transportation program raising public awareness around bike and pedestrian safety in the Commonwealth, sparking her return to academia and obtained a master's degree in landscape architecture at the Harvard Graduate School of Design. The Hunnewell Internship program provided her with the opportunity to learning about unique plants and the challenges of maintaining a large-scale park.
Marcus Jenson: Through youth programs such as 4H and FFA, he found horticulture to be the ideal industry to combine his passion for plants, knack for creativity, and desire to work with others. Marcus followed those career aspirations at Iowa State University with a major in horticulture and minor in agriculture education. Being a Hunnewell Intern at the Arnold Arboretum offered Marcus a taste for public horticulture amid a premier collection of woody plants, while introducing this Midwest native to life in Boston and the flora of greater New England. Marcus aims to pursue a career involving education, extension, and research in public horticulture, where he will utilize the knowledge, skills, friendships, and memories he gained at the Arnold Arboretum.
Rachel Lawlor: Attending Norfolk County Agricultural High School, her love for nature further developed into a love for plant science and plant identification. Participating in the NCAHS internship program at the Arnold Arboretum confirmed her decision to continue in the green industry. Rachel attended the University of Massachusetts-Amherst, where she pursued a bachelor's degree in sustainable horticulture and worked in a nematology and plant pathology lab. She worked on an independent research project involving the Arboretum's renowned lilac collection, observing and monitoring pathogenic nematode populations and the viruses they host. The internship program solidified her choice to work hands-on in the horticulture field, and she currently works at the Arnold Arboretum in the horticulture department as a gardener.
Elena Leander: While she has cultivated a lifelong fascination for the outdoors, her love for plants grew through working in the University of California Botanical Gardens with like-minded staff to implement designs and enhance ecological knowledge. Majoring in forestry and minoring in sustainable environmental design at UC Berkeley, she found inspiration in the overlap of these two horticultural fields. Elena is especially interested in promoting healthy food systems in urban settings, and treasured many hours learning and teaching in UC's community garden. Ultimately, she hopes to pursue a career that will allow her to engage the public and combat "plant blindness" through hands-on exploration and education. Her Hunnewell Internship offered her a whole new set of tools, and she treasures the opportunities it provided.
Matthew McDermitt: Matt was born and raised in Newark, Delaware, and earned his bachelor's degree in wildlife ecology and conservation at the University of Delaware. While planning to study land management, he developed a passion for plants after taking plant taxonomy and woody plant identification courses. Upon graduation, Matt interned at the University of Delaware Botanic Gardens where he had the opportunity to take graduate level horticulture classes and experience a broad scope of botanic gardens management. He got his first taste of plant curation during this internship and became fascinated with plant records. Matt applied for the curation concentration in the Hunnewell Internship Program as an opportunity to learn about collections management and work with the most comprehensive plant records system in the world. He hopes to use this knowledge and experience to launch a curatorial career at a public garden.
---
2016
Giovani Almeida Camargo: Giovani was an undergraduate student from the Universidade Estadual de Ponta Grossa (UEPG), and spent two semesters on an exchange program at the Western Kentucky University (WKU) in agronomy. The internship at the Arnold Arboretum provided a unique experience, giving valuable knowledge related to the public horticulture area and general plant care. After finishing his undergraduate, Giovani plans to start a graduate degree focused on Agronomy in Brazil.
Adam Banks: Adam Banks is a Worcester, Massachusetts native working toward his degree in Sustainable Horticulture at the University of Massachusetts-Amherst. Adam is a fourth generation student at UMass' Stockbridge School of Agriculture. While his family has worked in the field for years, it was a trip to the Exotic Garden of Monaco that solidified Adam's interest in plants. He is fascinated with the design of public gardens and parks, and also thoroughly admires art and antiques. Adam's internship at the Arnold Arboretum was a start in what he hopes will become a long career in public horticulture. After graduating, Adam continued with the Arboretum in various roles in the horticulture department before moving on to become a horticulturist at Central Park in NYC.
Adam Beck: Adam began his formal career in horticulture in the spring of 2012 constructing and maintaining gardens for Foliaire Inc in downtown Boston. He graduated Summa Cum Laude from the University of Massachusetts-Amherst with a bachelor's degree in sustainable horticulture. He sees the Arnold Arboretum as a vanguard in preserving urban biodiversity, nurturing public education, and inspiring the curiosity and love of nature necessary to sustain life on this planet for future generations. After graduation, Adam completed a seasonal horticultural position at the Arnold Arboretum before continuing to peruse his plans on continuing his studies at the graduate level in plant protection.
Natalie Buckly-Medrano: She was inspired to earn her bachelors in environmental studies with a concentration in urban planning and land use law from University of California, Santa Barbara. She traveled to Thailand to study the effects of urban development and climate change on marine and coastal ecosystems. After completing her Permaculture Design and Green Gardener Certifications, she worked as a fine gardener and farmhand at various farms in California, New Zealand, and locally at Allandale Farm. Natalie was thrilled to gain insight into the art of propagation as a Hunnewell intern. She was especially inspired by the Living Collections Campaign and its commitment to collecting and preserving species diversity with an eye on human-induced habitat loss and climate change. After several years at the Arboretum in different capacities, Natalie will be moving to Santa Barbara County to act as the Farm Manager at Quail Springs Permaculture.
Wyatt Dixon: Growing up gardening and adventuring through the forests near his home in Ohio, it is no small wonder why he inevitably went to Miami University of Ohio to study botany and horticulture. Initially interested in conservation, Wyatt worked with the Audubon Ash Tree Project injecting local Fraxinus trees against the Emerald Ash Borer. He began working in the propagation greenhouses at Miami in his third year, where he found his interest in plant propagation leading him to being a plant production Hunnewell intern at the Arnold Arboretum.
Alessandro Ferzoco: Studied history and the classics at Harvard College, though held a deep rooted interest in horticulture for years. His grandfather inspired his interest in growing fruits and vegetables. From 2010 to 2012, Alessandro was awarded first prize for his vegetable garden in Mayor Menino's citywide garden contest. Alessandro served as a judge for a few years after being inducted into Boston's Garden Contest Hall of Fame. Additionally, several years ago he built a kitchen garden at his high school, the Roxbury Latin School, that serves as a teaching tool and produces fresh herbs and vegetables for students. Alessandro enjoyed the opportunity to work with the staff at the Arnold Arboretum and has developed an even greater appreciation for one of Boston's greatest local treasures.
Jordan Morgan: Jordan spent all his summers working in the construction industry and after graduating high school, and decided to stay in the landscape construction field. His interest in plant sciences and arboricultural studies led him to the well-respected school, Niagara Parks School of Horticulture in Niagara Falls, ON. Upon graduating in 2017, Jordan hoped to expand upon his experience in the arboriculture field and further his education in plant health care.
Brian Pruka: Earned a bachelor's degree in Agronomy at Iowa State University, he returned to Rockford to work at the Natural Land Institute, a small conservation non-profit. In 1994, Brian earned a master's degree from the University of Wisconsin-Madison, developing an expertise in oak savanna and oak woodland ecology. In 2012 Brian decided to switch careers his career to public horticulture. Interning with Arnold Arboretum's curatorial staff has allowed him to see how a top-flight curatorial program operates. Brian's dream is to establish a native plants arboretum and to preserve a minimally-developed small watershed in his favorite landscape, the Driftless Area of the Upper Midwest.
Connor Ryan: Pursued an undergraduate degree in the plant sciences at Auburn University, majoring in Integrative Biology and Horticulture. During his summers away from school, Connor interned at Mississippi State University's Crosby Arboretum and North Carolina State University's Mountain Crop Improvement Lab. Following graduation from Auburn University in December 2015, he sought an internship at Arnold Arboretum to round off his undergraduate degree and learn more about plant exploration, temperate woody flora, and public garden management. Following the completion of this internship, Connor enrolled in the master's program in woody ornamental plant breeding at the University of Georgia, with aspirations of working in a research or curatorial role at a public garden.
Brenna Scheiderer: In high school she worked in a soils lab, as well as a local nursery. Working with plants outside of the farm gave her an interest in the world of horticulture. Brenna obtained a degree in sustainable plant systems with a minor in soil science at Ohio State University. Upon completion of her degree, she considered further study at the master's level and/or working in the fields of horticulture or soil science.
Danny Schissler:  Completed a BFA at Tufts University in architectural studies and archeology. After working as lead photographer on an archaeological dig in Italy, Danny pursued post-baccalaureate studies and later an MFA at the Massachusetts College of Art and Design, where he worked as a technical assistant and adjunct teacher. His thesis work focused on the presence of invasive plants and artificial light in disturbed, interstitial landscapes. After graduating, Danny worked as a horticulturalist at a small company in Downtown Boston while interning at the Arnold Arboretum's Wolkovich Lab, leading him to a position as a 2016 Hunnewell intern. Danny continued with the Arboretum in various roles after completing his internship and is currently the Head of Operations and Project Management.
---
2015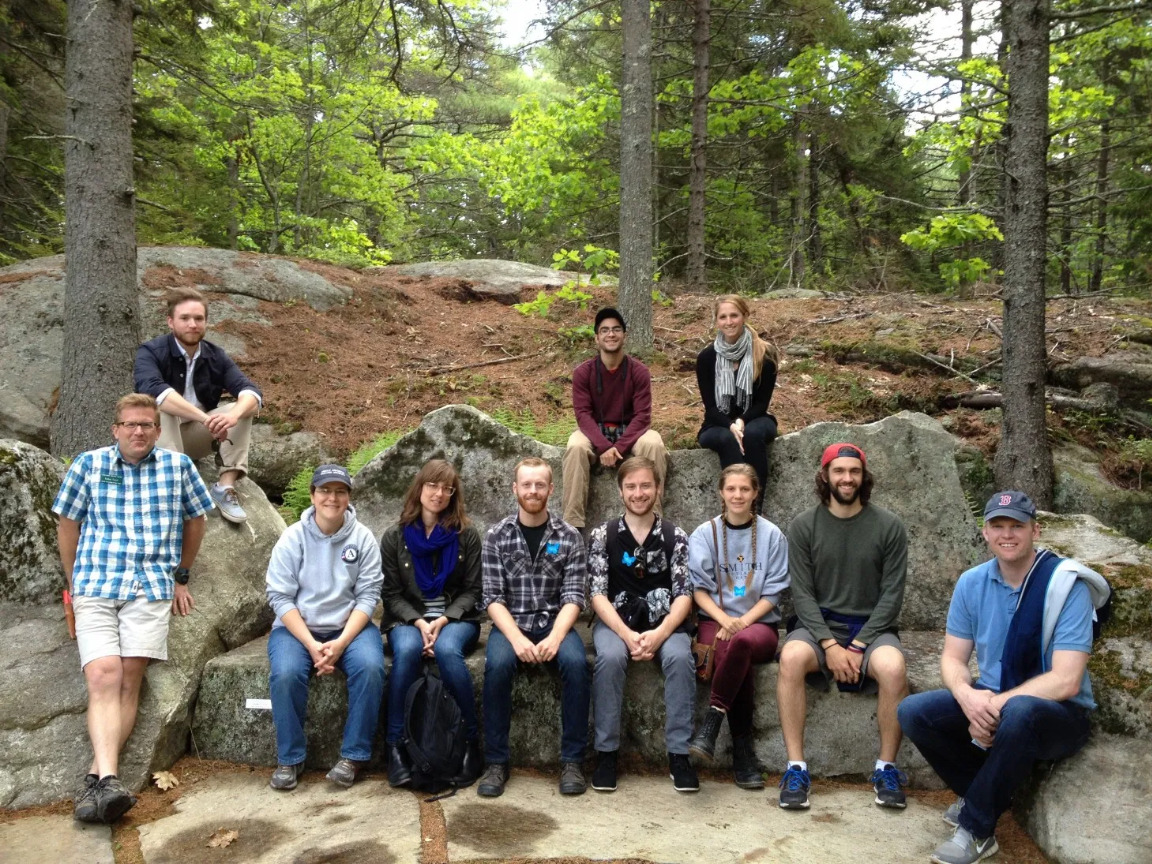 Kelly Burja: Received her bachelor's degree in environmental studies with a concentration in environmental education from Florida Gulf Coast University. After graduating, she served two consecutive terms of service as an AmeriCorps volunteer, working with the New Jersey Department of Environmental Protection to help educate local communities on the growing water crisis and empower citizens to generate change. Following her association with AmeriCorps, Kelly moved to Massachusetts to formally pursue her lifelong interest in plants by enrolling in the horticulture program at North Shore Community College.
Uziel Crescenzi: Uziel obtained his bachelor's degree in plant science from SUNY–Cobleskill. During Uziel's studies, he participated in research investigating the resistance of Dutch elm disease across a variety of different elm (Ulmus spp.) cultivars, varieties, and hybrids. Through a combination of in-class horticulture and part-time work on a vegetable farm, his time at Cobleskill helped expand his horizons in the field of horticulture. Uziel completed the Hunnewell Internship Program at the Arnold Arboretum for continued professional growth as a horticulturalist to gain best practices before continuing his studies in the MLA program at Bernard & Anne Spritzer School of Architecture (class of 2019).
Troy Eilertson: He began studies in psychology at Emmanuel College before transferring to the University of Massachusetts–Amherst to pursue a degree in plant, soil, and insect sciences. There, his studies focused on sustainable greenhouse horticulture and plant biology. Working as a Hunnewell Intern and afterward as a term in the Dana Greenhouses at the Arnold Arboretum offered Troy a unique opportunity to gain valuable experience in non-commercial greenhouse production. Troy's passion for tropical and sub-tropical woody fruiting plants inspires him to consider pursuing a degree in horticulture and agronomy at the University of California–Davis or tropical plant and soil sciences at the University of Hawaii–Manoa.
Scott Ferguson: Scott completed a bachelor's degree in Asian language and culture with a minor in international relations at the University of British Columbia. After spending an exchange year at Kyoto's Ritsumeikan University, he returned home to Vancouver to be an English teacher. Feeling the need to get back outdoors, he decided to pursue a degree in landscaping from Toronto's Humber College. Since graduating, Scott worked as a gardener in Toronto's private and municipal sectors while volunteering at nature centers and farmer's markets. The Hunnewell Internship Program provided an opportunity to learn superior horticulture and tree care.
Sarah Kresock: After high school, Sara worked with a horticultural technician in her hometown of Randolph, Massachusetts and later studied sustainable landscape horticulture at the University of Vermont, where she served as vice president of the UVM Horticulture Club. Her interest in sustainable landscape architecture and design influenced her move to Boston to pursue a master's degree in landscape architecture from Boston Architectural College. The Hunnewell Internship provided her with the opportunity to work in a landscape designed by Olmsted providing valuable work experiences for her current position as a designer and horticulturalist with SiteCreative Landscape Architecture in Boston, MA.
Sam Schaffer-Morrison: In high school, Sam spent summers working at Kearsarge Gore Farm—a small organic farm in the foothills of Mount Kearsarge—expanding on his love of plants and the outdoors. He attended George Washington University, graduating with a degree in biology and environmental studies. In his final two years at George Washington, Sam was awarded an undergraduate research fellowship to study the complex interactions between caterpillars, ants, and host plants. Sam completed the Hunnewell Internship Program at the Arnold Arboretum to boost his knowledge of woody plants and plant science. After obtaining valuable work experience in research and environmental health & safety Sam is working as an EH&S specialist for Home Market Foods in Norwood, MA.
Luke Patrick: Starting his collegiate career in engineering at Clemson University, Luke took time away from school to work in the turfgrass industry, including two years at the Preserve at Verdae golf course. He continued his studies in horticulture with a minor in soils and turfgrass at Clemson University. The Hunnewell Internship Program helped extend his knowledge in arboriculture and public horticulture maintenance. After completing his final semester at Clemson, Luke aspired to work in public horticulture to gain additional experience before pursuing graduate studies. With an eye on the western US, Luke planned to pursue a master's degree in either public horticulture or plant breeding/genetics.
Carly Troncale: Carly studied landscape architecture at the Harvard Graduate School of Design (GSD). She received a BFA in painting and printmaking from Virginia Commonwealth University and an MFA in social practice from the California College of the Arts in San Francisco. Carly worked simultaneously as an artist and gardener's assistant until she moved to Norway. After exhibiting an edible garden at a museum in southern Norway, she decided to focus mainly on vegetation. Her summer working and learning at the Arboretum's Dana Greenhouses gave her hands-on experience. Carly continued with the Arboretum researching the living collections through an independent study with Former Senior Research Scientist Peter Del Tredici. Carly is currently a landscape architect for Grindaker Landskapsarkitekter in Oslo Area, Norway.
Katharine Dana Wilson: Kady hails from the forests of Vermont where her horticulturist/farmer father introduced her to botanical topics. After beginning her studies at Smith College, the lure of plants and nature led her to pursue a major in biological sciences with a track in ecology, conservation, and biodiversity. Studying in Paris for a year ignited her interest in French studies, which she pursued at Smith as a second major. Kady accepted an internship at the Botanical Garden of Smith College, where she led renovations of the systematics beds. After completing her internship in horticulture at the Arnold Arboretum her quest for knowledge at Polly Hill Arboretum as their curatorial intern and became a curatorial scholar at Jerusalem Botanical Gardens.
---
2014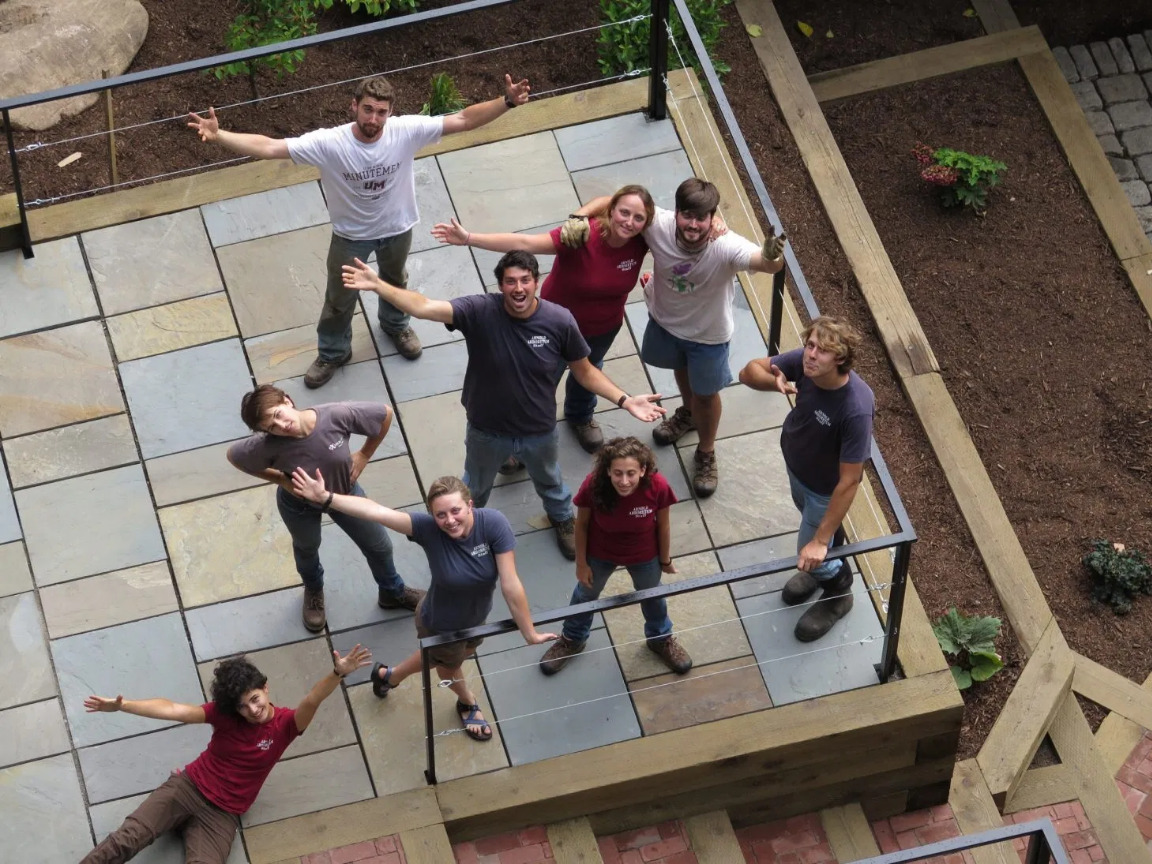 Vania Bowman: Vania worked as a lead gardener for the newly-opened Children's Garden and the Leo Mol Sculpture Garden at Assiniboine Park. She has since returned to school to expand her knowledge of the field, and is an active member of the Academic Council and the Student Board of Directors at Old's College in Alberta. There she lends a hand at the Olds College Botanic Garden Greenhouses, maintaining several seasonal crops, research projects, and speciality plants. In the future, she would like to continue her work in public horticulture, and plans to help promote greater awareness and use of horticulture therapy in public and private spaces. Vania is currently a Horticulture/Arboriculture Technician at City of White Rock.
Christopher Copeland: Chris attended the University of Massachusetts at Amherst, first studying communications, and later focusing on natural resources conservation and urban forestry. While at UMass, he acted as a supervisor for a work-study landscaping crew of twenty students, and was promoted to departmental assistant in his final semester. Four years at this position helped define his strengths as a manager, organizer, communicator, and colleague. In summer 2013, Chris worked as an intern with the Smith College Botanic Garden, further developing and refining his skills in arboriculture and horticulture. After graduation Chris started working at the Arnold Arboretum as a horticulture intern and afterward as a term Gardener before continuing to pursue his career in arboriculture as a GIS Arborist for F. Waugh Arboretum at the University of Massachusetts in Amherst. Chris is currently a greenhouse horticultural technologist at the Arboretum.
Robert Dowell: Prior to his arrival at the Arnold Arboretum, Robert Dowell graduated from the Virginia Tech Department of Horticulture, then worked for a small landscaping firm and small private garden called Boxerwood in Lexington, Virginia. Since then, Robert has served in several roles within the Horticulture and Greenhouse departments. As Living Collections Fellow at tje Arboretum, Robert interacted and cooperated closely with the Arboretum's curation staff on targeting plants for the Campaign for the Living Collections. This assignment encompassed broad and diverse activities, with collection interests reaching as far afield as mountain ranges in western China and as close as our own backyard in southern New England.
Olivia Fragale: She received her bachelor of science degree from the Rubenstein School of Environment and Natural Resources at the University of Vermont. After graduating, Olivia joined the DST-NRF Centre of Excellence for Invasion Biology at Stellenbosch University in South Africa. Olivia completed a master's program in landscape architecture at Boston Architectural College. Olivia's aspirations as a landscape architect are allowing her to merge her interests across disciplines of science and the arts. Olivia enjoyed the Hunnewell Internship Program as a wonderful opportunity to practice horticulture in an artistic landscape designed for experiential learning. Currently, Olivia is a Landscape Designer at Terraink, Incorporated.
Cami Lowder: At Utah State University, where she graduated with a degree in liberal arts, Cami worked as a lab technician studying aquatic insects, an experience that solidified her love of science and biology. After declaring a second bachelor's in plant science, Cami worked at a student-run farm as an education outreach intern and later as CSA (Community Supported Agriculture) manager. She hopes to pursue a career at a herbarium or performing curatorial work at a horticultural institution like the Arnold Arboretum.
Bryce Patz: Bryce attended Purdue University and received a bachelor's degree in 2015 in public horticulture with concentrations in plant biology and water and soil management. In January 2013, Bryce had the opportunity to become a student intern at the Purdue Arboretum. His intern group officially launched the Purdue Arboretum Explorer, an online database for all accessioned trees, shrubs, and vines on campus. This internship inspired his a passion for arboreta and the public horticulture field, and this remains his career focus. Bryce applied for the Hunnewell Internship Program aspiring to improve his skills and further his education in the field. Currently, Bryce is pursuing a carrier as a Neighborhood Vitality personnel for the City of West Lafayette, Indiana.
Jehane Samaha: Her love of plants, rocks, and all the biogeochemistry in between led her to pursue a degree in environmental science at Brown University. With a strong background in field work, she has researched urban ecology in the Boston area, as well as plant community shifts due to climate change in the alpine tundra of Colorado. The Hunnewell Internship Program provided her with an incredible hands-on learning experience identifying, studying, propagating, and cultivating plants. After completing her internship experience, Jehane worked as a laboratory technician in the Wolkovich lab at the Arnold Arboretum assisting with research that feeds her interests in community ecology, environmental history, botany, and horticulture.
Andrew Thomas: As a youth, Andrew developed a love for plants and nature while working with his grandparents in their yard and garden. His father and grandfather would explore the forests and coast of South Carolina with him and explain how nature worked. These experiences fueled a passion for plants and all things plant-related. Andrew applied to the Hunnewell Internship Program to further his education, work experience, and to live outside of his comfort zone. Andrew pursued a bachelor's degree in horticulture at Clemson University.
Katherine (Cassie) Urban-Mead: A 2014 graduate of Yale University in ecology and evolutionary biology, Kassie studied wild bee pollinators and the effect of changing land-use on their communities for her senior thesis. Other research projects include Hudson River climate change adaptation, and investigating the symbiotic bacteria that live in the gut of honey bees. Since living at the Yale Myers Forest, she has been particularly interested in expanding her knowledge of woody plant care. As a Hunnewell Intern, she appreciated gaining hands-on skills at a publicly-focused institution. Cassie is working toward a doctoral degree at Cornell University and would like to continue studying landscape scale beneficial insect dynamics and theory-driven conservation with Professor Bryan Danforth.
---
2013
Federico de Molfetta: Born in Milan, Italy, Federico de Molfetta is a registered architect, receiving his master's degree in design studies in landscape, urbanism, and ecology from the Harvard University Graduate School of Design. He has studied previously in Switzerland, where his thesis proposed the establishment of a botanical garden on an island in the Venetian lagoon. Federico has collaborated with landscape architecture firms PROAP (Portugal) and VOGT (Germany), particularly in ecological contexts. Due to his specific interest in public gardens and their key role in contemporary urban life, he views his experience at the Arnold Arboretum as an opportunity to learn more about the complex relationship between plants and humans. Currently, Federico is a teaching assistant for Accademia di Architettura – USI
Yoojin Kim: She studied horticulture and textile and clothing design at Kyung Hee University in Korea, earning both bachelor of science and bachelor of arts degrees. She has worked in various capacities for botanical gardens in Korea for more than three years. To gain more hands-on experience and gain specialized training in ornamental horticulture, Yoojin also studied and graduated from the School of Professional Horticulture at New York Botanical Garden. Part of her studies included a six-month internship in the garden and greenhouse focused on Korean native plants, desert plants, and rock garden plants. She applied for the Hunnewell Internship Program to build on her knowledge of woody plants, and to experience Olmsted's great plan for the Boston park system firsthand. She hopes to continue to study landscape architecture through graduate studies in hopes of becoming a garden designer at a botanical garden, and promote horticultural exchange between Korea and Western countries.
Yinnon Hiller: Yinnon worked at various landscaping jobs in San Francisco until securing a position with Presidio Trust at the Presidio National Park. Initially hired as an irrigation tech and landscaper, Yinnon jumped at the opportunity to join the forestry department. In this position, he has helped lead a new reforestation program in the park, primarily focusing on the establishment and care of young trees from nursery stock. He was enthusiastic about participating in the Hunnewell Internship Program because of its focus on the care and management of public green spaces. After the internship, Yinnon stayed with the Arboretum as a seasonal gardener before moving on to pursue other career opportunities.
James (Matthew) Jones: The internship provided him with valuable hands-on experience in horticultural practices he needed after spending much of his career in academia and research labs. He also enjoyed opportunities in public education and outreach, including writing an article for Arnoldia and giving a Tree Mob talk on a tree he had studied in graduate school. The internship also taught him about working coherently with and as a team. While he had experienced trouble getting his career in horticultural education started before his internship, he reported receiving three job offers after its completion. Now Matt is an Agriculture Extension Agent North Carolina Cooperative Extension.
Joesph Leonard: Joe enrolled in the plant, soil, and insect science program at the University of Massachusetts in 2012. Joseph applied to the Hunnewell Horticultural Internship program to further his knowledge in arboricultural and horticultural practice. He plans to continue his education in pursuit of a master's degree in sustainability management, and is interested in researching sustainable methods for homeowners to grow fruits and vegetables hydroponically. Joseph's aspires to develop an open source plant curatorial database program for private landowners.
Chelsea Parise: Chelsea Parise is a graduate of The College of the Holy Cross with a bachelor's degree in biology and environmental science. Her undergraduate research focused on the biological and historical factors influencing the growth of non-native plants in Worcester County, MA. Currently a Curatorial Assistant in the Farlow Herbarium of Harvard University, she is working on digitization efforts for both the Lichen and Bryophyte Project and MacroAlgal Project. Chelsea's current work draws heavily from my past digitizing experience in the Gray Herbarium with the New England Vascular Plant Project and California Digitization Project.
Tiffany Rae: Tiffany attended Brigham Young University as a student of landscape management. She applied to the Hunnewell Internship Program to gain greater practical experience with trees and shrubs, as well as broaden her knowledge and use of integrated pest management. She is confident that her internship will better prepare her to contribute to the industry it in a meaningful way in her career and and hopes to pursue a career in landscape design or horticulture.
Eyob Solomon: He received his bachelor of arts degree in finance from Hampshire College, but a brief stint at a financial firm convinced him to return to horticulture. He appreciated the opportunities presented by the Hunnewell Internship Program to increase his knowledge and experience in greenhouse management, including integrated pest management, transplanting, and propagation. Eyob aspires to work with plants as a career to enrich society and the environment, perhaps at a plant observatory, public park, conservation organization, or plant research station.
Victoria Stewart: A native of West Roxbury, MA, Victoria Stewart grew up as a frequent visitor to the Arnold Arboretum. She completed her degree at Connecticut College where she is majoring in botany, where she got to continue her studies in Copenhagen, where she will focus her attention on environmental science. Victoria's lifelong interest in plants was ignited at the academic level after taking an ethnobotany class, which illuminated the many roles that plants play in various cultures. While in school at Connecticut College, she served as the president of Forest Justice, a club committed to promoting sustainable use of tree products and educating ourselves and the community about trees in general.
Megan Vhay: She attended Norfolk County Agricultural High School, where her interest in nature and some inspirational teachers led her to select plant science as a major. In her junior year, she participated in the Arnold Arboretum's summer intern partnership with the school, which in part inspired her application to the Hunnewell Internship Program. Megan went to the University of Maine in Orono, where she studied wildlife ecology with a minor in environmental horticulture.
---
2012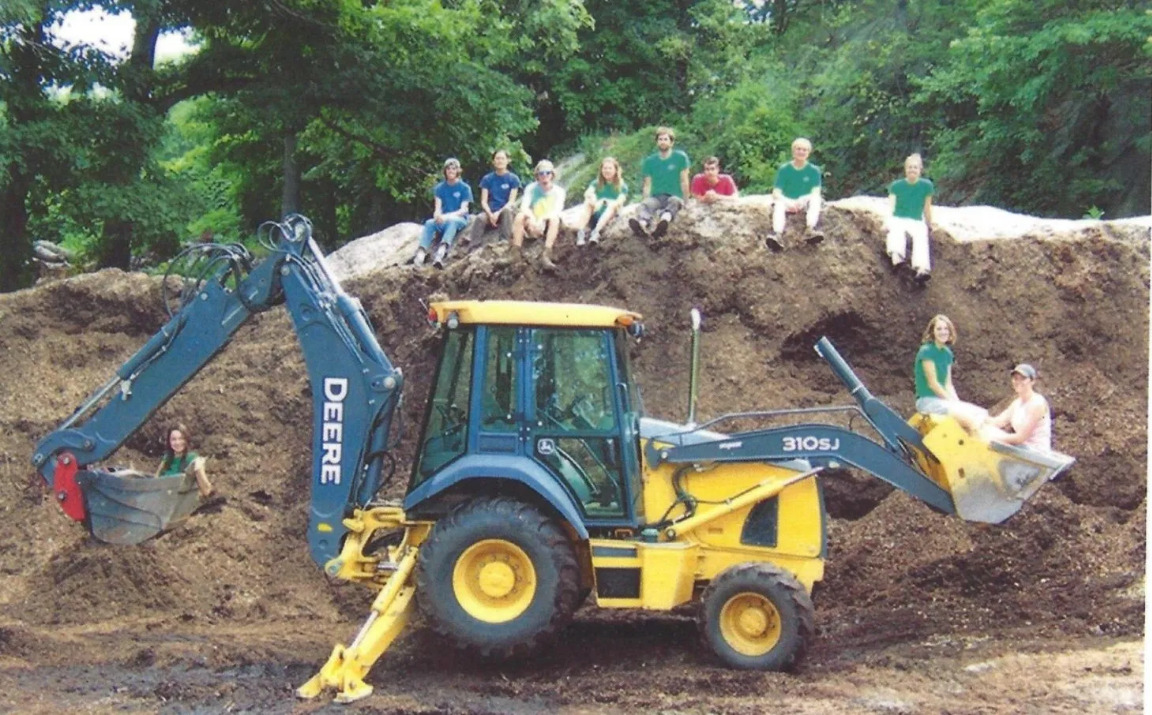 John Aloian: John Aloian grew up in New Canaan, Connecticut. He attended Harvard College, majoring in biology and minoring in religion. While being an intern at the Arboretum, John enjoyed working outdoors, learning from his colleagues, and sharing with so many people who love plants. His favorite area of the Arboretum is the conifer collection, where ancient species make him feel as if he's left Boston and traveled back in time to walk with the dinosaurs.
Max Baber: As a student at the Evergreen State College in Olympia, Washington, Max studied many modes of field ecology, with ornithology representing his primary focus. Believing that the study of a dynamic natural community requires familiarity with all its component organisms, he decided to expand his knowledge of the botanical and horticultural sciences. This pursuit has included working on farms in Connecticut, Arkansas, New Mexico, California, and Washington. As a Hunnewell intern, Max spent a large portion of his time working on Peters Hill, in the Malus (crabapple) collection and improving the general ecology of the surrounding landscape with Horticultural Apprentice (and former Hunnewell Intern) Miles Schwartz-Sax. He hopes to eventually pick and eat every kind of edible fruit in the world.
Nicole Belhumeur: Nicole received her degree in Landscape Architecture at the University of Rhode Island. Nicole stayed engaged with URI's student chapter of the American Society of Landscape Architects and competed with the women's track and field team. Nicole now holds her ISA Arborist Certification a long with the ISA Tree Risk Assessment Qualifications while working as a Corporate Recruiter for Bartlett Tree Experts.
Barrett Boos: Since 2008, he has held several positions in horticulture, including watering container plants for a small nursery/garden center, working in the nursery yard of a landscaping business, and serving on a crew for a local landscaper. He began his freshman year at Colorado State University as a construction management major but quickly realized that plants interested him most changing his major to environmental horticulture with a minor in business. Barrett applied for the Hunnewell Internship in the Arboretum's Dana Greenhouses to expand his understanding of how plants are propagated, nurtured, and prepared for planting in the landscape. The internship offered him the opportunity to hone the practical skills that will be essential to advancing his career in horticulture. Currently, Barrett is a Purchasing and Yard Manager at LID Landscapes.
Jennifer Corlett: She received her bachelor's degree in conservation and resource studies from the University of California, Berkeley. There she also worked in the student organic garden and studied abroad in Ghana, West Africa. After graduation, Jenny accepted a position at Rainforest Action Network as corporate communications manager for the Rainforest Agribusiness Campaign, an initiative focused on reducing demand for palm oil products grown in Malaysia and Indonesia. Later, Jenny became program manager at Carpe Diem West, a nonprofit organization that engages a broad network of experts, decision makers, and scientists to address how climate change is impacting the availability of water in the American West. She is interested in urban ecology, climate adaptation, sustainable cities, brownfield remediation, and post-industrial landscapes. Jenny is now a Senior Landscape Designer at PWP Landscape Architecture in Berkeley, CA.
Kaslin Daniels: She studied biology with a focus in botany at Reed College in Portland. After her Arboretum internship Kaslin pursued other educational opportunities with internships at Mt. Cuba Center in Hockessin, Delaware, and Wave Hill Garden in the Bronx, New York. Kaslin served as the Head Gardener at Washington Square Park in New York City, where she worked to develop and maintain the landscape with a team of horticulturists, as well as initiate extensive volunteer and public programming. She also worked as a Section Gardener for the New York City Central Park Conservancy and as a nursery propagator for an urban forestry nonprofit in San Jose, California. Kaslin is currently a Longwood Fellow at Longwood Gardens in Kennett Square, PA.
Emily Ellingson: After graduating from St. Olaf College with a degree in biology and environmental studies, she moved to a small town in Washington State to perform backcountry botany surveys for the U.S. Forest Service. There she realized that she could build a career reflecting her love for plants, nature, and the outdoors. Following her seasonal work, Emily served as the Youth and Family Programmer and Children's Garden Manager at Coastal Maine Botanical Gardens in Boothbay, Maine, an experience that introduced her to the wonderful world of public gardens, education, and horticulture. The Hunnewell Internship Program helped Emily build her horticultural knowledge and gain valuable hands-on experience. Now Emily is the Curator and Native Plants Collection Manager at The Arboretum, State Botanical Garden of Kentucky.
Anna Lam: In 2009, she graduated from Cornell University with a bachelor's degree in natural resources, concentrating on applied ecology. Her interests in both the human aspects of conservation and urban ecology in general inspired her study of these topics for her master's degree in environment, culture, and society in the School of GeoSciences at Scotland's University of Edinburgh. Afterward, she entered the Master of Landscape Architecture program at the University of Hong Kong, and will continue her studies in fall 2020 at The University of Sheffield in England. Her Hunnewell Internship offered a perfect opportunity for her to experience the world of public horticulture first-hand, preparing her for a career in designing and managing urban landscapes where all inhabiting organisms can flourish.
Sadie Lang: Attended Northeastern University, and graduated in 2012 with a degree in environmental science, concentrating in wildlife studies. As an undergraduate she interned at Disney's Animal Kingdom and at the butterfly garden at Boston's Museum of Science—experiences that revealed her interest in plants and horticulture. Sadie's love for nature has led her to become a instructor with Naturebridge Youth Organization in San Francisco, California.
Jack McGrath: He sings sacred harp music and received his undergraduate degree in music from Carleton College, writing his undergraduate thesis on the American shape-note singing tradition. Also at Carleton, Jack served as a crew member at the Cowling Arboretum. After receiving his degree, he worked in book and paper conservation at Harvard's Widener Library and studied art at the Harvard Department of Visual and Environmental Studies. In 2009, Jack moved to New York and worked as a research assistant in urban environmental health; in 2010 he was curatorial assistant for an exhibition on Roosevelt Island's pneumatic garbage collection system, Fast Trash. Jack obtained a master's degree in landscape architecture from the Harvard Graduate School of Design. He works currently for the Office of Geographic Information (MassGIS) as a GIS Analyst.
Ryan Plante: Ryan Plante majored in environmental horticulture at the University of Rhode Island, focusing his studies on arboriculture, propagation, and pharmacognosy. He thinks his love for plants may have been initially inspired by his last name, and it was nurtured during his youth by helping out many summers in his grandfather's vegetable garden and later working in the produce department of a Wakefield grocery store. A last-minute decision to take a plant biology course during his freshman year at URI precipitated his shift in majors from education to horticulture. Since then he has studied propagation, arboriculture, pathology, and fruit culture.
---
2011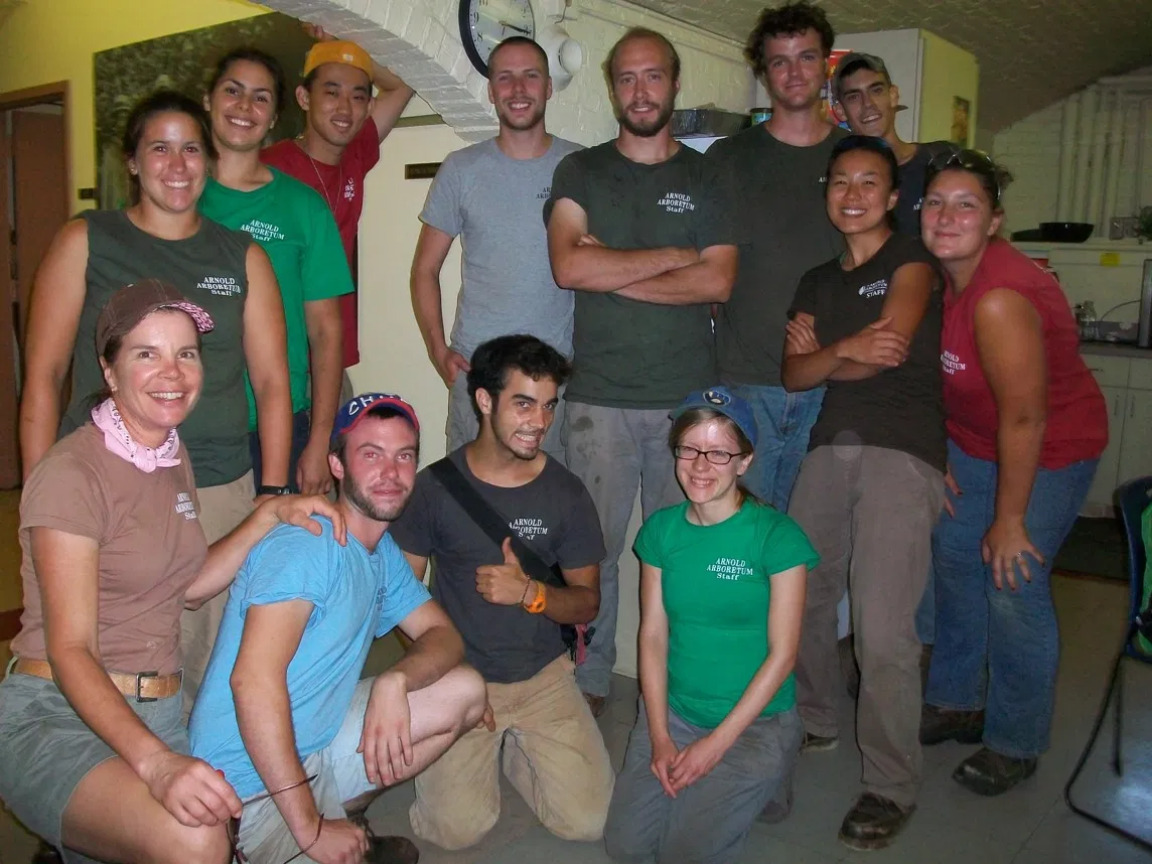 ---
2010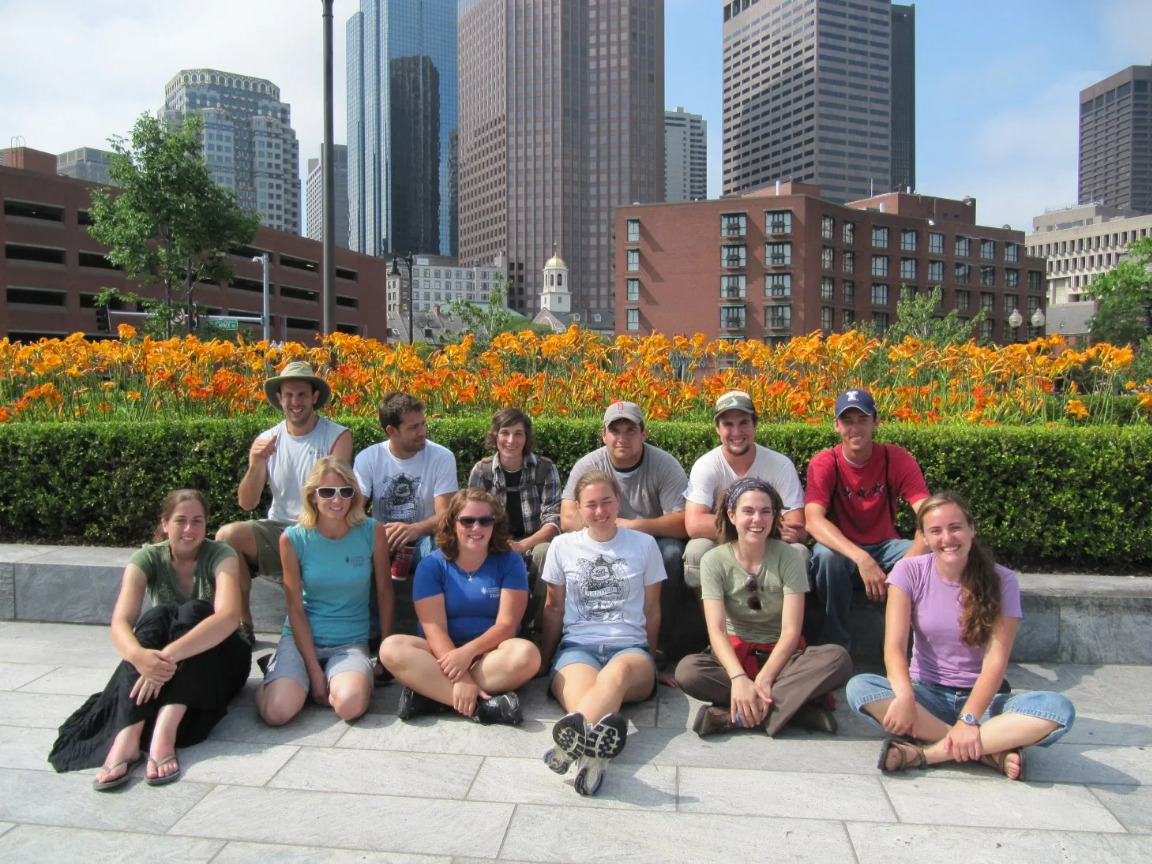 ---
2009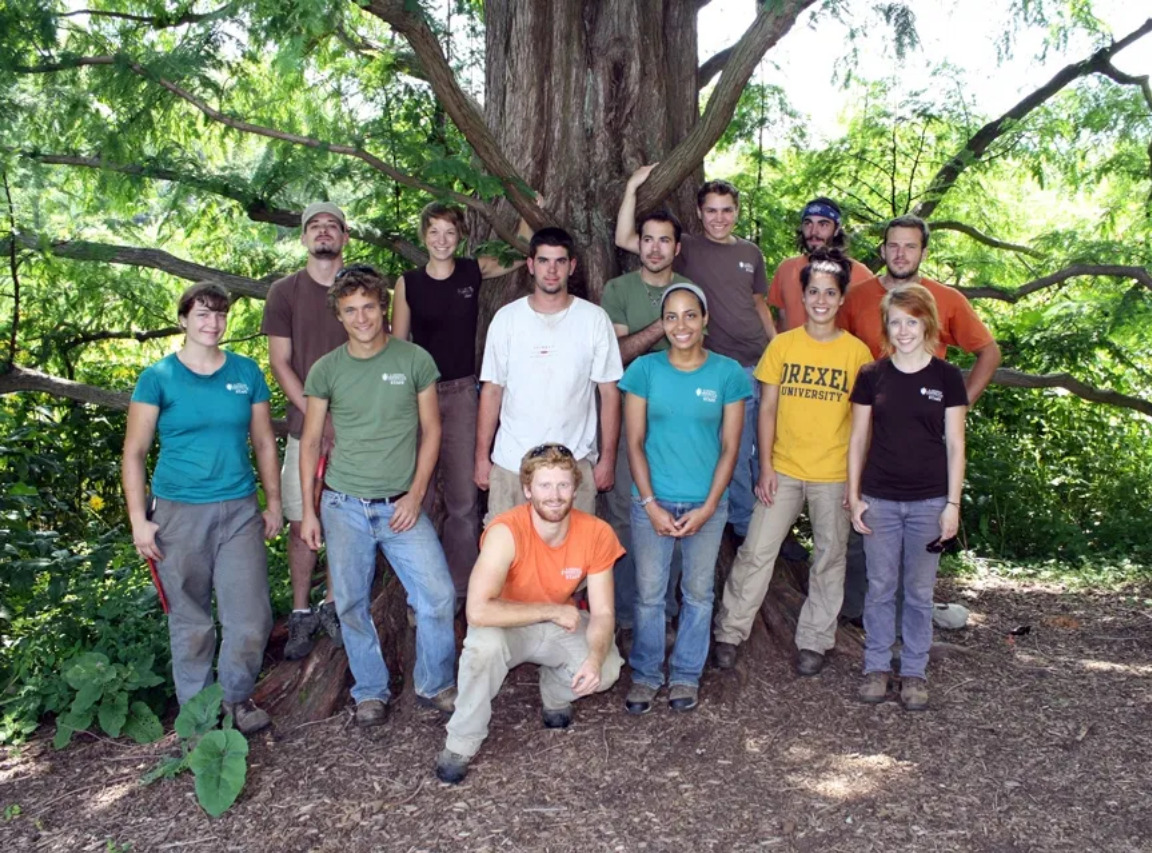 ---
2008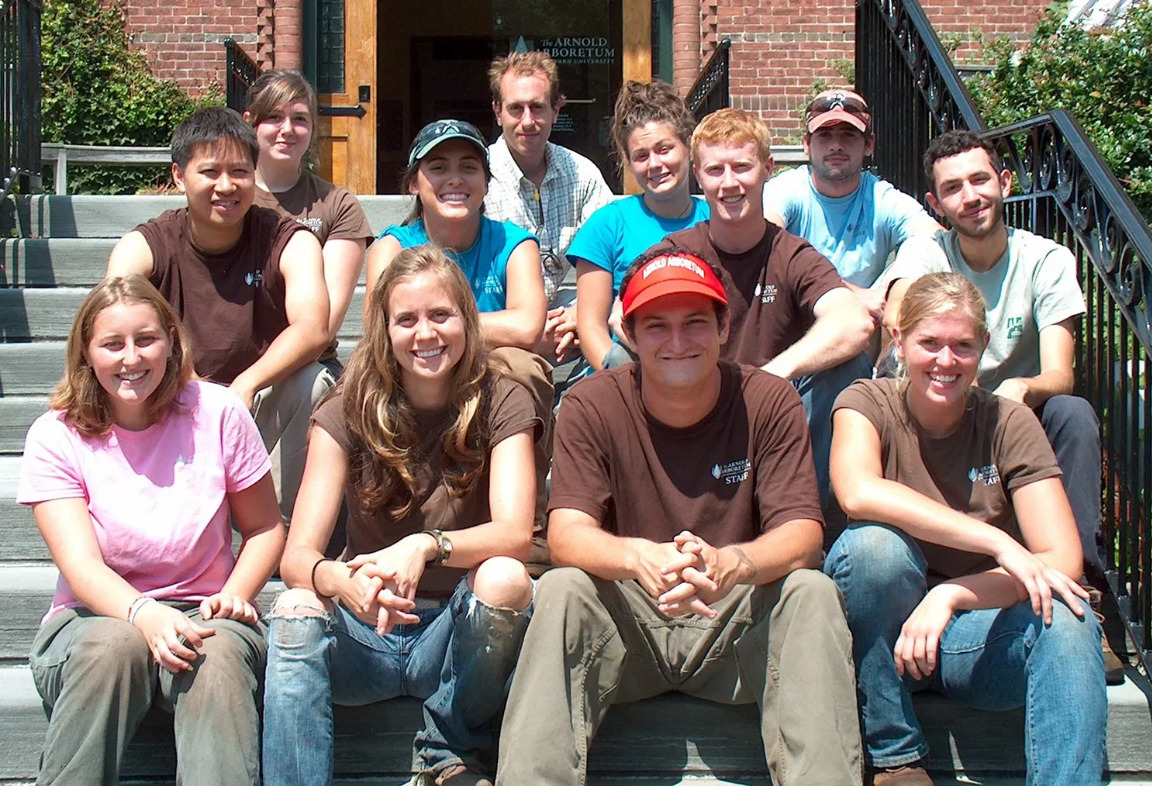 ---
2007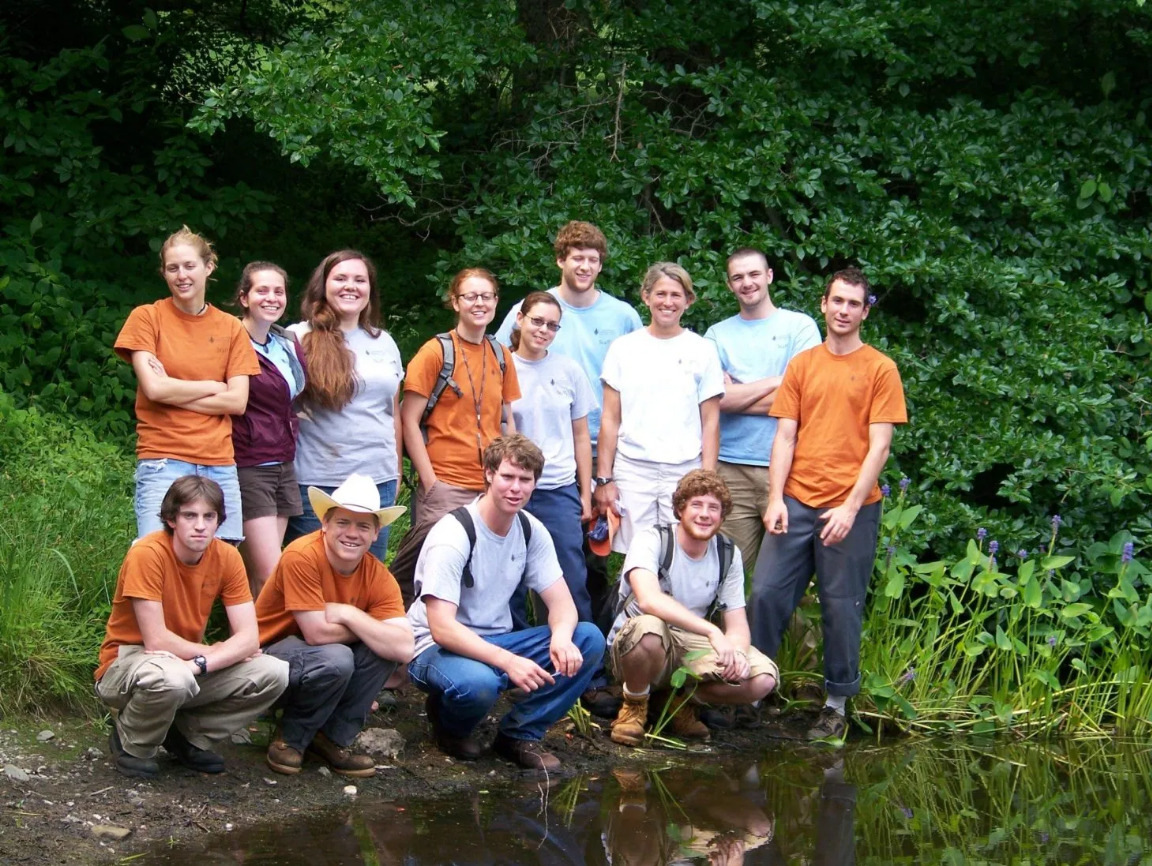 ---
2006
---
2005
---
2004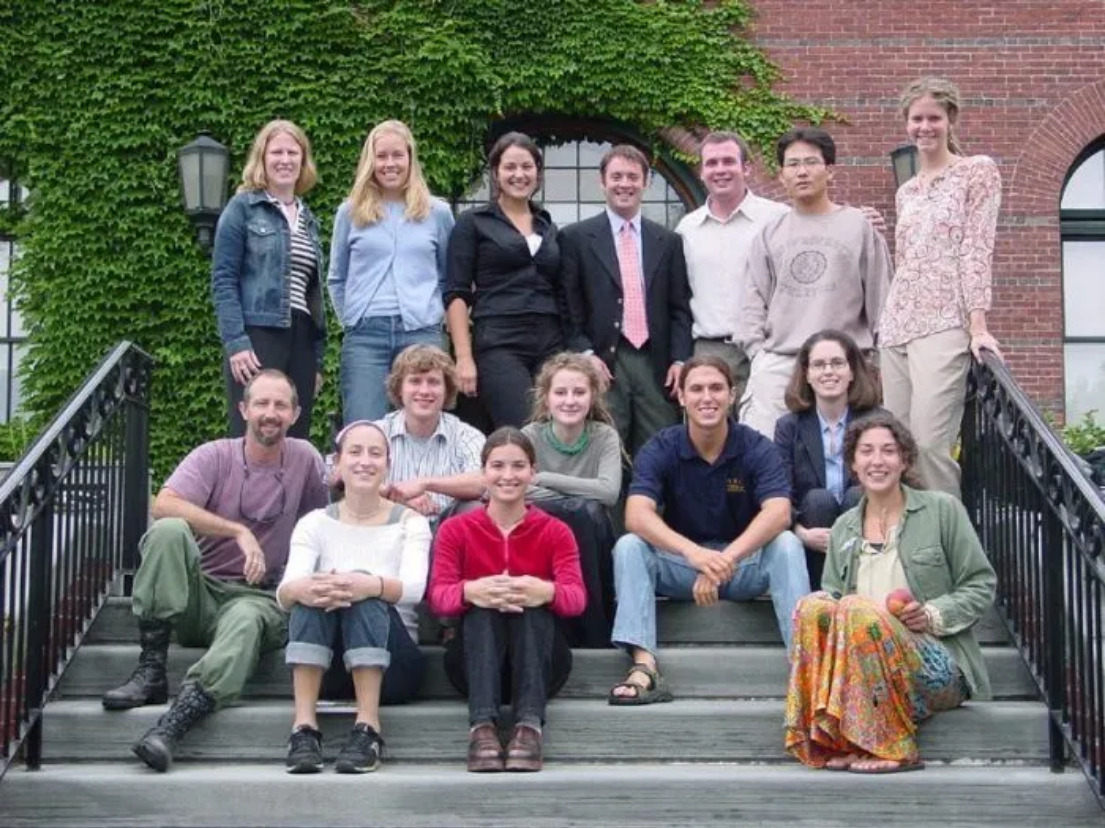 ---
2003
---
2002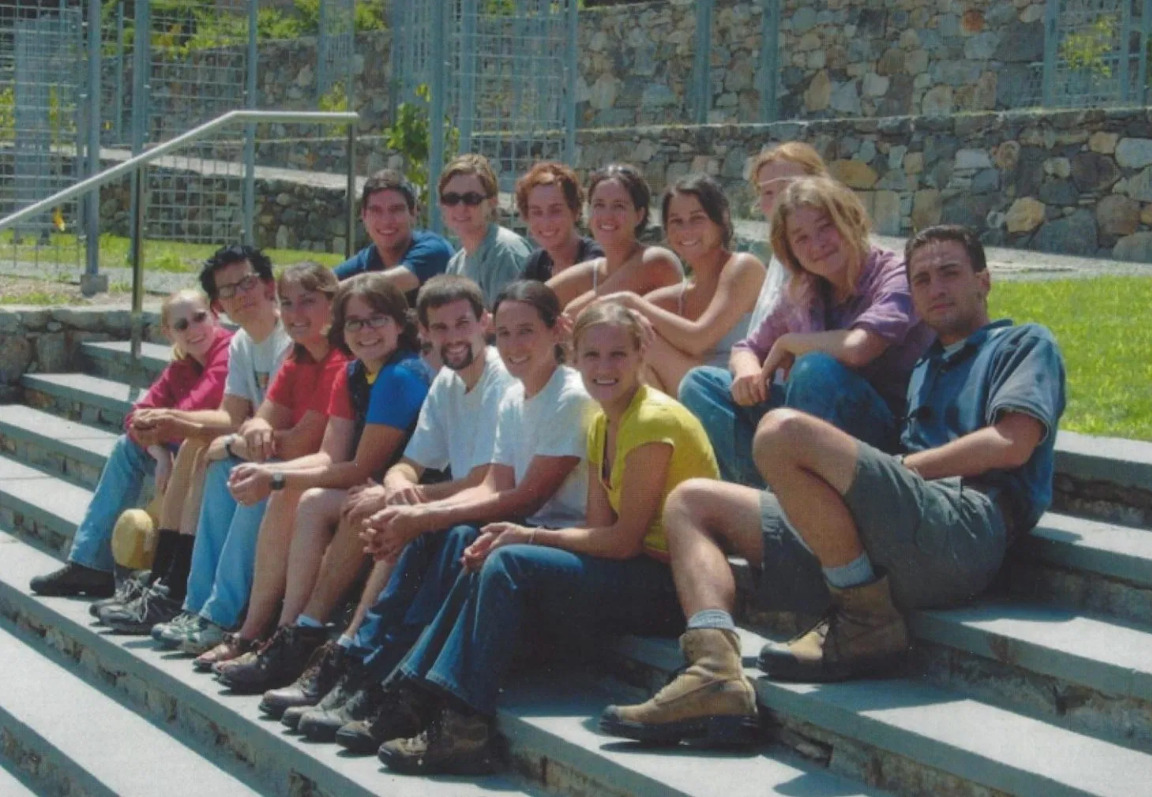 ---
2001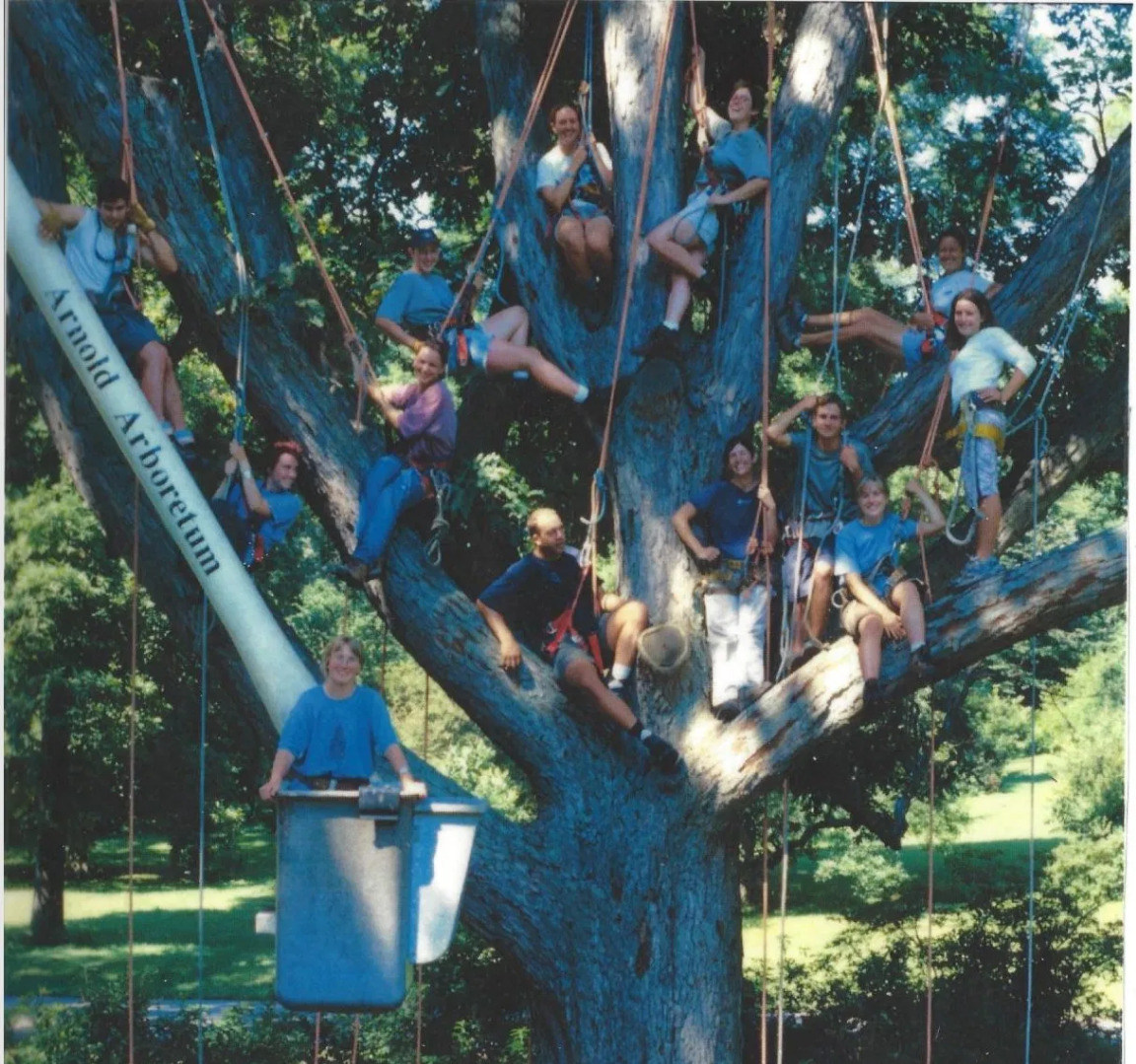 ---
2000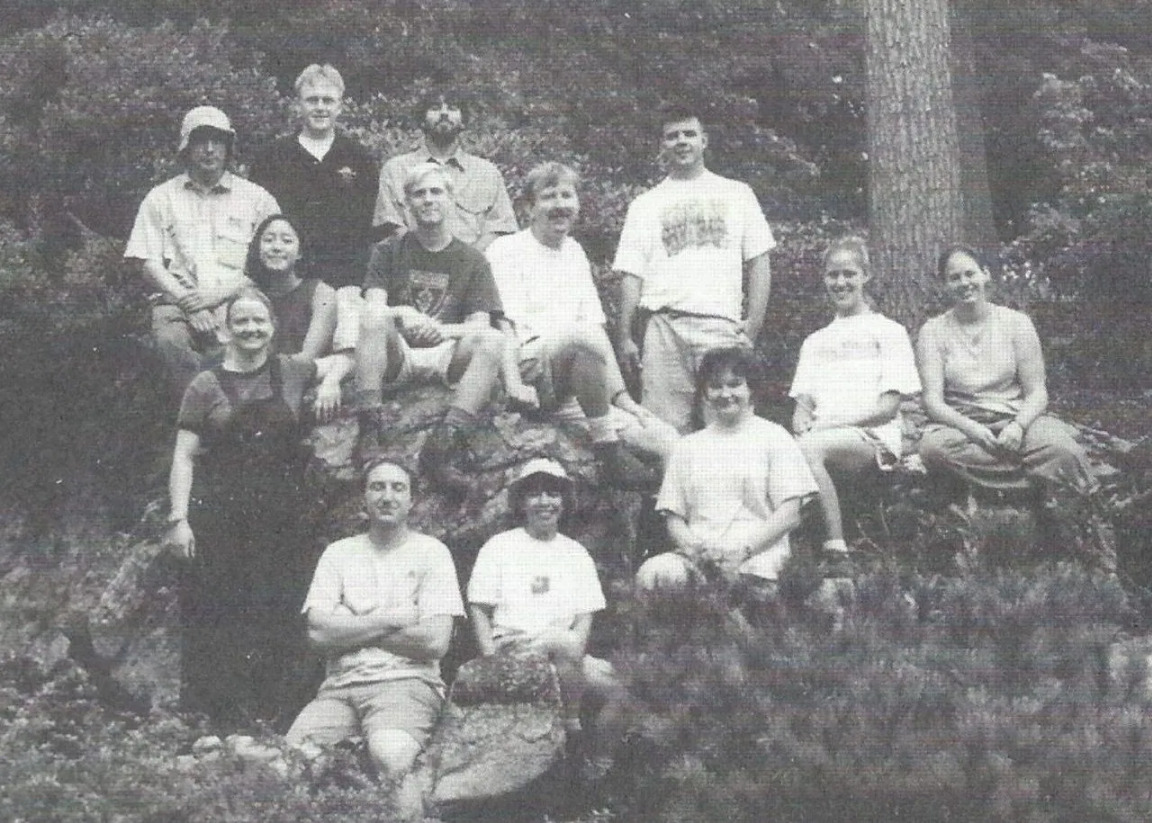 ---
1999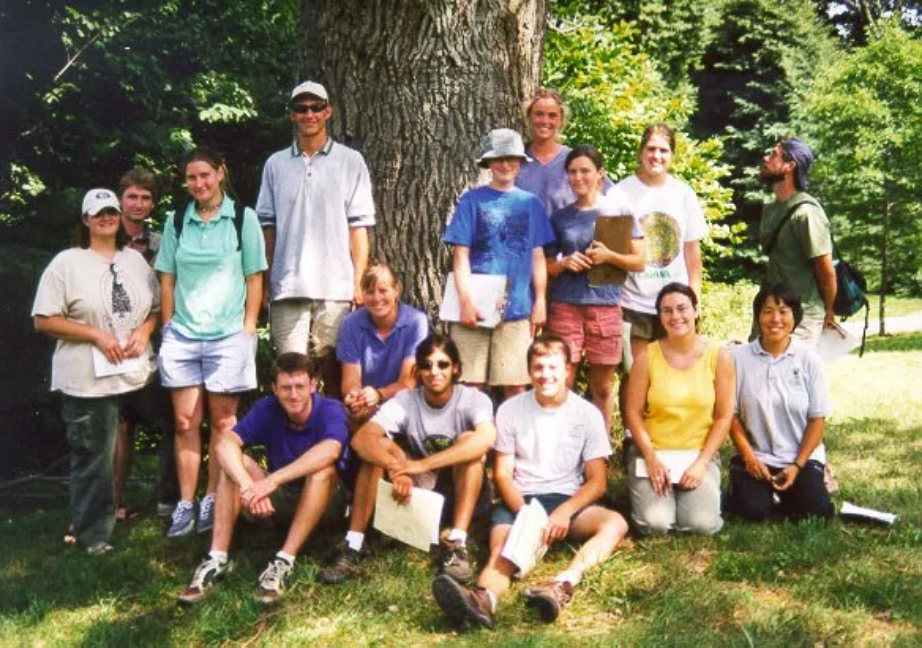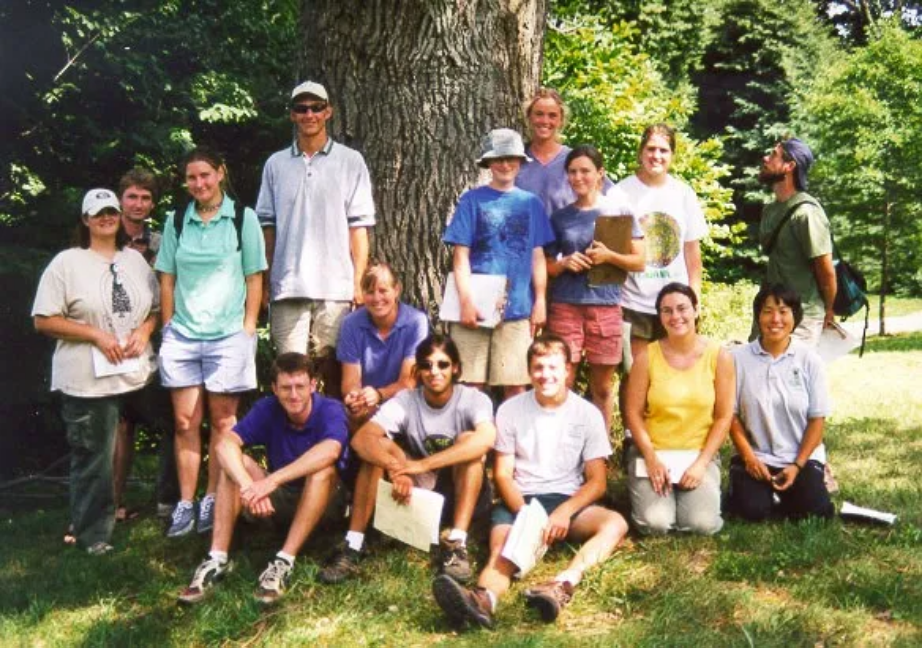 ---
1998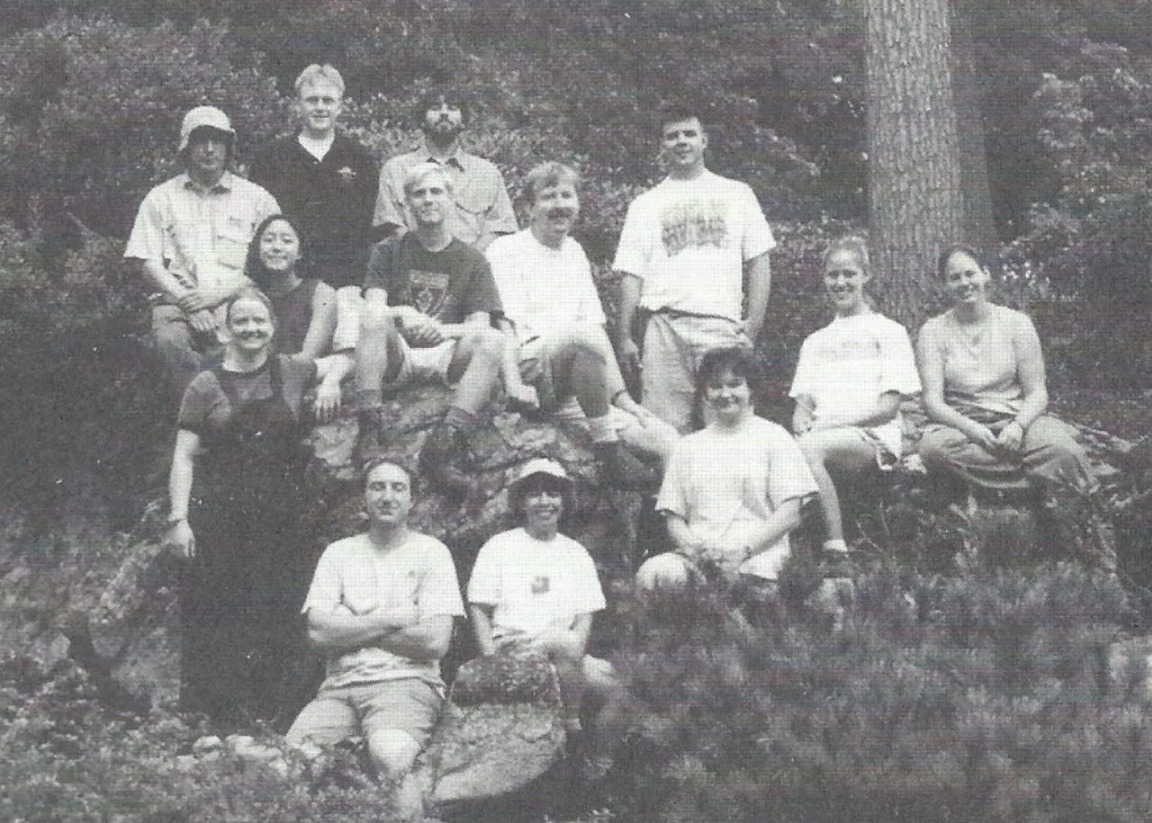 ---
1997
---
1996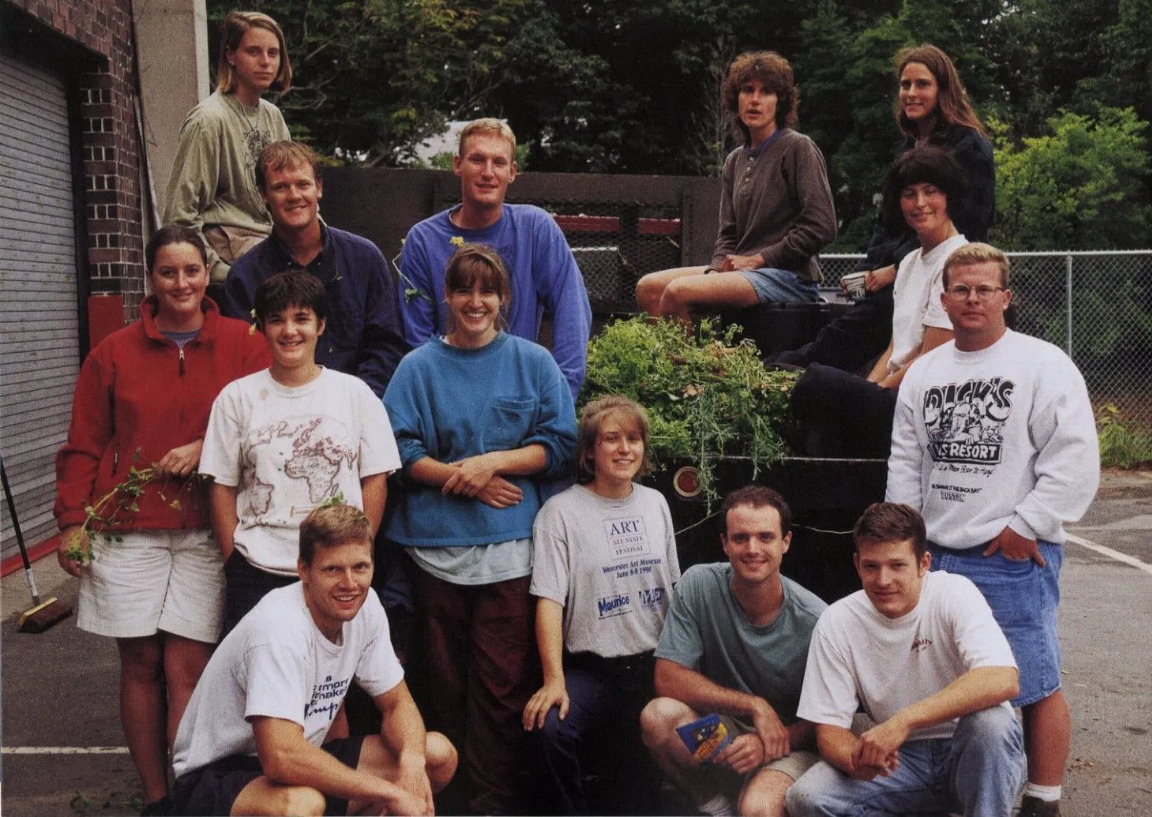 ---
1995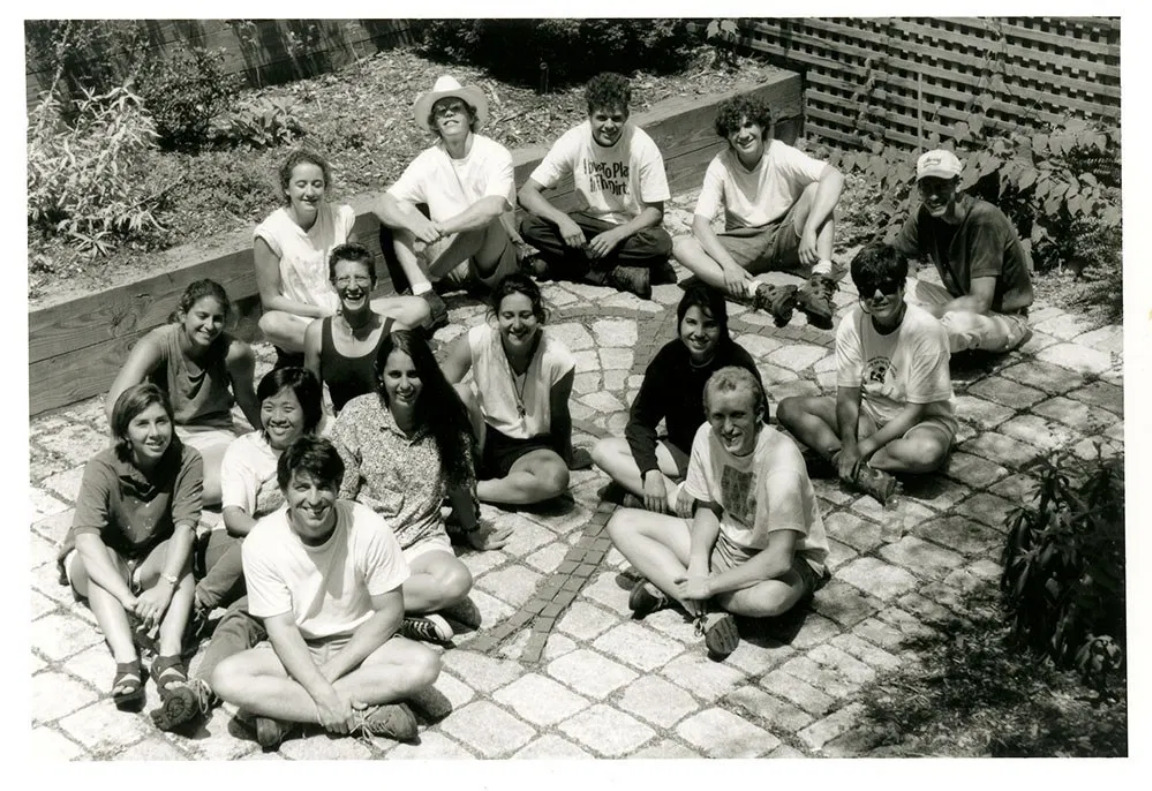 ---
1994
---
1993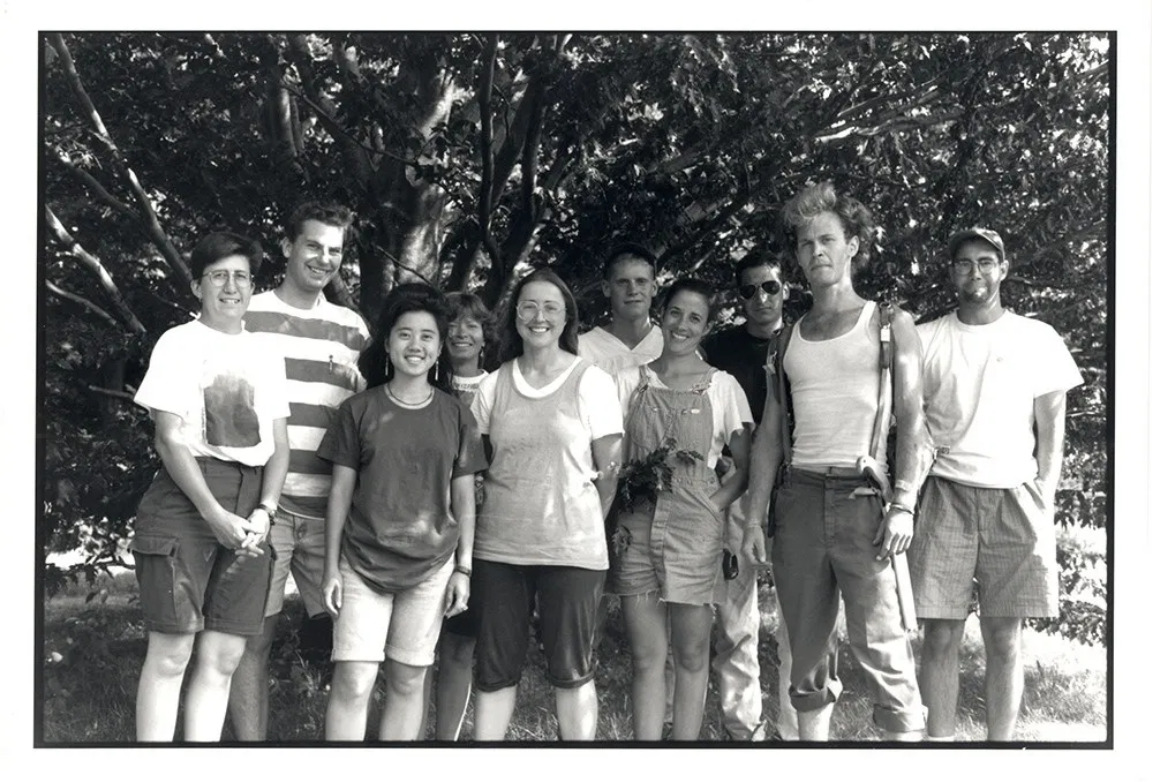 ---
1992
---
1991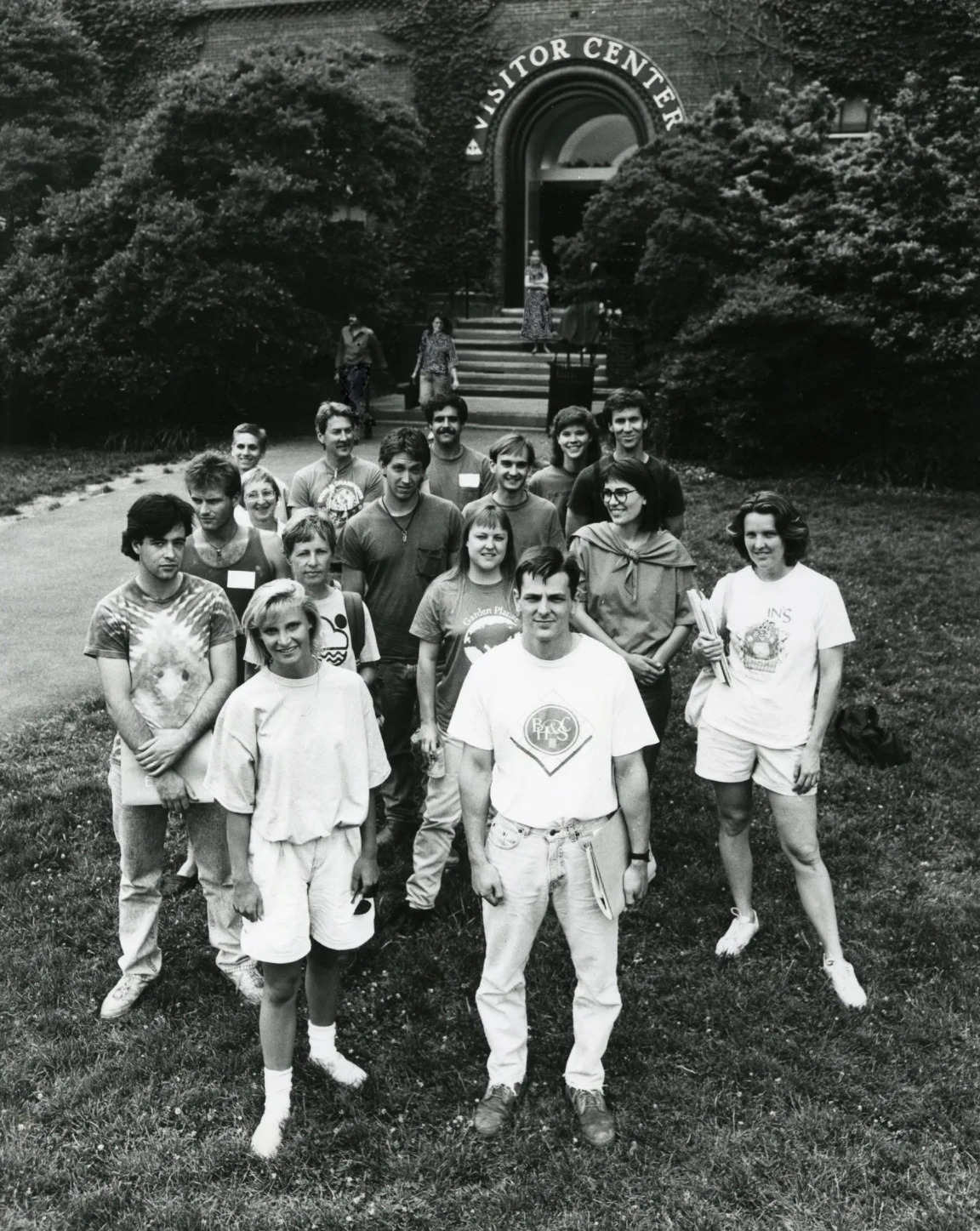 ---
1990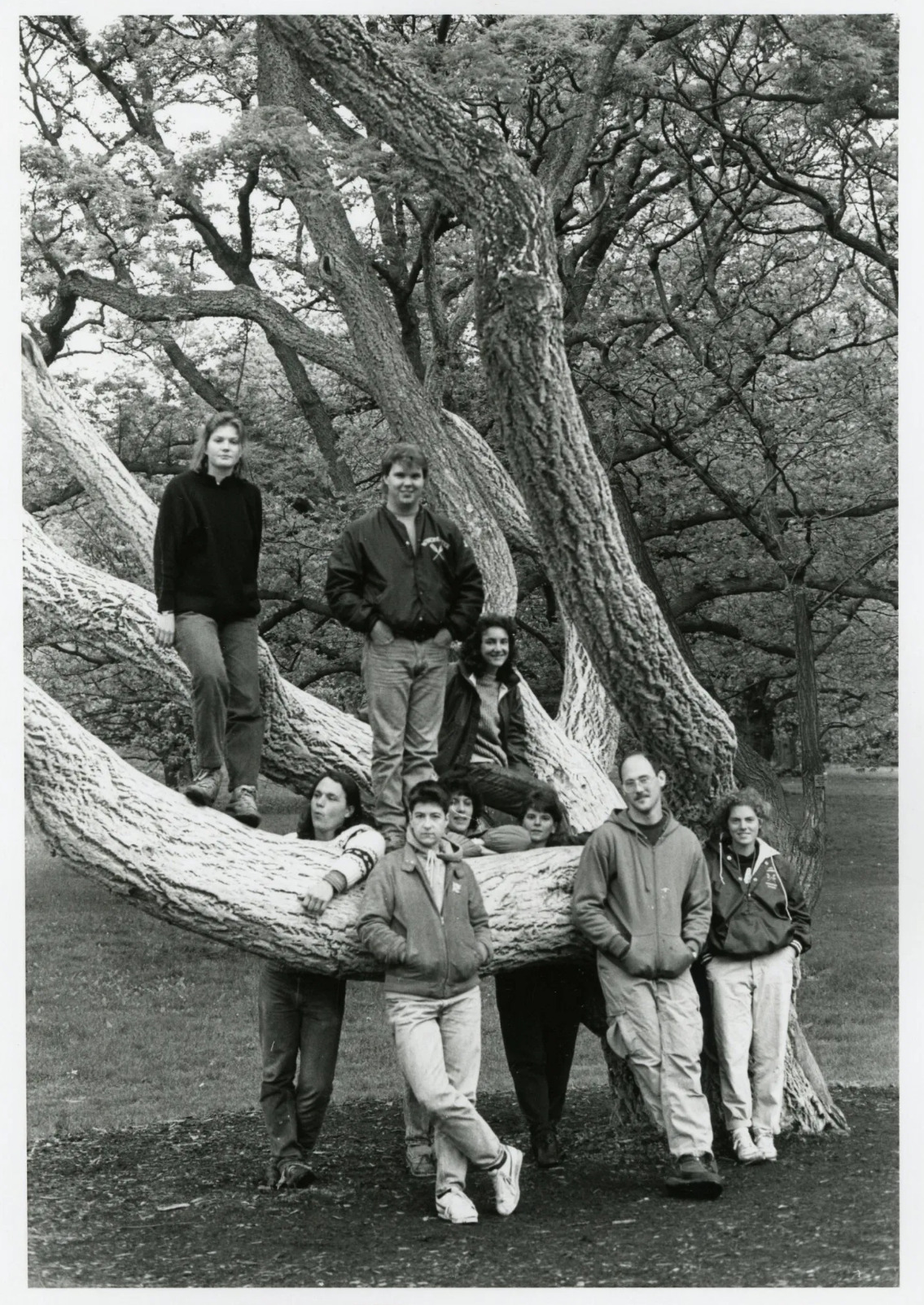 ---
1989 – 1980
Intern Class of 1989:
Anna Perkins (Hunnewell Pinetum intern), Allison Church, Amory Haight, Carolyn Sheets, Christine Chester, David Murphey, Douglas Cygan, James Blauth, James Settle, Julia Hintringer, Kendra Sikes, Kevin Burgess, Kevin Newberry, Laurel Fitzpatrick, William Emerson.
Intern Class of 1988:
Brett Christianson-Hass, Brian Muchow, Bruce Rivers, Catherine Rosenberg, Chis Dowling, Gerald Brown, Hugh Chapin, James Blauth, Jaqueline Veal, Jodi Bottoms, Paul Pfeifer, Russel Forbes, Stefan Helleckes, and Stephanie Shapiro
Intern Class of 1987:
Amanda Doss, Anthony Kahtz, Ken Kirkey, Kevin Sharkey, Kim King, Laurie Summerhill, Mark Porter, Robin Summerhill, Thomas Ward, and William Cooper
Intern Class of 1986:
Beretha Thornton, Donald Wyman Thomas, Ethan Johnson, Henry Hansen, Lucy Jacob, Maria Leet, Michelle Bradley Campanis, Michelle Weiller Derviss, Peter Horowitz, Philip Williams, Robert E. Tracy, Jr., Stephen Ridge, Virginia Kershaw, and William Grant Faulkner
Intern Class of 1985:
Amy Crews, Amelia Zamoiski, Andrew McInnes, Jr., Michelle Bradley , Daniel Worth, Donald Wyman Thomas, Eve F.W. Linn, Jacob Adler, Jude Lichtenstein, Kevin Krolicki, Laura M Bull, Marylee Kelly, Michelle Bradley, Priscilla Spaulding, R. Elaine Joines, Richard Hardt, Tim Gilman, and William Monroe
Intern Class of 1983:
Alfred Fordiani, Bruce Hegna, Charles Martin, Dennis Kitt, Ellyn Meyers, Ester Margulies, Gregg Gabinelle, Kathleen Griffin, Lisa Shapiro, and Michael Quesada
Intern Class of 1982:
Albert Hill, Anne Boykin (Education Intern), Anne Jung, Charles Pepper, Chris Savard, Deborah VanDenmark, Eric Kell, Geoffrey Smith , James Allen, Jennifer Knight, Kathleen Cunnea, Lucy MacMillan, Neal Kelleher, Rebecca Brinkman, Russell Titus, Sally Mitoff, Sharon Currie, William Laky, and Thomas Healey, Jr
Intern class of 1981: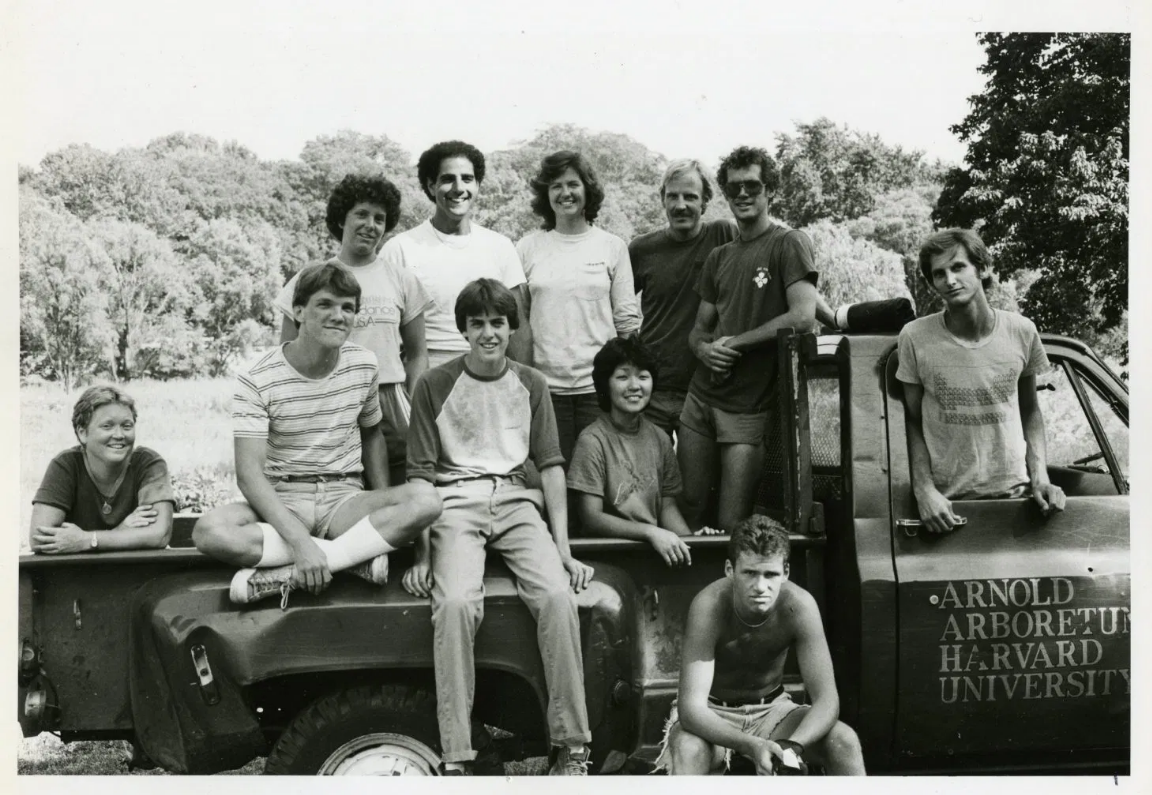 Not in Order: James Allen, Michael Koralewski, Neal Kelleher, Daryl Sullivan, and Cindy Brown
Intern class of 1980: