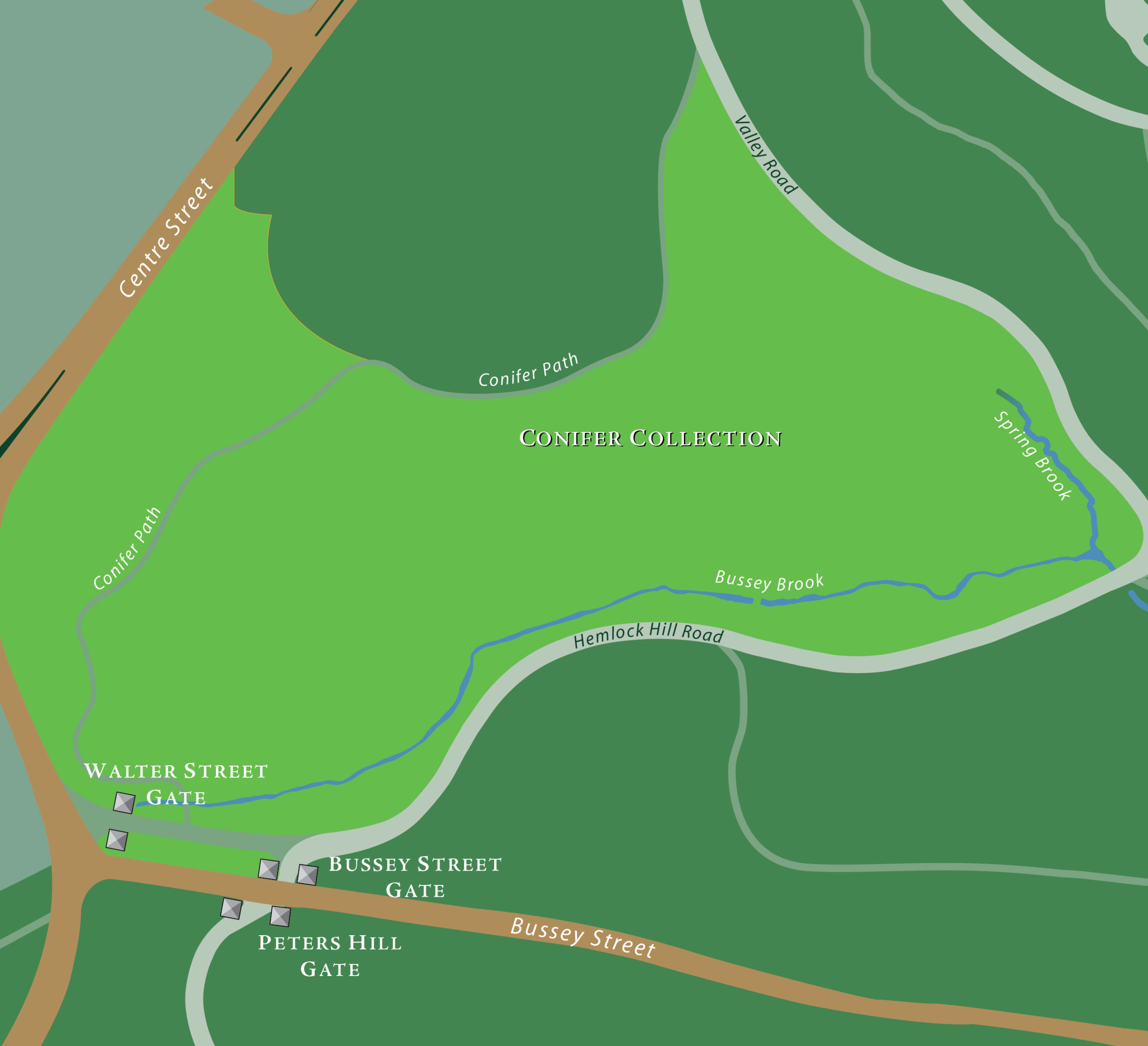 Directions
The south entry for Conifer Path begins just inside Walter Street Gate, amid a grove of larch trees (Larix spp.). The path begins less than a minute's walk from Walter Street Gate, and about a two-minute walk from Bussey Street Gate. The north entry for Conifer Path is along Valley Road, opposite the oak collection. This entrance is closest to Centre Street Gate (about a five-minute walk away); it is about twenty minutes from Forest Hills Gate and about thirty minutes from the Arborway Gate. In addition to Conifer Path, the conifer collection can be viewed from Hemlock Hill Road; a small footbridge across Bussey Brook provides limited access. Additional conifers may be viewed throughout the Arboretum landscape, particularly on Hemlock Hill and near the Peters Hill Gate. If driving, park outside the Centre Street Gate, Walter Street Gate, or along Bussey Street.
Accessibility
Conifer Path is composed of crushed stone and covers terrain that includes occasional mild inclines; the entrance from the Walter Street Gate is moderately steep. Many plants in the collection are sited off the path in grassy clearings. In winter, access may be limited by snow and ice; please use caution.
Interpretation
A self-guided tour of Conifer Path is available online or in the Visitor Center. An interpretive sign is posted near the Valley Road entrance to Conifer Path and provides a brief introduction to conifers.

You can also view this tour on the Arboretum Explorer interactive map. Follow this link and you will see colored leaf icons. Click/tap on an icon to get a plant name and image; click/tap the circled "i" on the right to get more detailed information. For more information on how to use the mobile application click/tap on "Help" in the menu.
How long should I explore?
Conifer Path is approximately ½ mile long. While it takes about fifteen minutes to walk, one can easily spend more than an hour exploring conifers on and off the path.
Plan your visit to the Arboretum.