Kasia Zieminska, Putnam Fellow
Address:

1300 Centre Street
Boston, MA 02131

Email: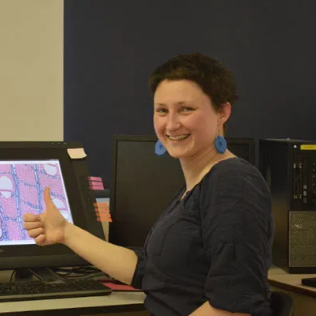 Research Interests
I am interested in how wood anatomy underpins tree functions and ecological strategies. As a Putnam Fellow, I am investigating the roles of fibers and parenchyma, two most abundant wood tissues, in tree water storage. On a broad scale, this research aims at contributing to our understanding of plant functions, diversity, and their responses to current and future climate, especially variable water regimes.
To date, I have been investigating links between wood anatomy and growth rates across tropical trees from Ghana, Australia and Malaysia (Ecosystems Lab, University of Oxford). During my PhD, I studied anatomical underpinnings of wood density across a diverse set of Australian angiosperms. My main finding was that the same wood density can actually be achieved via a variety of anatomies stretched along the fiber-parenchyma trade-off. Before PhD, I worked at Kew Gardens quantifying wood anatomy of rosewoods from Central and South America, some of which are still subjected to illegal logging and trading. The purpose of that study was to find anatomical characteristics that could help in identifying species from wood structure only.
Publications
PhD Plant sciences
Macquarie University, Sydney, Australia
MS Plant sciences
Mickiewicz University, Poznań, Poland
BS Biological sciences
Mickiewicz University, Poznań, Poland