Plant Exploration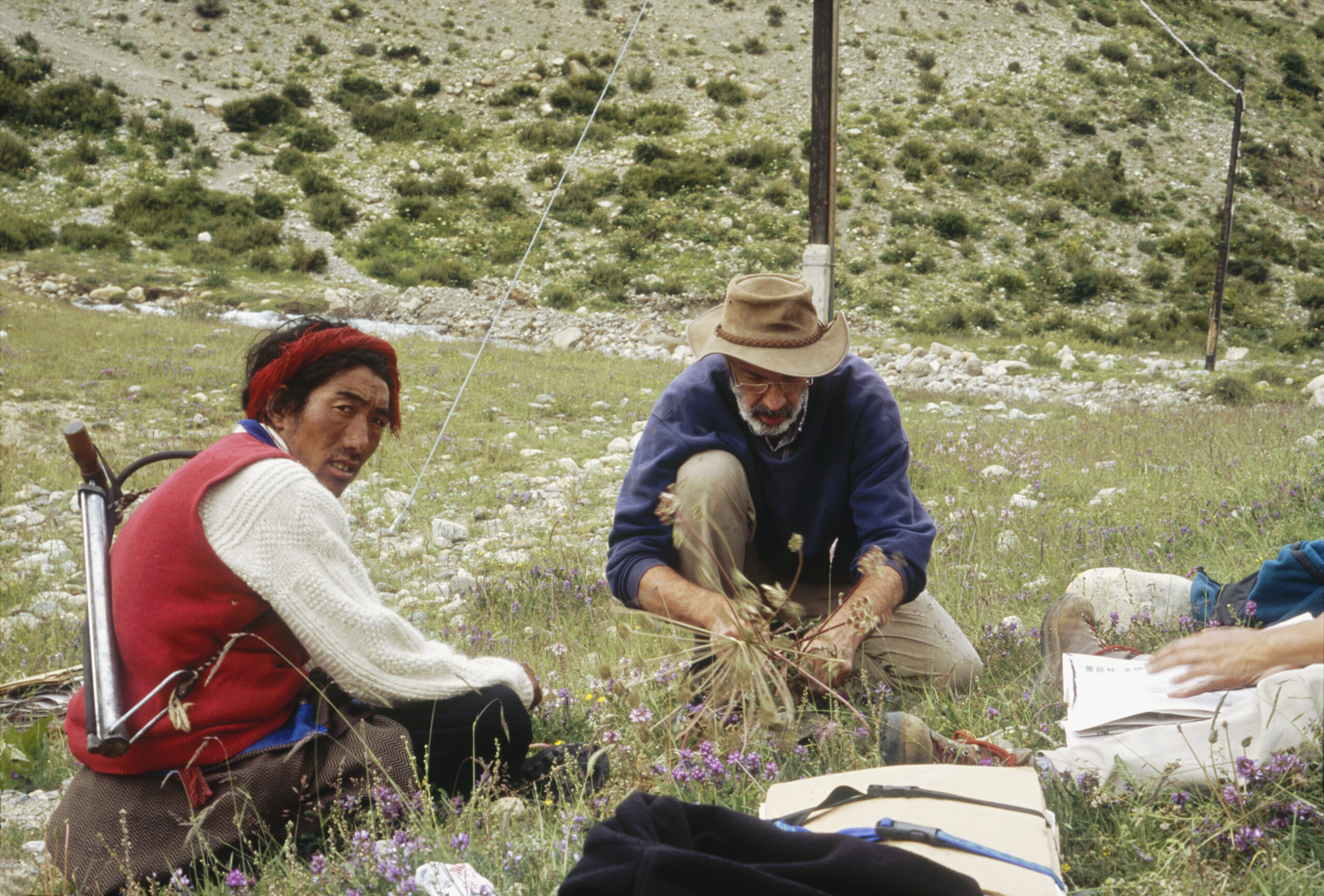 Since its founding, the Arnold Arboretum has led the way in plant exploration. Our efforts to collect diverse species from around the globe remain central to our mission. Arboretum collectors gather seeds that become the trees and shrubs in our living collections, along with a rich array of documentation, photographs, and herbarium specimens. Our
living collections
,
library and archives
, and
herbarium
are steeped in the work of plant explorers, past and present. This work continues today, particularly in concert with partnering institutions and organizations, such as the
North American-China Plant Exploration Consortium
. Discover their journeys below.
45

expeditions in the United States
Jackson Dawson, our first propagator, was a master plantsman. During his 43 years at the Arboretum, he raised and distributed throughout the world 450,718 plants and 47,993 packets of seed and received in return from collectors, arboreta, and botanic gardens, 174,200 plants and 27,729 packets of seed. A truly impressive record!

During the ten years that plant explorer Ernest Henry Wilson spent exploring eastern Asia, he collected more than 1,000 unique accessions for the Arnold Arboretum. He sent back around 16,000 herbarium specimens (not including duplicates sent elsewhere) and 2,500 large-format photographs. Today, about 320 plants growing in the Arnold Arboretum's landscape bear Wilson's name as the collector.

Stephen Spongberg and Richard Weaver's 1977 collecting trip to Japan and Korea made 505 collections, representing 327 taxa. Today there are 225 plants or descendants of those plants living on our grounds. We can preserve plants that might be in decline by taking cuttings and repropagating them. The new plants are clones and are genetically identical to the plants from which they were derived.

Since 1991, the North America–China Plant Exploration Consortium (NACPEC) has brought together plant collectors from Chinese and American botanical institutions for 17 expeditions. At the Arnold Arboretum, these collaborations have amassed more than 700 distinct collections, with about 940 plants living as of 2020.
10

campaigns

16

contracts

80

Arboretum expeditions

11

non-Arboretum expeditions

63

countries and territories visited
How many plant collecting
expeditions

have been conducted by the Arnold Arboretum? Before 2014, we were not quite sure. This simple question prompted an Arboretum-wide effort to define, inventory, summarize, and share our history of plant exploration on the web.

Expeditions

Unveiled

is the fruit of our efforts, where we bring our ever-expanding history of plant exploration to our visitors. Explore our past expeditions using the timeline below.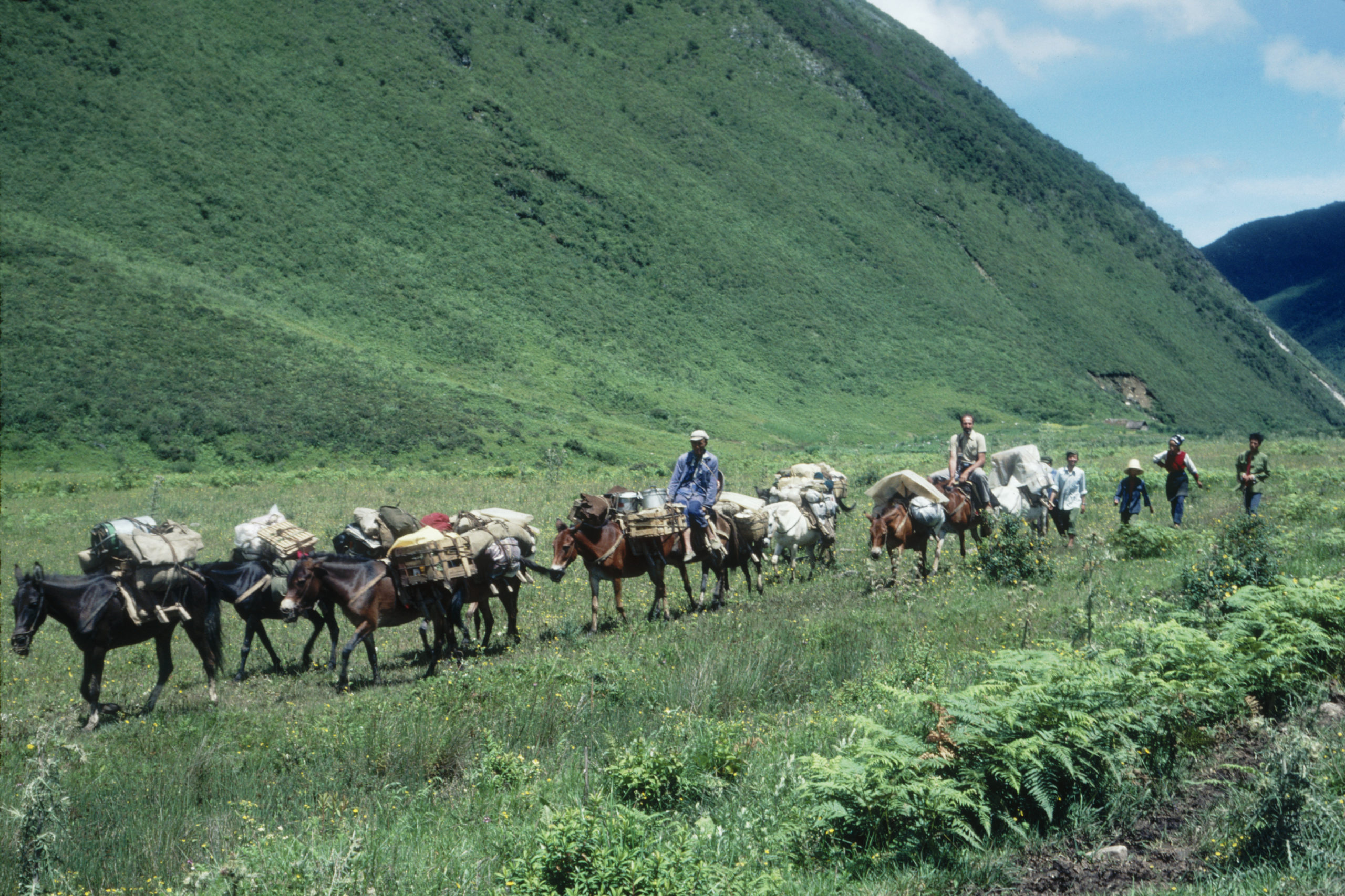 Expedition to the Great Lakes

Illinois, Indiana, Michigan

Event Type

Expedition

Collection Type

Germplasm, Herbarium Specimens

Arnold Arboretum Participants

Michael Dosmann

Other Participants

Elizabeth Thomas

Other Institution(s)

Polly Hill Arboretum

Expedition to Honshu, Japan

Japan

Event Type

Expedition

Collection Type

Germplasm, Herbarium Specimens

Arnold Arboretum Participants

Stephen Schneider

Other Participants

Anthony Aiello1, Ian Jochems2, Mineaki Aizawa3, Tatsuhiko Shibano3, Keiko Satoh4

Other Institution(s)

3Utsunomia University, 1Morris Arboretum, 2Polly Hill Arboretum, 4University of Hokkaido

North America-China Plant Exploration Consortium (NACPEC) Expedition to Appalachia

Ohio, Kentucky, Tennessee, Georgia, South Carolina, North Carolina

Event Type

Expedition

Collection Type

Germplasm, Herbarium Specimens

Arnold Arboretum Participants

Andrew Gapinski, Sean Halloran, Jared Rubinstein

Other Participants

Tao DENG4, Xinfen GAO1, Angela Magnan3, Kang WANG2

Other Institution(s)

North America-China Plant Exploration Consortium, 2Beijing Botanical Garden, 1Chengdu Institute of Biology, 4Kunming Institute of Botany, 3US National Arboretum

Expedition to Honshu, Japan

Japan

Event Type

Expedition

Collection Type

Germplasm, Herbarium Specimens

Arnold Arboretum Participants

Michael Dosmann

Other Participants

Mineaki Aizawa, Tatsuhiko Shibano

Other Institution(s)

Utsunomia University

Arkansas-Oklahoma Expedition

Arkansas, Oklahoma

Event Type

Expedition

Arnold Arboretum Participants

Tiffany Enzenbacher, Kea Woodruff

Other Participants

Tom Frothingham1, Matt Gamble2, Ethan Lovelace2

Other Institution(s)

1Little Rock Zoo, 2Oklahoma Department of Wildlife Conservation

Expedition to Honshu, Japan

Japan

Event Type

Expedition

Collection Type

Germplasm, Herbarium Specimens

Arnold Arboretum Participants

Michael Dosmann and Stephen Schneider

Other Participants

Anthony Aiello1, Mineaki Aizawa2, Todd Rounsaville3, and Tatsuhiko Shibano2

Other Institution(s)

1Morris Arboretum of the University of Pennsylvania, 2Utsunomia University, 3Polly Hill Arboretum

North America-China Plant Exploration Consortium (NACPEC) Western Hubei Plant Collecting Expedition

China

Event Type

Expedition

Collection Type

Germplasm, Herbarium Specimens, Silica-dried leaves

Arnold Arboretum Participants

Andrew Gapinski

Other Participants

Liang Chengyuan1, Matt Lobdell2, Quan Jian3, Wang Kang3, Peter Zale4, and Zhang Daigui5

Other Institution(s)

1Contracted driver, 2Morton Arboretum, 3Beijing Botanical Garden, 4Longwood Gardens, and 5Jishou University, Huana

Oregon and Washington Expedition (OWE)

Oregon, Washington

Event Type

Expedition

Collection Type

Germplasm, Herbarium Specimens

Arnold Arboretum Participants

Kyle Port and Terry Huang

Other Participants

Dale Reinhart, Measurements & Special Forest Products Program Manager1; Mark Skinner, Ph.D., Regional Botanist1; Lauri Malmquist, Acting Forest Botany Program Manager, Wenatchee River Ranger District Botanist1; Sean Hogan, Nursery Owner and Principal Designer2; Preston Pew2; Richard Olmstead, Ph.D., Department of Biology Professor3; David Giblin, Ph.D., Research Scientist/Herbarium Collections Manager3

Other Institution(s)

1United States Forest Service, Pacific Northwest Region (R6); 2Cistus Nursery (Portland, OR); 3University of Washington (Seattle, WA)

Coastal Southeast Expedition

North Carolina, South Carolina

Event Type

Expedition

Collection Type

Germplasm, Herbarium Specimens

Arnold Arboretum Participants

Sean Halloran, Jenna Zukswert

Other Participants

Thomas Clark1, Ethan Kauffman2, Catherine Meholic3, Jessica Slade4

Other Institution(s)

1Polly Hill Arboretum, 2Stoneleigh, 3University of Delaware Botanic Gardens, 4Morris Arboretum of the University of Pennsylvania

Arkansas-Missouri Expedition

Arkansas, Missouri

Event Type

Expedition

Collection Type

Germplasm, Herbarium Specimens

Arnold Arboretum Participants

Robert Dowell, Kea Woodruff

Wisconsin Expedition

Wisconsin

Event Type

Expedition

Collection Type

Germplasm, Herbarium Specimens

Arnold Arboretum Participants

Tiffany Enzenbacher, Kyle Port

Hunnewell Intern Expedition to Western Massachusetts

Massachusetts

Event Type

Expedition

Collection Type

Germplasm, Herbarium Specimens

Arnold Arboretum Participants

Monica Alves, Adam Beck, Rachel Brinkman, Natalie Buckley-Medrano, Alex Burnette, Alexander Disyak, Robert Dowell, Melissa Green, Marcus Jensen, Rachel Lawlor, Elena Leander and Matthew McDermitt

North American-China Plant Exploration Consortium (NACPEC) Sichuan Plant Collecting Expedition

China

Event Type

Expedition

Collection Type

Germplasm, Herbarium Specimens

Arnold Arboretum Participants

Michael Dosmann and Andrew Gapinski

Other Participants

LI Huaicheng1, QUAN Jian2, Jonathan Shaw3, WANG Kang2

Other Institution(s)

1Chengdu Institute of Biology, 2Beijing Botanical Garden, 3Harvard Magazine

Kentucky Plant Exploration Trip

Kentucky

Event Type

Expedition

Collection Type

Germplasm, Herbarium Specimens

Arnold Arboretum Participants

Jenna Zukswert

Other Participants

Tim Boland1, Julian Campbell, Phillip Douglas2, Jack Johnston, Catherine Meholic3, Todd Rounsaville4

Other Institution(s)

1Polly Hill Arboretum, 2Gainesway Farm, 3Mt Cuba Center, 4The Arboretum, State Botanical Garden of Kentucky

North American-China Plant Exploration Consortium (NACPEC) Sichuan Plant Collecting Expedition

China

Event Type

Expedition

Collection Type

Germplasm, Herbarium Specimens

Arnold Arboretum Participants

Michael Dosmann

Other Participants

Anthony Aiello1 and Wang Kang2

Other Institution(s)

1Morris Arboretum of the University of Pennsylvania, 2Beijing Botanical Garden

Republic of Georgia Plant Collecting Expedition

Republic of Georgia

Event Type

Scouting

Collection Type

Germplasm, Herbarium Specimens

Arnold Arboretum Participants

Stephen Schneider

Other Participants

Tinatin Barblishvili1, Tamaz Darchidze1, Grigoli ("Gigo") Otari Deisadze1, Andreas Groeger3, Elene Japaridze1, Davit Kharazishvili2, Zurab Manvelidze2, Zurab Schewardnadse4, Tolcha Shetekouri1, Temur Vasadze2

Other Institution(s)

1National Botanical Garden of Georgia, 2Batumi Botanical Garden, 3Munich Botanic Garden, 4Gardenia Nursery

Hunnewell Intern New Hampshire Expedition

New Hampshire

Event Type

Expedition

Collection Type

Germplasm, Herbarium Specimens

Arnold Arboretum Participants

Adam Banks, Adam Beck, Natalie Buckley-Medrano, Giovani Camargo, Wyatt Dixon, Robert Dowell, Andrew Gapinski, Jordan Morgan, Connor Ryan, and Jenna Zukswert

Southern Appalachian Expedition

Tennessee, North Carolina, Georgia

Event Type

Expedition

Collection Type

Germplasm, Herbarium Specimens

Arnold Arboretum Participants

Robert Dowell, Jenna Zukswert

Other Participants

Thomas Clark1

Other Institution(s)

1Polly Hill Arboretum

Expedition to Sichuan

China

Event Type

Expedition

Collection Type

Germplasm, Herbarium Specimens

Arnold Arboretum Participants

Michael Dosmann, Ned Friedman

Other Participants

Gao Xinfen1, Li Meng1, Yin Kaipu1

Other Institution(s)

1Chengdu Institute of Biology; Huanglong Nature Reserve

North America-China Plant Exploration Consortium (NACPEC) Expedition to collect Acer griseum

China

Event Type

Expedition

Collection Type

Germplasm, Herbarium Specimens

Arnold Arboretum Participants

Michael Dosmann

Other Participants

Anthony Aiello1, Kris Bachtell2, and Wang Kang3

Other Institution(s)

1Morris Arboretum of the University of Pennsylvania, 2The Morton Arboretum, and 3Beijing Botanical Garden

North Idaho Expedition

Idaho

Event Type

Expedition

Collection Type

Germplasm, Herbarium Specimens

Arnold Arboretum Participants

Kyle Port

Other Participants

Larry Hufford1, David Port2, Steve Ullrich1, Paul Warnick3

Other Institution(s)

1Washington State University, 2Harvest House, and 3University of Idaho Arboretum & Botanic Garden

Ozarks Plant Exploration

Arkansas

Event Type

Expedition

Collection Type

Germplasm, Herbarium Specimens, Silica-dried leaves

Arnold Arboretum Participants

Michael Dosmann

Other Participants

Anthony Aiello1, Brent Baker2, Timothy Boland3, Ian Jochems3, and Theo Witsell2

Other Institution(s)

1Morris Arboretum of the University of Pennsylvania, 2The Arkansas Natural Heritage Commission (ANHC), and 3The Polly Hill Arboretum

Indiana and Southern Illinois Plant Exploration

Illinois, Indiana

Event Type

Expedition

Collection Type

Germplasm, Herbarium Specimens

Arnold Arboretum Participants

Michael Dosmann

Other Participants

Jonathan Damery

Virginia Plant Exploration

Virginia

Event Type

Expedition

Collection Type

Germplasm, Herbarium Specimens

Arnold Arboretum Participants

Michael Dosmann

Other Participants

Anthony Aiello1

Other Institution(s)

1Morris Arboretum of the University of Pennsylvania

Twin Tier Trip to New York and Pennsylvania

New York, Pennsylvania

Event Type

Expedition

Collection Type

Germplasm, Herbarium Specimens

Arnold Arboretum Participants

Michael Dosmann

Other Participants

Jeff Carstens1, Andrew Schmitz2, and Mark Widrlechner1

Other Institution(s)

1United States Department of Agriculture and 2The Brenton Arboretum

North American China Plant Exploration Consortium (NACPEC) Expedition to Shaanxi, Hebei, and Beijing

China

Event Type

Expedition

Collection Type

Germplasm, Herbarium Specimens

Arnold Arboretum Participants

Michael Dosmann

Other Participants

Anthony Aiello1 and Wang Kang2

Other Institution(s)

1Morris Arboretum of the University of Pennsylvania and 2Beijing Botanical Garden

Adirondack Expedition

New York

Event Type

Expedition

Collection Type

Germplasm, Herbarium Specimens

Arnold Arboretum Participants

Michael Dosmann, Steven Schneider, and John H. Alexander

Other Participants

Dennis Collins1 and Tim Thibault1

Other Institution(s)

1Mount Auburn Cemetery

Expedition to Sichuan

China

Event Type

Expedition

Collection Type

Germplasm, Herbarium Specimens

Arnold Arboretum Participants

Jianhua Li

Expedition to Guizhou

China

Event Type

Expedition

Collection Type

Germplasm, Herbarium Specimens

Arnold Arboretum Participants

Peter Del Tredici and Jianhua Li

Expedition to Tibet

China

Event Type

Expedition

Collection Type

Germplasm, Herbarium Specimens

Arnold Arboretum Participants

Susan Kelley, David Boufford

Other Participants

Rick Ree1, Brian Perry1

Other Institution(s)

1Harvard University

Expedition to Yunnan and Sichuan

China

Event Type

Expedition

Collection Type

Germplasm

Arnold Arboretum Participants

Steven A. Spongberg and Andy Bell

North American China Plant Exploration Consortium (NACPEC), Expedition to Changbai Shan

China

Event Type

Expedition

Collection Type

Germplasm, Herbarium Specimens

Arnold Arboretum Participants

Peter Del Tredici

Other Participants

Kris Bachtell1, Zhong Linsheng2, Jeff Lynch3, Paul Meyer4, Sheng Ning5, Zhao Shuqing2, Sun Long Xing6, Charles Tubesing7, Cao Wei2, and Wang Xianli2

Other Institution(s)

1The Morton Arboretum, 2Shenyang Institute of Applied Ecology, 3Longwood Gardens, 4The Morris Arboretum of the University of Pennsylvania, 5Nanjing Botanical Garden, 6Changbai Xian Forestry Department, and 7The Holden Arboretum

North America-China Plant Exploration Consortium (NACPEC), Expedition to Hubei

China

Event Type

Expedition

Collection Type

Germplasm, Herbarium Specimens

Arnold Arboretum Participants

Peter Del Tredici

Other Participants

Kevin Conrad1, Paul Meyer2, Bill Thomas3, Mao Cailiang4, and Hao Riming4

Other Institution(s)

1United States National Arboretum, 2The Morris Arboretum of the University of Pennsylvania, 3Longwood Gardens, 4Nanjing Botanical Gardens

Eastern China Expedition

China

Event Type

Expedition

Collection Type

Germplasm

Arnold Arboretum Participants

Robert G. Nicholson

Other Participants

Mark Schwartz

Other Institution(s)

Center for Plant Conservation

Southwestern States Expedition

Arizona, Colorado, New Mexico, Utah

Event Type

Expedition

Collection Type

Germplasm

Arnold Arboretum Participants

Peter Del Tredici

Third Sino-American Botanical Expedition

China

Event Type

Expedition

Collection Type

Germplasm

Arnold Arboretum Participants

Peter Del Tredici

Southeastern States Expedition (Center for Plant Conservation Campaign)

North Carolina, Virginia, Tennessee, Kentucky, Maryland, West Virginia, Republic of Georgia, Florida

Event Type

Expedition

Collection Type

Germplasm

Arnold Arboretum Participants

Robert G. Nicholson

Other Institution(s)

Center for Plant Conservation

Expedition to Bhutan

Bhutan

Event Type

Expedition

Collection Type

Germplasm, Herbarium Specimens

Arnold Arboretum Participants

David E. Boufford

Other Participants

Bruce Bartholomew1

Other Institution(s)

1California Academy of Sciences

Southeastern States Expedition (Center for Plant Conservation Campaign)

Florida, Republic of Georgia, North Carolina, Tennessee

Event Type

Expedition

Collection Type

Germplasm

Arnold Arboretum Participants

Robert G. Nicholson

Other Institution(s)

Center for Plant Conservation

New Jersey Pine Barrens Collections

New Jersey

Event Type

Expedition

Collection Type

Germplasm

Arnold Arboretum Participants

Peter Del Tredici and John H. Alexander

Second Sino-American Botanical Expedition to Yunnan, China

China

Event Type

Expedition

Collection Type

Herbarium Specimens

Arnold Arboretum Participants

David E. Boufford

Other Participants

Bruce Bartholomew1, Daniel H. Nicholson2, Paul L. Redfearn3

Other Institution(s)

1California Academy of Sciences, 2Smithsonian Institution, 3Missouri Botanical Garden

Southeastern States Expedition

Georgia, Kentucky, North Carolina, South Carolina

Event Type

Expedition

Collection Type

Germplasm, Herbarium Specimens

Arnold Arboretum Participants

Stephen Spongberg, David Boufford

North Africa Expedition

Morocco

Event Type

Expedition

Collection Type

Germplasm

Arnold Arboretum Participants

Robert G. Nicholson

Western States Botanical Expedition

California

Event Type

Expedition

Collection Type

Germplasm

Arnold Arboretum Participants

Robert G. Nicholson

First Sino-American Botanical Expedition

China

Event Type

Expedition

Collection Type

Germplasm, Herbarium Specimens

Arnold Arboretum Participants

Steven A. Spongberg

Other Participants

Bruce Bartholomew1, David E. Boufford2, Chang Ao-Lo3, Cheng Zhong3, Ted R. Dudley4, He Shan-An5, Jin Yi-Xin3, Li Qing-Yee3, James L. Luteyn6, Sun Siang-Chung3, Tang Yan-Cheng7, Wan Jiz-Xiang 3, and Ying Tsun-Shen7

Other Institution(s)

1University of California, Berkeley; 2Carnegie Museum of Natural History (later Harvard University); 3Kunming Institute of Botany; 3Wuhan Institute of Botany; 4U.S. National Arboretum; 5Jiangsu Institute of Botany, Nanjing; 6New York Botanical Garden; and 7Institute of Botany, Beijing.

Event Type

Expedition

Collection Type

Germplasm, Herbarium Specimens

Arnold Arboretum Participants

Richard E. Weaver

Other Participants

Robert Hebb, Frederick Seaman

Other Institution(s)

New York Botanical Garden

Missouri and Illinois Collections

Missouri, Illinois

Event Type

Expedition

Collection Type

Germplasm

Arnold Arboretum Participants

John (Jack) Alexander and Gary Koller

Western States Expedition

California

Event Type

Expedition

Collection Type

Germplasm

Arnold Arboretum Participants

Robert G. Nicholson

Expedition to North Carolina

North Carolina

Event Type

Expedition

Collection Type

Germplasm

Arnold Arboretum Participants

Richard Weaver and James Nickerson

Pacific Northwest Expedition

British Columbia

Event Type

Expedition

Collection Type

Germplasm

Arnold Arboretum Participants

Robert G. Nicholson

Expedition to South Korea and Japan

Japan, South Korea

Event Type

Expedition

Collection Type

Germplasm, Herbarium Specimens

Arnold Arboretum Participants

Steven A. Spongberg and Richard E. Weaver

Other Participants

Carl Ferris Miller

Other Institution(s)

Chollipo Arboretum

Campaign in Hong Kong, Japan, and South Korea

Hong Kong, Japan, South Korea

Event Type

Campaign

Collection Type

Germplasm, Herbarium Specimens

Arnold Arboretum Participants

Shiu-Ying Hu

Expedition to Venezuela

Venezuela

Event Type

Expedition

Collection Type

Herbarium Specimens

Arnold Arboretum Participants

Gordon Parker DeWolf

Exploration for the Flora of the Lesser Antilles

Antigua and Barbuda, Aruba, Barbados, Bonaire, Curacao, Grenada, Guadeloupe, Jamaica, Montserrat, Puerto Rico, British Virgin Islands, US Virgin Islands, Saint Kitts and Nevis, Saint Lucia, Saint Martin, Saint Vincent and the Grenadines

Event Type

Campaign

Collection Type

Germplasm, Herbarium Specimens

Arnold Arboretum Participants

Richard A. Howard

Fifth Archbold Expedition to New Guinea

Indonesia, Papua New Guinea

Event Type

Non-Arnold Arboretum Expedition

Collection Type

Germplasm, Herbarium Specimens

Arnold Arboretum Participants

Leonard John Brass

Fourth Archbold Expedition to New Guinea

Indonesia, Papua New Guinea

Event Type

Non-Arnold Arboretum Expedition

Collection Type

Germplasm, Herbarium Specimens

Arnold Arboretum Participants

Leonard John Brass

Archbold Cape York Expedition

Australia

Event Type

Contract

Collection Type

Germplasm, Herbarium Specimens

Arnold Arboretum Participants

Leonard John Brass

Collections for the Plants of Fiji

Fiji

Event Type

Expedition

Collection Type

Herbarium Specimens

Other Participants

Albert Charles Smith1

Other Institution(s)

1National Museum of Natural History, John Simion Guggenhiem Memorial Foundation (funding), Penrose Fund of the American Philosophical Society (funding), and Bache Fund of the National Academy of Sciences (funding)

Metasequoia Collection

China

Event Type

Contract

Collection Type

Germplasm, Herbarium Specimens

Other Participants

Ching-Tsan Hwa1 and H.H. Hu2

Other Institution(s)

1National Central University, 2Fan Memorial Institute of Biology

Campaign in Panama and Isla San Jose

Panama

Event Type

Campaign

Collection Type

Herbarium Specimens

Arnold Arboretum Participants

Ivan M. Johnston

Alaska Military Highway Expedition

Alaska, British Columbia

Event Type

Campaign

Collection Type

Germplasm, Herbarium Specimens

Arnold Arboretum Participants

Hugh M. Raup

Collections in Mexico

Mexico

Event Type

Expedition

Collection Type

Herbarium Specimens

Arnold Arboretum Participants

Ivan M. Johnston

Other Institution(s)

Carnegie Institute

Expedition to Central America

Nicaragua, Guatemala

Event Type

Contract

Collection Type

Herbarium Specimens

Other Participants

Grant Verne

Contract Collections for the Plants of Mexico

Mexico

Event Type

Contract

Collection Type

Herbarium Specimens

Other Participants

G. Martinez-Calderon

Expedition to Northwest Canada

British Columbia

Event Type

Expedition

Collection Type

Germplasm, Herbarium Specimens

Arnold Arboretum Participants

Hugh M. Raup

Third Archbold Expedition to New Guinea

Indonesia, Papua New Guinea

Event Type

Non-Arnold Arboretum Expedition

Collection Type

Germplasm, Herbarium Specimens

Other Participants

Leonard John Brass

Other Institution(s)

Leonard John Brass

Collections for the Flora of Panama

Panama

Event Type

Expedition

Collection Type

Herbarium Specimens

Arnold Arboretum Participants

Robert Everard Woodson Jr.

Collections for the Plants of Yunnan Province, China

China

Event Type

Contract

Collection Type

Germplasm, Herbarium Specimens

Other Participants

Te-tsun Yü

Other Institution(s)

Fan Memorial Institute of Biology

Expedition to Mexico

Mexico

Event Type

Expedition

Collection Type

Herbarium Specimens

Other Participants

Ivan M. Johnston

Terry-Holden Expedition

Guyana

Event Type

Non-Arnold Arboretum Expedition

Collection Type

Germplasm, Herbarium Specimens

Other Participants

Albert Charles Smith1

Other Institution(s)

1American Museum of Natural History, New York Botanical Garden, and Yale School of Forestry

Second Archbold Expedition to New Guinea

Indonesia, Papua New Guinea

Event Type

Non-Arnold Arboretum Expedition

Collection Type

Germplasm, Herbarium Specimens

Other Participants

Leonard John Brass

Collections for the Plants of Guatemala

Guatemala

Event Type

Contract

Collection Type

Herbarium Specimens

Other Participants

Alexander Frank Skutch

Contract Collections in Liberia

Liberia

Event Type

Contract

Collection Type

Herbarium Specimens

Other Participants

Julius Max Dinklage

Expedition to the Balkan Peninsula

Bulgaria, Macedonia, Romania

Event Type

Expedition

Collection Type

Germplasm, Herbarium Specimens

Arnold Arboretum Participants

Edgar S. Anderson

Other Institution(s)

United States Department of Agriculture

Collections for the Plants of Mexico

Mexico

Event Type

Contract

Collection Type

Herbarium Specimens

Other Participants

Cornelius Herman Mueller1 and Mary Elisabeth Mueller

Other Institution(s)

1University of Texas

First Archbold Expedition to New Guinea

Indonesia, Papua New Guinea

Event Type

Non-Arnold Arboretum Expedition

Collection Type

Germplasm, Herbarium Specimens

Other Participants

Leonard John Brass

Collections for the Flora of the Solomon Islands

Solomon Islands

Event Type

Contract

Collection Type

Herbarium Specimens

Arnold Arboretum Participants

Leonard John Brass

Expedition to Northeast British Columbia and Alberta

British Columbia, Alberta

Event Type

Campaign

Collection Type

Germplasm, Herbarium Specimens

Arnold Arboretum Participants

Hugh M. Raup

Other Participants

Abbe C. Ernst

Collections for the Flora of Honduras

Honduras

Event Type

Contract

Collection Type

Herbarium Specimens

Other Participants

James B. Edwards

Collections for the Flora of the Solomon Islands, Madagascar, and Vanuatu

Australia, Madagascar, Vanuatu, Solomon Islands

Event Type

Contract

Collection Type

Herbarium Specimens

Other Participants

Frank S. Kajewski

Campaign in the Western United States

Arizona, New Mexico, California, Nevada, Oklahoma

Event Type

Campaign

Collection Type

Germplasm, Herbarium Specimens

Arnold Arboretum Participants

Susan D. McKelvey

Other Participants

Alice Eastwood and Oscar E. Hamilton

Event Type

Campaign

Collection Type

Herbarium Specimens

Arnold Arboretum Participants

John George Jack and Alfred J. Rehder

Expedition of the Harvard Institute of Tropical Biology and Medicine

Kenya, Liberia

Event Type

Contract

Collection Type

Herbarium Specimens

Other Participants

David H. Linder1

Other Institution(s)

1Harvard Institute of Tropical Biology and Medicine

Contract Collections in the Balkan Peninsula

Bulgaria

Event Type

Contract

Collection Type

Herbarium Specimens

Other Participants

John Mattfeld

Expedition to Northwestern China and Northeastern Tibet

China

Event Type

Expedition

Collection Type

Germplasm, Herbarium Specimens

Arnold Arboretum Participants

Joseph F. Rock

Expedition to New England

Massachusetts, New Hampshire, Vermont

Event Type

Expedition

Collection Type

Germplasm, Herbarium Specimens

Arnold Arboretum Participants

John George Jack and Susan Delano McKelvey

Expedition to Glacier National Park

Montana, Canada

Event Type

Expedition

Collection Type

Germplasm, Herbarium Specimens

Arnold Arboretum Participants

John George Jack and Susan Delano McKelvey

Expedition to Eastern Asia

North Korea, South Korea, Japan, Taiwan

Event Type

Expedition

Collection Type

Germplasm, Herbarium Specimens

Arnold Arboretum Participants

Ernest H. Wilson

Other Participants

Takenoshin Nakai, Ryozo Kanehira

Expedition to Japan

Japan

Event Type

Expedition

Collection Type

Germplasm, Herbarium Specimens

Arnold Arboretum Participants

Ernest H. Wilson

Contracted Collections for the Flora of the Southeastern United States

Republic of Georgia, Florida, Mississippi, Alabama, South Carolina, North Carolina

Event Type

Contract

Collection Type

Germplasm, Herbarium Specimens

Arnold Arboretum Participants

Thomas G. Harbison

Expedition to China

China

Event Type

Expedition

Collection Type

Germplasm, Herbarium Specimens

Arnold Arboretum Participants

Ernest H. Wilson

Expedition to Northern China

China

Event Type

Expedition

Collection Type

Germplasm, Herbarium Specimens

Arnold Arboretum Participants

William M. Purdom

Other Institution(s)

Veitch Nurseries (funding and recipient of germplasm)

First Expedition to China

China

Event Type

Expedition

Collection Type

Germplasm, Herbarium Specimens

Arnold Arboretum Participants

Ernest H. Wilson

Campaign in China and Central Asia

China, Korea, Russia

Event Type

Campaign

Collection Type

Germplasm, Herbarium Specimens

Arnold Arboretum Participants

Frank Nicholas Meyer, Johannis J.C. de Leuw (assistant), Chow-hai Ting (interpreter)

Other Institution(s)

United States Department of Agriculture

Expedition to Central and South America

Chile, Ecuador, Panama, Peru

Event Type

Expedition

Collection Type

Herbarium Specimens

Arnold Arboretum Participants

Charles S. Sargent

Expedition to East Asia

China, North Korea, South Korea, Japan, Taiwan

Event Type

Expedition

Collection Type

Germplasm, Herbarium Specimens

Arnold Arboretum Participants

John George Jack

Expedition to the Western United States and Canada

California, Alberta

Event Type

Expedition

Collection Type

Germplasm, Herbarium Specimens

Arnold Arboretum Participants

John George Jack and Alfred J. Rehder

Journey Round The World

China, Japan, England, Germany, Indonesia, Russia, Ukraine, Singapore, South Korea

Event Type

Expedition

Collection Type

Germplasm, Herbarium Specimens

Arnold Arboretum Participants

Charles S. Sargent

Other Participants

John Muir and R. Sargent

Exploration of the United States

United States

Event Type

Campaign

Collection Type

Germplasm, Herbarium Specimens

Arnold Arboretum Participants

Ernest Jesse Palmer

Other Institution(s)

Missouri Botanical Garden

Contracted Collections of Cedrus libani

Turkey

Event Type

Contract

Collection Type

Germplasm

Other Participants

Walter Siehe

Journey of May

Republic of Georgia

Event Type

Expedition

Collection Type

Herbarium Specimens

Arnold Arboretum Participants

Charles S. Sargent

Other Participants

William M. Canby

Survey of Pikes Peak, Plum Creek, and South Platte Forest Reserves

California, Oregon, Wyoming

Event Type

Non-Arnold Arboretum Expedition

Collection Type

Germplasm, Herbarium Specimens

Arnold Arboretum Participants

John George Jack

Other Institution(s)

United States Department of Interior (funding)

Journey to Alabama

Alabama

Event Type

Expedition

Collection Type

Herbarium Specimens

Arnold Arboretum Participants

Charles S. Sargent

Journey to Florida

Florida

Event Type

Expedition

Collection Type

Herbarium Specimens

Arnold Arboretum Participants

Charles S. Sargent

Expedition to Alaska and Canadian Rockies for the Silva of North America

Alaska, California, British Columbia

Event Type

Expedition

Collection Type

Herbarium Specimens

Arnold Arboretum Participants

[Herbarium]

Other Participants

John Muir and William M. Canby

Collections from the U.S. Forestry Commission

California, Oregon, Wyoming

Event Type

Non-Arnold Arboretum Expedition

Collection Type

Germplasm, Herbarium Specimens

Arnold Arboretum Participants

Charles S. Sargent

Other Participants

John Muir, William M. Canby, and Gifford Pinchot

Event Type

Expedition

Collection Type

Germplasm, Herbarium Specimens

Arnold Arboretum Participants

Charles S. Sargent

Other Participants

Philip Codman, James Veitch, and Gifford Pinchot

Journey to Texas and Mexico

Texas, Mexico

Event Type

Expedition

Collection Type

Herbarium Specimens

Arnold Arboretum Participants

Charles S. Sargent

Journey to Alabama, Florida, and Louisiana

Alabama, Florida, Louisiana

Event Type

Campaign

Collection Type

Herbarium Specimens

Arnold Arboretum Participants

Charles S. Sargent and Charles E. Faxon

Other Institution(s)

United States Lighthouse Board (funding)

Expedition to the Carolinas

North Carolina, South Carolina

Event Type

Expedition

Collection Type

Germplasm

Arnold Arboretum Participants

Charles S. Sargent and Charles E. Faxon

Expedition to North Carolina

North Carolina

Event Type

Expedition

Collection Type

Herbarium Specimens

Arnold Arboretum Participants

Charles S. Sargent

Journey to the West Indies

Antigua and Barbuda, Barbados, Martinique, Saint Kitts and Nevis

Event Type

Expedition

Collection Type

Herbarium Specimens

Arnold Arboretum Participants

Charles S. Sargent and Charles E. Faxon

Collections from the Northern Transcontinental Survey

California, Montana, Oregon, Washington

Event Type

Non-Arnold Arboretum Expedition

Collection Type

Germplasm, Herbarium Specimens

Arnold Arboretum Participants

Charles S. Sargent

Other Participants

Townshend S. Brandegee, H.C. Putnam, Andrew Roberson, and Raphael Pumpelly

Collections from the Forests of North America Survey

Arizona, California, Florida, Republic of Georgia, Mississippi, Missouri, North Carolina, Oregon, South Dakota, Utah, British Columbia

Event Type

Non-Arnold Arboretum Expedition

Collection Type

Germplasm, Herbarium Specimens

Arnold Arboretum Participants

Charles S. Sargent

Other Participants

George Engelmann, Francis Skinner, Charles C. Parry, Cyrus G. Pringle, Robert Douglas, and Sereno Watson

Other Institution(s)

United States Department of Interior

Expedition to North Carolina for Shortia galacifolia (Oconee bells)

North Carolina

Event Type

Expedition

Collection Type

Germplasm, Herbarium Specimens

Arnold Arboretum Participants

Charles S. Sargent

Other Participants

Asa Gray1, William M. Canby, and John H. Redfield

Other Institution(s)

1Harvard University

Hayden's Survey of the U.S. Territories

California, Nevada, Utah

Event Type

Non-Arnold Arboretum Expedition

Collection Type

Germplasm, Herbarium Specimens

Other Participants

Asa Gray1, Joseph Dalton Hooker2, Ferdinand Vandeveer Hayden3

Other Institution(s)

1Harvard University, 2Royal Botanic Gardens Kew, 3United States National Geological and Geographical Survey of the Territories, 1871-1877

Contracted Collections in Japan

Japan

Event Type

Contract

Collection Type

Germplasm, Herbarium Specimens

Other Participants

William S. Clark

Other Institution(s)

Sapporo Agricultural College