Field Study Experiences
Make a difference, have fun, and explore the Arboretum. Become a Field Study Guide and lead small groups of students from Boston Public Schools in outdoor explorations of plants and the natural world.
For more information, please complete and submit a volunteer application. We look forward to speaking with you about volunteering!
Staff Contact
To learn more or to ask questions, please call Nancy Sableski, Manager of Children's Education, at 617.384.5239 or by email.
Location
The Arnold Arboretum, Jamaica Plain, MA
Directions to the Arnold Arboretum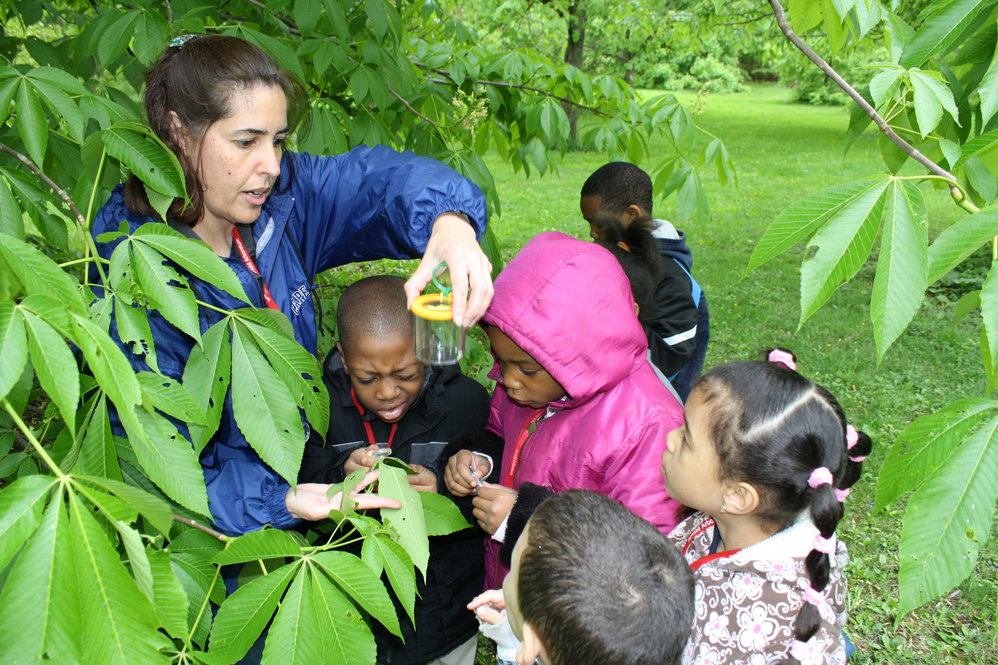 Responsibilities
Attend 4 training days in fall and spring
Lead a group once a week in fall and spring
Participate in evaluation of program
Required skills & abilities
Guides must be capable of understanding and conveying basic botanical principles in English to children. They must apply open-ended, inquiry-based teaching methods and must be able to manage a group of 6 to 12 children while engaging them on their level.
Guides must be able to move freely in the landscape, which has some hills and unpaved paths, and must be able to be outdoors for two hours in mild-to-moderate weather conditions with a group of children.
A college background is helpful but not necessary. Experience working with children is preferable. Extensive horticultural knowledge is not required.
Time commitment
We ask Field Study Guides to make a two-year, four season commitment. This means agreeing to guide a group of children one morning a week (9:00am–1:00pm) in fall and spring for two years. Prior to the start of each season, guides attend four training classes (10:00am–1:00pm) at the Arboretum to learn the field study programs and the basics of botany, and to become familiar with the Arboretum landscape.
Frequently Asked Questions
How many guides are there?
Typically each season we have 35 to 40 active guides. Guides include retired adults, parents of school-age children, and younger people who are determining a career path. All guides share these common attributes: comfort and patience in interactions with children, promptness, organizational ability, good communication skills, and a fascination with the natural world.
What is the commitment?
The Arboretum asks for a two-season commitment, but we ask you to consider making a two-year commitment to become truly skilled at guiding. The average tenure for the current group of program guides is 5 years. This is an indicator of the level of commitment and interest our guides possess.
When are the programs conducted?
School programs at the Arboretum are conducted in spring and fall, concurrently within the elementary school year. Typically the spring season runs from mid-April thru mid-June, and the fall season from early September thru mid-November. Each program runs for approximately 2 hours.
What is the structure of the program?
The program generally augments the life curriculum for kindergarten through Grade 5 in the Boston Public Schools, by offering a guided field study segment for groups of students, on-site in the Arboretum. Typically two classrooms with 30-40 students attend the field studies, accompanied by teachers, aides or parents in each group. Groups generally contain 5-8 students with one guide. Frequently there are additional guides in each group, especially for those guides who are in their first few seasons.
How will I learn all the programs?
New guides attend training and then shadow veteran guides in the field. New guides also receive a notebook that contains comprehensive descriptions of each program and presents an opportunity for deepening familiarity with content and activities. In addition, there are frequent lectures/discussions conducted during and between programming seasons by Arboretum staff and guest speakers.
Am I required to guide every week?
Participating weekly is ideal but not always feasible. Please make the best effort to schedule yourself weekly, and communicate any schedule changes to the program manager. However, if you can devote time more than once a week, this enriches both your experience as a guide and the quality of the program.
What should I wear?
Wear clothes that you don't mind getting dirty. During tick season, guides are encouraged to wear long pants, socks, close-toed shoes, and a shirt you can tuck into your pants. Treating clothes with the insect repellent, permethrin, will add further protection.
Further questions can be emailed for quick answers.