Accepting applications for summer 2024 now! Click here to apply!
The Arnold Arboretum offers paid internships in collections management with concentrations in horticulture and landscape maintenance, arboriculture, plant production, or collections curation. Experiences combine hands-on training, interactive educational classes and networking opportunities. Interns are accepted for 12- to 14-week appointments (typically May through August).
As part of the training program, interns work alongside professional staff in their host department and participate in instructional sessions across disciplines to develop a comprehensive sense of the Arboretum's collections management practices. Virtual interactions with other public gardens are offered throughout the summer to expose interns to the broader field of public horticulture and provide networking opportunities with professional staff at these institutions. As members of the Arboretum community, interns are encouraged to share their experience and knowledge, and to participate fully in the work of the institution. As a capstone project, interns work as a group to address a real collections management issue and present their proposal to their peers and Arboretum staff. Meet our Hunnewell Interns from 1980 through the present.
Internships are available with the following concentrations:
---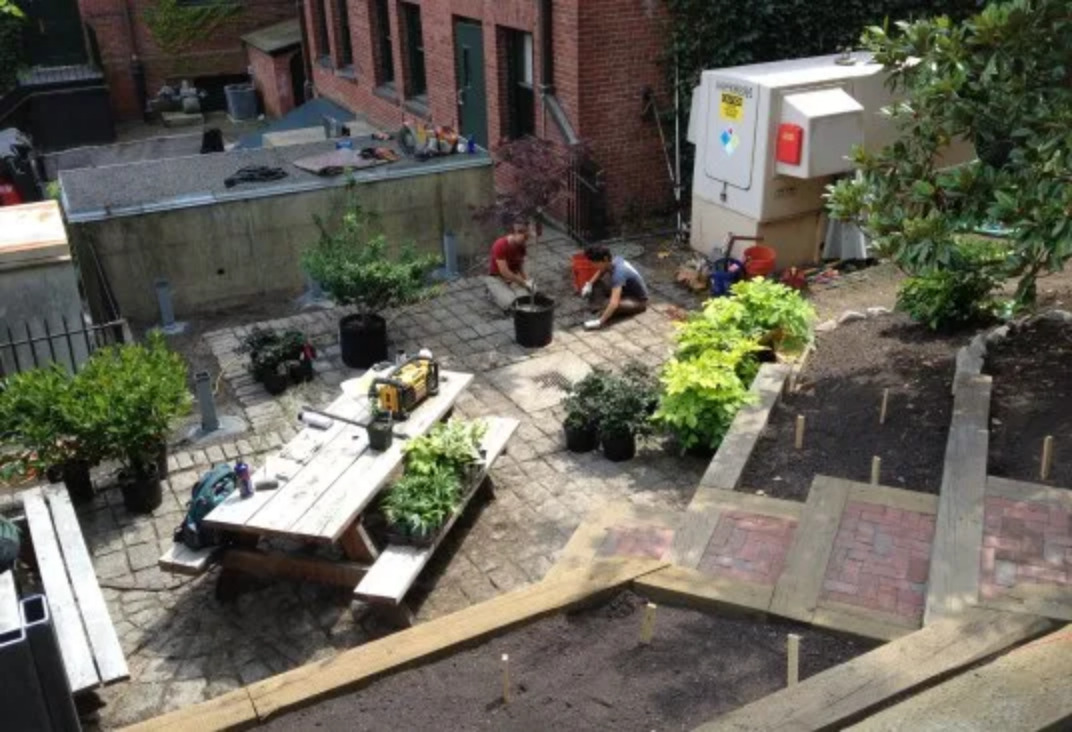 Horticulture and Landscape Maintenance
Working with the horticulture staff, summer interns weed, mulch, mow, plant, prune, scout and monitor plant pests and diseases, operate a wide range of maintenance equipment, and perform other associated tasks as part of caring for the Arboretum's 281 acres. All interns rotate through various collections and gardens within the landscape, obtaining experience with various types of plant material, as well as getting opportunities to learn from many horticulture staff members. In addition, each intern will spend time with the arborist crew, focusing on pruning skills, chainsaw use, and tree climbing. Applicants should have some experience in landscape maintenance and an interest in exploring career paths in public horticulture.
---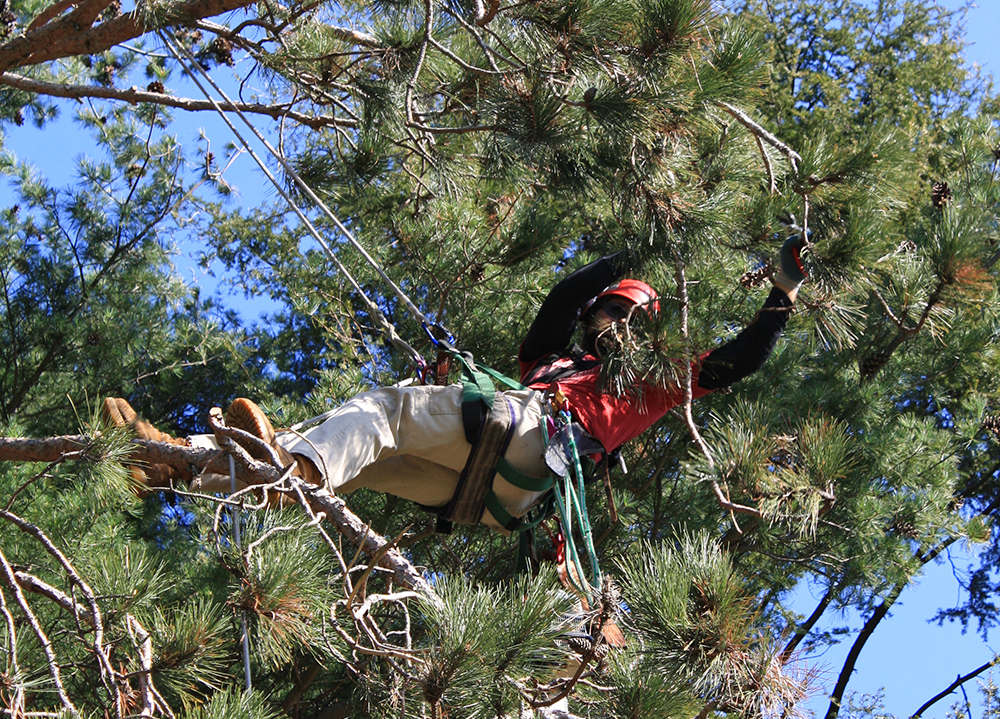 Arboriculture
The arboriculture-focused experience is for those applicants exploring a career path as a climbing arborist. Interns spend their time working alongside the Arboretum's arborists as they rotate through the collections evaluating plant health and assessing and executing the unique pruning needs of each specimen. This team works on large-scale plant removals, tree hazard assessments and corrective pruning measures, integrated pest management (IPM) practices, and other tasks as needed as part of the full horticultural operation. Applicants should have some experience in urban forestry or arboriculture and a basic working knowledge of aerial tree care, i.e., climbing and lifts.
---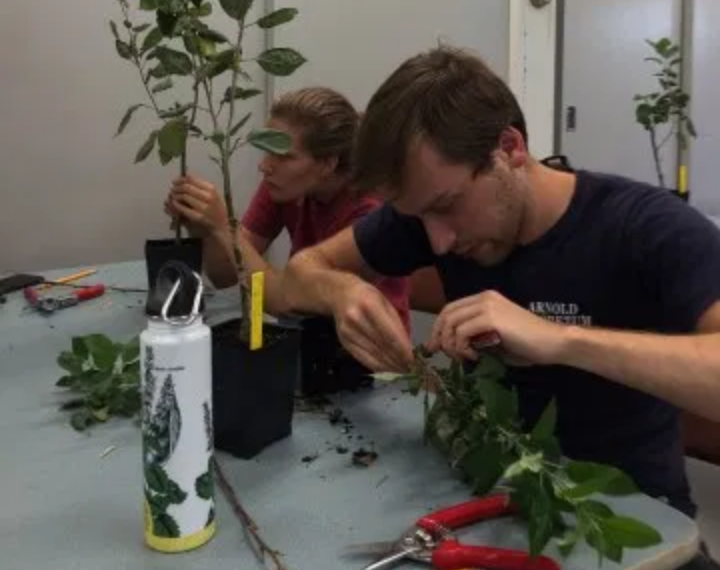 Plant Production
Staff members at the Dana Greenhouses and Nursery propagate and grow all of the plant material that is eventually planted into the permanent collections of the Arboretum. Interns are introduced to the nursery and greenhouse production cycle and assist in watering, weeding, mulching, potting, and other jobs as required. The work varies from physical labor to technical work, with emphasis on proper growing methods. This internship also gives an overview of our accessioning and plant inventory process, including an introduction to BG-BASE (collections management software). Applicants should have some experience in plant propagation and/or greenhouse operations.
---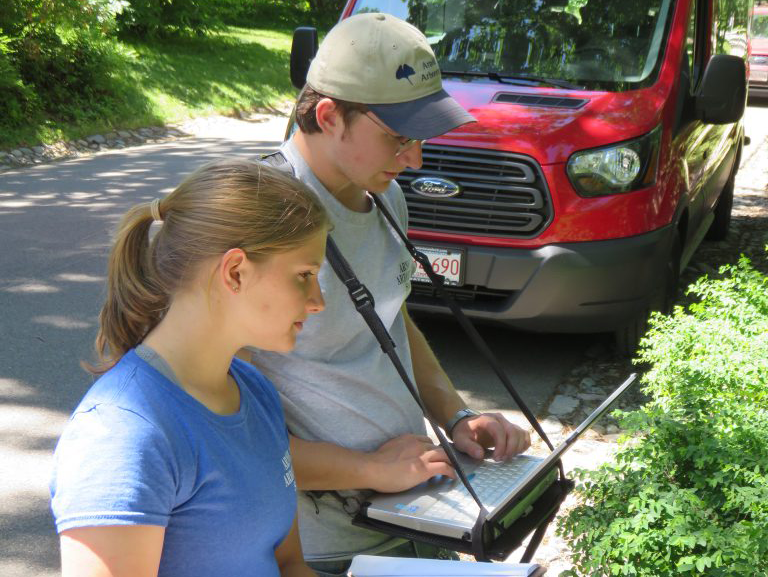 Curation
The Curatorial Department administers record keeping and documentation projects for all living and legacy plant collections, directs acquisition and collection development initiatives, and facilitates the use of the collection by scholars. Of central importance is the annual inventory or field checking of roughly a fifth of the living collections. The curatorial intern spends the bulk of their time assisting staff in inventorying the living collections, which includes plant health assessments, mapping, and labeling. Additionally, time may be spent collecting voucher herbarium specimens representing Arboretum accessions, sorting herbarium specimens in the Herbarium of Cultivated Plants, entering archival data to curatorial databases, and generating reports and/or maps for visiting researchers. Interns will receive considerable training in BG-BASE (collections management software). Applicants are expected to have strong woody plant identification skills.
---
Expectations and Qualifications
Interns selected for the Isabella Welles Hunnewell Internship Program are expected to participate fully in the work-life of the institution with maturity, punctuality, curiosity, and commitment to learning. Preference will be given to candidates who have at least some of the following qualifications:
One or more years of education in horticulture, botany, landscape design, or other plant-related fields at a college, university
Work experience in a nursery, greenhouse, garden center, park, arboretum, or botanical garden
Career aspirations in public horticulture, botany, or another plant-related field
Must have physical health and stamina to work in all weather conditions and to maintain a high level of productivity
Maturity, self-motivation, and willingness to work as part of a team
Please visit this page to read our Code of Conduct and find answers to frequently asked questions.
Email inquiries can be sent to: rbrinkman@fas.harvard.edu